Español An investigation released on Tuesday, March 24, by Fundación Mil Hojas has revealed one of the alleged social-media troll centers of the Citizen Revolution in Ecuador.
The report unveils previously unpublished images of Ribeney SA, an office located in an exclusive business district in Quito, decorated with photographs and poster images of President Rafael Correa and Che Guevara. According to Mil Hojas, Ribeney employees operate multiple social-media accounts dedicated to monitoring and attacking the Ecuadorian opposition.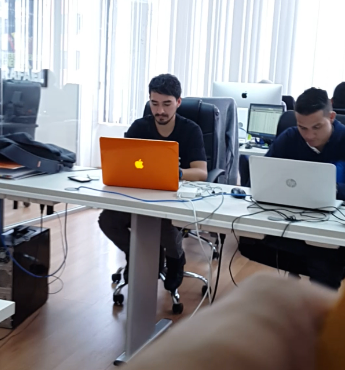 According to the Companies Registry of Quito, Ribeney has two shareholders: Carlos Venegas Quiñonez and his son, Carlos Venegas Chamorro. It started operations in August 2013, with an initial capital of less than US$1,000.
Jairo Vera Lino is listed as the general manager of the business. According to information provided by the Ecuadorian Institute of Social Security (IESS), Vera's previous work experience includes time as a farm laborer in the province of Manabí.
Moreover, the company signed a 90-day contract in November 2013 with the Ministry of Strategic Sectors worth over $200,000 to design a strategic media campaign to help strengthen oil exploration in the country.
The address of Ribeney's headquarters in Quito matches the address registered by the company Medaglia SA, where Venegas Chamorro is also a shareholder.
According to the Superintendency of Companies, Medaglia was incorporated in January 2011, and is managed by Raúl Ernst Edwards. It was initially registered with the same address of two other advertising agencies connected to the government, Percrea and Ximah Digital.
Percrea is managed by Carlos Alvarado, brother of Fernando and Vinicio Alvarado, both senior government officials. In addition, Mil Hojas reports it was former employees of Percrea that initially formed Ximah.
Mil Hojas alleges that Medaglia currently holds contracts with the Ecuadorian government worth over a million dollars. The government awarded the company seven of those contracts between 2013 and 2014, including a "citizen strategy contract" worth $270,000, and a child-labor awareness campaign worth over $160,000.
PanAm Post contacted Fundación Mil Hojas for comment on this story, but that request was not immediately returned. The Ecuadorian government has not yet responded to the allegations.
Correa and the Trolls, a Context
Allegations of government-sponsored trolls operating on Ecuador's social networks are nothing new. In 2012, Fernando Balda, a former congressman, ruling-party ally, and now one of Correa's harshest critics, revealed on his blog that he once offered a reward for information on corruption within Ecuador's government.
As a result, an anonymous user replied to Balda with a list of social-media accounts created exclusively to defend President Correa from his critics and mainstream journalists.
In September 2014, the "Twitter gate" scandal deepened when an alleged hacker posted a video to YouTube revealing Juan Carlos Váscones, CEO of Ximah Digital, as one of the Facebook page administrators for El Patriota (The Patriot), a notorious Correa troll.
Váscones later admitted that his company created a fanpage for El Patriota, but denied being involved in the creation of the Twitter account. The issue escalated when reports later confirmed Váscones as Ecuador's representative for IMSCorp, Twitter's commercial partner in Latin America.
In January 2015, President Correa launched Somos +, a website created with the express purpose of responding to social-media users who "smear" the government.
Edited by Guillermo Jimenez.