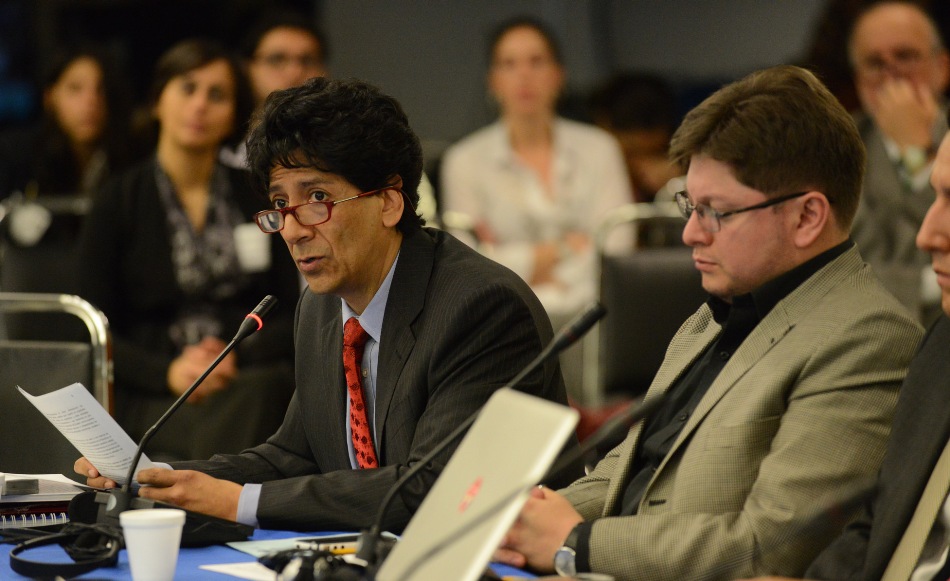 EspañolIn the latest government action against a journalist critical of President Rafael Correa's administration, Ecuador's attorney general has opened preliminary criminal investigations against Xavier Bonilla — a renowned cartoonist known as Bonil.
On Thursday, March 19, Bonilla revealed on Facebook that prosecutor Galeano Balcázar had opened the case against him, and local newspaper El Universo in which his work regularly features, over a a caricature he drew of Assemblyman Agustín Delgado in October 2014. Ramiro García, the cartoonist's lawyer, also confirmed the investigation via Twitter.
According to Ecuador's Penal Code, discrimination on grounds of ethnicity or socioeconomic status is punishable by one to three years in prison.
Prosecutor Balcázar has ordered police to take statements from the victim and witnesses, to examine the place where the alleged crime was committed, and to investigate the suspects, including their police records and personal history. The initial investigation process must be completed within 30 days.
The case goes back to October 2014, when 14 organizations representing the country's Afro-Ecuadorian ethnic group filed a lawsuit alleging that a cartoon lampooning Delgado, a legislator with the ruling PAIS Alliance party and a former soccer player on the Ecuadorian national team, was discriminatory.
In February 2015, Bonilla was admonished by the Superintendency of Information and Communication (Supercom) for "socioeconomic discrimination" against Delgado due to his Afro-Ecuadorian heritage.
The body ordered Bonilla to "correct and improve his practices for the full and effective exercise of communication rights," and to "refrain from repeating" his misdemeanor. Supercom also ordered El Universo to publish a public apology to Ecuador's black population.
However, the entity further referred the case under to the Attorney General's Office to "make the proper legal investigations."
In an interview with the AFP news agency in February, the cartoonist hit back against the allegations. Bonilla claimed that if he had to "improve communication practices," Correa should have to do so as well, and "stop insulting journalists, assaulting cartoonists, and accusing citizens without evidence."
Pro-Bonil Backlash
Following the announcement of the investigation, multiple social-media users spoke out in favor of Bonilla. Several mentioned the case against him had motivated them to march against Correa's government during last week's #19M demonstrations.
Earlier in March, the cartoonist addressed the Inter-American Commission on Human Rights (IACHR) to denounce the "harassment" and censorship of journalists by Correa's government and the chilling effect on freedom of expression.
"Humor today is a reason for persecution, inquisitorial control, and interrogation," Bonil argued. "Before, a Twitter user's legitimate mission was to be followed by many. Now, the aspiration is not to be persecuted," he added.
No government representatives attended the IACHR hearing.
In a statement in February, Carlos Ponce, director of Latin America programs at Freedom House, claimed that "the ludicrous allegations against Bonil are the latest example of the Ecuadorian government's ongoing effort to stifle the country's independent media."
Correa has used "a variety of tactics to punish journalists and media outlets" since first coming to power in 2007, he added.
Edited by Laurie Blair.