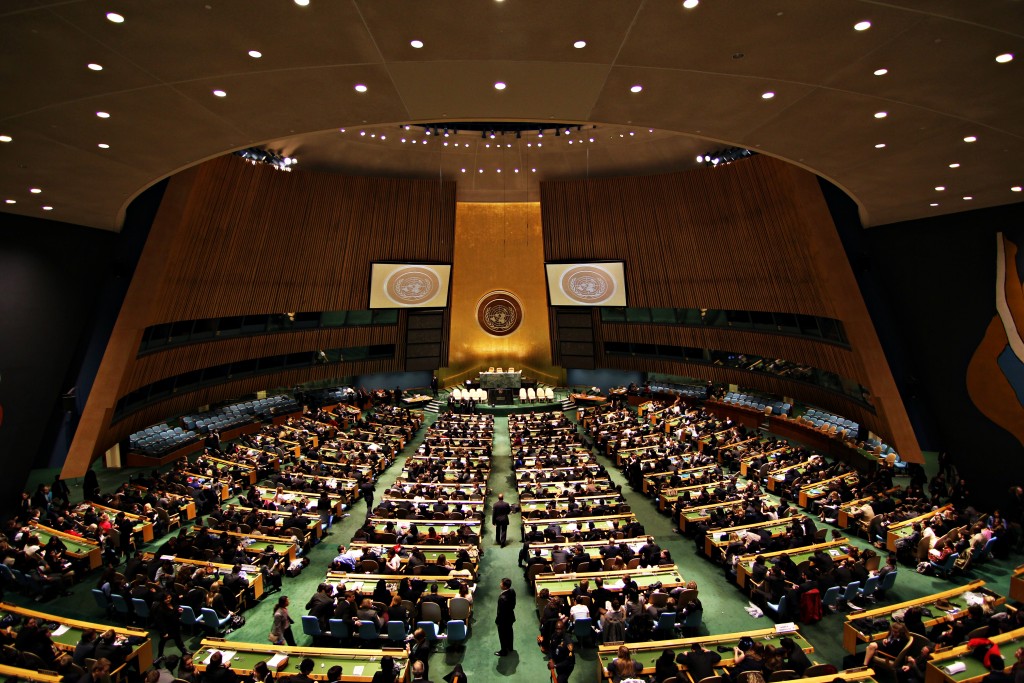 Español Ninety-two NGOs from over 35 countries issued a joint statement on Friday, March 13, calling on the United Nations Human Rights Council (UNHRC) to create a Special Rapporteur on the right to privacy.
The written declaration was delivered by Andrew Smith, legal officer at Article 19, during UNHRC's 28th ordinary session in Geneva, which began March 2 and is expected to end on March 27. Among the signatories are Amnesty International, Human Rights Watch (HRW), the International Commission of Jurists (ICJ), the International Federation for Human Rights (FIDH), and Privacy International.
The statement follows an initiative led by Brazil and Germany, who coauthored and filed a resolution entitled The Right to Privacy in the Digital Age late in 2014 calling upon states to respect and protect the human right to privacy.
"The UN General Assembly, the UN High Commissioner for Human Rights, and existing special procedure mandate holders have all recognized the pressing need for ongoing, systematic and authoritative monitoring, reporting and guidance on the scope and content of the right to privacy," reads the document.
NINETY-TWO non governmental organisations call on #UN #HRC28 to create Special Rapporteur on #Privacy: http://t.co/m4WFmwy62c MT @PrivacyUN

— ARTICLE 19 UN (@article19UN) March 13, 2015
The establishment of a Special Rapporteur for this right, it argues, "would address this urgent need and fill a significant gap" in its conceptual understanding and practical application.
The assembled coalition of NGOs believe that a Special Rapporteur "would make an essential contribution to the development of a coherent and complementary approach to the interaction between privacy, freedom of expression and other human rights."
"It would be a logical, incremental step to the Council's engagement on this issue, and it would enable the Council to play a leading role in strengthening the promotion and protection of the right to privacy," the document adds.
We want a Special Rapporteur on the Right to Privacy! @article19org @amnesty @derechosdigital @EFF @hrw @privacyint @pen_int @witnessorg

— APC (@APC_News) March 13, 2015
Privacy, Keystone of Other Rights
Smith, who delivered the statement at the United Nations, told the PanAm Post that the debate began in June 2013, when Edward Snowden revealed government mechanisms of surveillance on an unimaginable scale, "with clear human-rights implications for all peoples' right to privacy and freedom of expression."
"Since then, the UN has attempted to tackle what is an under-examined issue at the international level: what are the human-rights implications of governments' having advanced technological capabilities to spy on everything that we do?"
"Privacy is crucial to the exercise of all other rights, including freedom of expression — for journalists, lawyers, human-rights defenders, whistleblowers — the ability to keep our communications private is essential to our work, and even to our safety," he argued.
A "substantive gap" in UN mechanisms for defending privacy, Smith added, leads to "confusion" about human-rights standards among both states and civil society, hampering calls for "stronger protections on the ground."
The previous resolution by Germany and Brazil, alongside previous requests for the creation of a Special Rapporteur by the General Assembly and the UN High Commissioner for Human Rights, are likely to see the Council approve the initiative, according to Smith. The initiative has the support of a strong core group of European nations, joined by Brazil and Mexico, despite discomfort by the "five eyes" states —  the United Kingdom, Canada, United States, New Zealand, and Australia.
Critical debates today on privacy resolution at #HRC28. 92 NGOs have called for the creation of a special rapporteur: http://t.co/m4WFmwy62c

— ARTICLE 19 UN (@article19UN) March 17, 2015
A Special Rapporteur would be uniquely placed to address concerns over the right to privacy, Smith argued, because he "can develop international norms to define the contours of the right to privacy, and its relationship to other rights — free expression, freedom of assembly, health, education, as well as the limited circumstances under which the right can justifiably be restricted."
The Special Rapporteur's Office would also help to bring expert attention to issues such as metadata management, and how states can balance the right to privacy versus security concerns. Article 19 is concerned, Smith said, that "national security" is often used as a "trump card" to remove rights protections. Infringements of rights to privacy via surveillance, he added, must be legal, appropriate to objectives, and "necessary and proportionate to that aim."
However, greater international legal norms to help prevent privacy violations are needed beyond the creation of a Special Rapporteur, according to Smith: the UN Human Rights Council should also discuss how to protect whistleblowers, such as Edward Snowden, and the journalists who work with them.
Edited by Laurie Blair.