EspañolXavier Bonilla, the celebrated Ecuadorian cartoonist known as Bonil, and local newspaper El Universo have been warned that they are at risk of a jihadi attack, similar to the shooting that occurred in France against the satirical weekly Charlie Hebdo and its staff members.
Fundamedios, an NGO that advocates for free speech in the country, reported on Wednesday, March 4, that El Universo received a written statement in its readers mailbox titled, "A warning to the cartoonist Bonil."
It was signed by a person identified as José Muñiz, who claims to be a 22-year-old Ecuadorian citizen, student of Islam, and member of the Islamic State (ISIS).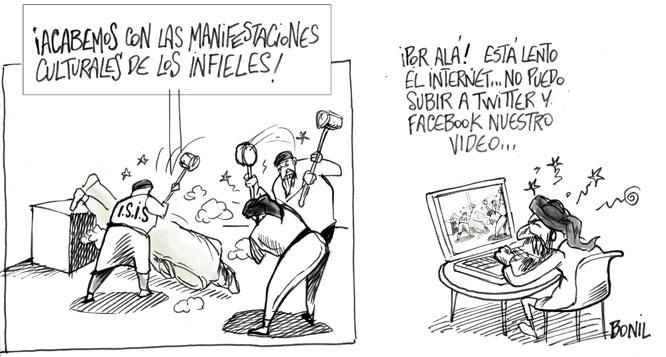 According to Muñiz, Bonil's cartoon, published in the newspaper on March 1, offended the Islamic organization and their god, Allah. "Once again, the cartoonist for El Universo, ridicules the Islamic State with his drawings, and names Allah," he wrote.
"The next time I see a cartoon similar to what I have mentioned in your journal, I will call my friends in Syria to alert them about what is happening in Ecuador, so they can come and kill the wretch who is doing this," Muñiz continued.
Moreover, Muñiz stated that they will "make an attack against the newspaper El Universo, such as the one that happened in France with the magazine Charlie Hebdo."
Finally, the message reads: "This is the last time Bonil, or you will regret it."
The cartoon that led to the threat shows two scenes: first, three ISIS men hitting a statue with the caption "Let's put an end to the cultural expressions of the infidels!"
The second image shows a person wearing a turban, sitting in front of a computer, and reads: "By Allah! The internet is slow … I cannot submit our video to Twitter and Facebook."
"I Believe in Threats of Luck"
In an exclusive interview with the PanAm Post, Bonil asserted that this is the first death threat he has ever received. However, he said that he does not feel threatened, because the only warnings he believes in are what he calls "threats of luck" (amenazas de suerte).
"The only ones I give any importance to are the threats of luck, threats of life that I receive from my readers. Every day … several people always come to me and express their solidarity; they tell me I'm not alone, that this is everyone's fight," the cartoonist shared.
"If this is a serious threat, the most that I can do is get judo classes to defend myself from the Islamic State," he continued.
When asked whether he thinks this threat is related to the legal process he currently faces, due to a cartoon considered discriminatory by Ecuador's Superintendency of Communication (Supercom), Bonil asserted that this action is definitely part of the "climate of hostility and harassment against citizens and journalists" that currently exists in the country.
"I think it has to do with the environment we live in Ecuador lately. As a background, there are the threats that two citizens have suffered already: first, [behind] Crudo Ecuador, who published memes about President [Rafael] Correa, and another one who was along the same lines. Today I have become the third one."
Bonil, a finalist for the 2015 Index on Censorship Freedom of Expression Award, assured that the Ecuadorian executive branch condones this type of harassment.
"In his speeches, the president encourages people to reject and confront different social actors and journalists … he tears apart newspapers in front of TV cameras, encourages people not to believe or purchase certain media outlets, creates a page to respond to citizens who express their thoughts through social networks," among other things that make the environment increasingly hostile.
Regarding the recent declarations from Communication intendant Hermes Campoverde, in which he stated that "humor in Ecuador is something serious," Bonil joked that it is "enviable what the intendant has achieved to make the whole country laugh," because that is what Bonil tries to do with his cartoons every day.
Finally, when asked if his drawings will be impacted, given the recent problems with the government he has had to face, Bonil acknowledged that they would. From now on, his cartoons will have to be "more incisive."
Edited by Fergus Hodgson.