Español In January, Ecuadorian health officials declared a "state of emergency" in Guayaquil's Teodoro Maldonado Carbo Hospital (HTMC), but fresh discoveries have kept the flagship state-run institution in Ecuador's largest city in the eye of the storm.
Inspectors accompanying President Rafael Correa on his second visit to HTMC on Tuesday, February 24, discovered over a dozen tunnels allegedly used to smuggle medicines out of the hospital for illicit sale.
The system of passageways, filled with rusting pipes, cables, and puddles of fetid water, connects with multiple areas of the hospital. Signs of red paint indicate the entry and exit points of the network.
Further beneath the tunnels themselves is an enormous cesspool collecting run-off wastewater. This massive source of infection was one of many severe irregularities found by the Ecuadorian Institute of Social Security (IESS) team that accompanied President Correa on his visit.
President Correa also announced the discovery of 42 cellars used to store medicine in unsuitable conditions, much of which had expired. Jonás Gonseth, the hospital's newly appointed manager, claimed that many of the stores were "clearly linked" to the theft of medicines, putting the figure of expired products at US$7 million.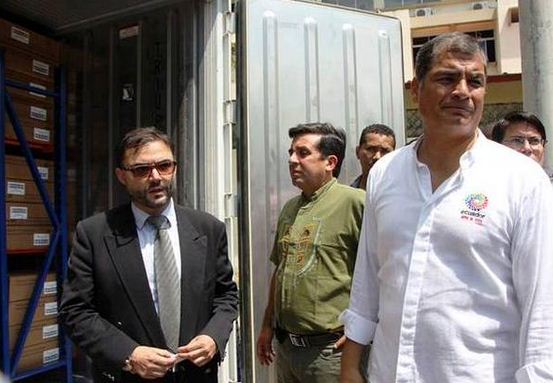 "We've rescued up to $3.5 million in drugs that weren't expired, but couldn't be salvaged due to the poor conditions in which they were stored," Gonseth said, noting that the majority were expensive treatments, including for cancer patients.
Correa's visit to the HTMC came 15 days after his first unannounced inspection to the hospital, in which he found irregularities in several areas of the institution, later describing it as "a real disaster."
Following Correa's second visit, police arrested seven staff working in the pharmacy and cellars of HTMC for their alleged involvement in the medicine theft. Interior Minister José Serrano later confirmed the arrest via his Twitter account.
1/2Hemos aprehendido a siete presuntos delincuentes x robo de medicamentos para el cáncer en el Hospital Teodoro Maldonado Guayaquil

— José Serrano Salgado (@ppsesa) February 27, 2015

"We've apprehended 7 presumed criminals for the theft of cancer medicines in Teodoro Maldonado Guayaquil Hospital."
A joint operation between Ecuador's Attorney General's Office and the IESS saw the hospital staff placed in custody late on Friday. Featuring on the charge sheet are computer fraud, embezzlement, and theft, with government losses from the drug theft totaling around $500,000.
A "Genuine Mafia"
During his weekly Citizen Link televised broadcast on Saturday, President Rafael Correa took aim at HTMC and its employees, claiming that failings had been long-standing due to endemic corruption.
"People complained that there were no drugs for cancer treatment, but this medicine was being stolen. People said there were no retrovirals … but these did not appear in the inventory and then were mysteriously lost," the president said, describing the smuggling networks as "genuine mafias."
"There was looting in the Teodoro Maldonado Carbo Hospital; people knew it, but nothing happened. We all become complicit in these cases," Correa said.
Furthermore, the Ecuadorian premier demanded an explanation from the hospital authorities about delays in payments to staff, poor patient care, and the habitual untidiness of the institution.
"It was not lack of resources, it was lack of management and organization … indolence and corruption," Correa argued. "I don't know how we failed to notice these things."
Ecuadorians Unsurprised
However, many Ecuadorians appear not to have been shocked by the irregularities found at HTMC. Many social media users claimed that the corruption had been going on openly for years without punishment.
Lo que acontece desde hace años en el hospital Teodoro Maldonado Carbo, fue destapado por una veeduría ciudadana del @CPCCS. #cleptocracia

— David Rosero (@davidroserow) February 26, 2015

"What was happening for years in the Teodoro Maldonado Carbo hospital, was uncovered by a citizen inspection by the Council of Citizen Participation and Social Control. Kleptocracy."
Others complained that former health officials, such as Industry Minister Ramiro González and Defense Minister President Fernando Cordero, are now working in senior government positions.
The two previously served as presidents of the IESS Board of Directors without signaling the failings at HTMC.
5 empleados del Hospital del IESS Gquil detenidos. Y González y Cordero felices premiados con cargos! Acaso no sabían del relajo y robo?

— Andrés Páez (@andrespaezec) March 1, 2015

"Five employees of the IESS Hospital in Guayaquil detained. And Gonzalez and Cordero were happily rewarded with positions! Did they not know about the mess and theft?"
Tremenda falta de gestión sistemática en el mayor hospital del IESS del país. Y premian con ministerios a ex- responsables mayores.

— Rolando Montesdeoca C. (@romoced) February 28, 2015

"Tremendous and systematic lack of management in the largest IESS hospital in the country. And former managers rewarded with ministries."
Edited by Laurie Blair.