EspañolThe chikungunya virus continues to spread across Latin America and the Caribbean, with health authorities estimating that over 1.2 million people may have been infected since the virus emerged in the region in late 2013.
The latest numbers available come from a Pan American Health Organization (PAHO) report, dated February 20, which records 1,217,093 suspected cases. Of these, 27,529 confirmed cases of the mosquito-borne disease were locally acquired, and 3,471 were contracted abroad.
Chikungunya is transmitted by the Aedes Aegypti and Aedes Albopictus mosquitoes — the same breeds that spread dengue fever — and causes fever, joint pain, headache, nausea, fatigue, and rashes. Currently there exists no specific treatment, nor a vaccine to prevent infection.
The mortality rate is around one in 1000, with the elderly most at risk. According to the PAHO, the outbreak has left 172 dead in the Americas, with 97 percent of fatalities registered in the Caribbean.
Some of the neglected tropical diseases are no longer strictly tropical. #Dengue is now present in more than 150 countries #BeatNTDs

— World Health Organization (WHO) (@WHO) February 19, 2015
In the same vein, the World Health Organization (WHO) also released a report in February on neglected tropical diseases — including dengue, chikungunya, Chagas disease, and trachoma — and urged governments to increase investment to tackle their prevalence worldwide.
The report, entitled "Investing to overcome the impact of neglected tropical diseases," states that changes in global temperatures, as well as rainfall and humidity levels, may have increased "the distribution and incidence of at least a subset of these diseases," several of which can cause permanent disability and death. The UN agency noted that poorer individuals were particularly susceptible to infection and serious health complications.
"Increased investments by national governments can alleviate human misery, distribute economic gains more evenly, and free masses of people long trapped in poverty," WHO Director General Margaret Chan said in a statement.
Dirk Engels, director of the WHO Control of Neglected Tropical Diseases Department, explained that many of the diseases could now be found in areas that weren't "strictly tropical."
"The potential for spread provides yet another strong argument for making the needed investments — while ramping up research and development efforts — to bring all these diseases under control and eliminate as many of them as rapidly as possible," he added.
Central American Epicenter
Doctors first detected chikungunya in the Americas on the Caribbean island of Saint Martin, with 66 confirmed cases. Outbreaks soon followed across the Caribbean and Central America.
By July 2014, El Salvador's estimated cases exceeded 1,000. By October, the figure ballooned to more than 75,000. According to the latest figures, there are over 160,000 cases of the virus in the Central American nation.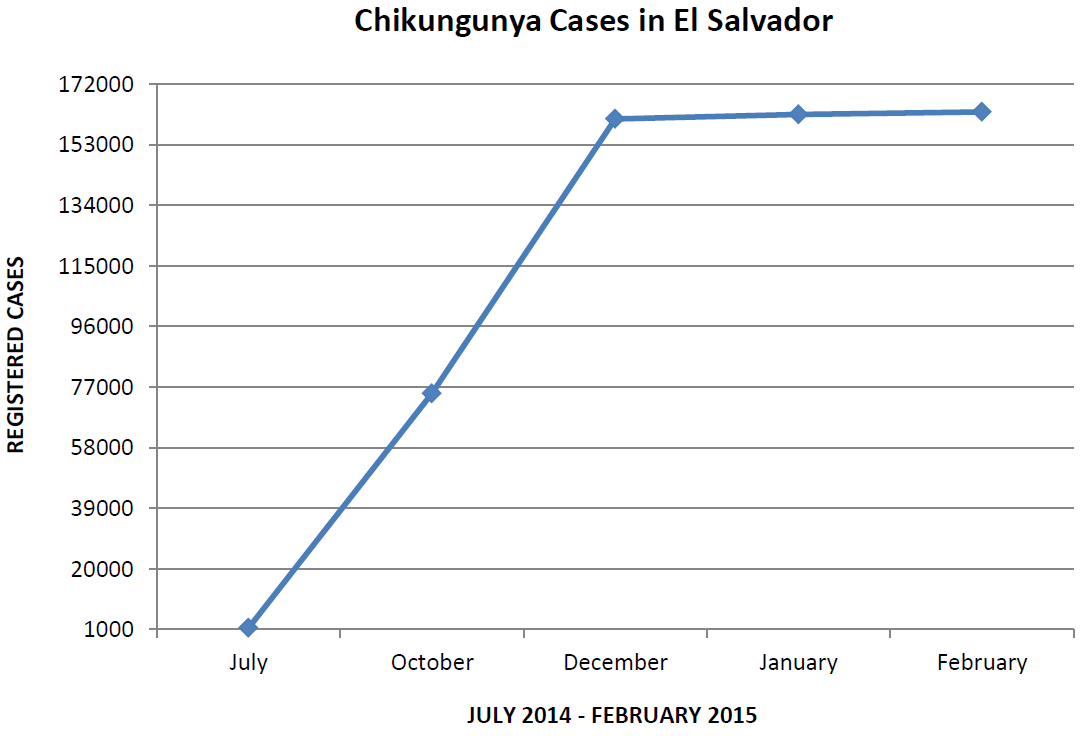 In neighboring Honduras, the number of cases rose from from 100 to 5,000 in the last quarter of 2014. In February 2015, the figure rose to 9,000, claiming its first fatality in the country.
In several South American countries, the virus is still confined to localized outbreaks, although numbers continue to grow. It didn't arrive in Ecuador until October 2014, with 110 confirmed cases in four provinces of the country to date, according to the Ministry of Public Health.
In the case of Bolivia, cases have increased from three to 38 this year. Brazil is home to a rapidly growing number of cases, with 800 reported in October growing to 2,500 within the past four months.
Colombia Crisis
However, Colombia's tropical climate has enabled chikungunya to spread at lightning speed. Only 15 cases were initially attested in September 2014, but the figure exceeded 600 within three days.
In January, the National Institute of Health (INS) confirmed 70,300 cases across the country, although the suspected figure is now estimated to be around 150,000 nationwide.
By December 2014, seven deaths had been reported, but three of the cases have since been attributed to other causes. The remaining four are being studied by the INS.