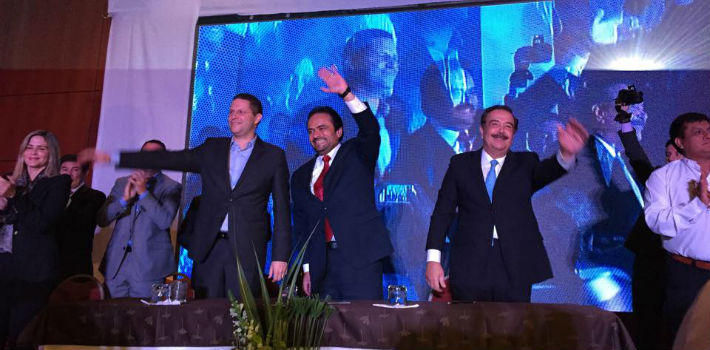 Mayors of Ecuador's major cities, alongside representatives of multiple political parties and social organizations, gathered in Cuenca on Monday, February 23, to form a new political front against the government of President Rafael Correa.
One year after legislative elections on February 23, 2014, when candidates of the PAIS Alliance lost in several important cities across the country in one of the ruling party's few defeats at the polls, over 40 political actors attended the meeting hosted by the Provincial Prefect Paúl Carrasco.
The two guests of honor were the mayors of Quito, Mauricio Rodas, and Guayaquil, Jaime Nebot. At a conference in the Azuay provincial capital, they expressed their desire to defend democracy, the diversity of ideology, and liberty.
Venimos a hablar del país, con responsabilidad. Iniciamos la unidad pic.twitter.com/MYqOTw1drp

— Jaime Nebot (@jaimenebotsaadi) February 23, 2015

"We come to talk about the country with responsibility. Unity begins."
During his speech, Nebot asserted that national unity is essential for true democracy, as well as the respect for pluralism and freedom.
"We have come to speak about the country with responsibility, without sectarianism, going beyond ideology and politics," he said. "We have come to seal a joint commitment to begin … the indispensable national unity of all, which is nothing without respect for local and provincial diversity," he added.
"Progress is not passing laws and constitutions about it, or promising it … it's the opposite. Progress is to do, not to talk; to deliver, not to promise; to add, not to subtract … so we have to fight and defend the different views of local and regional progress that have been successful."
For his part, Rodas said that the meeting with his colleagues was "the beginning of a joint effort in order to create a democratic space … under the framework of ideological, regional, and cultural diversity."
La democracia, libertad y respeto a los derechos tienen que ir de la mano del bienestar y prosperidad

— Mauricio Rodas (@MauricioRodasEC) February 23, 2015

"Democracy, freedom, and respect for rights must go hand in hand with welfare and prosperity."
Rodas also talked about an imminent economic crisis facing the country, and pledged to do everything in his power "to prevent Ecuadorians from being harmed."
"We will maintain the proposal to promote … measures to stimulate investment and development," he said.
Carrasco, tasked with delivering the closing speech, asserted that "unity within diversity is the path that will lead to better days," and invited others that believe democracy in the country to be at risk to join the initiative.
He further argued that the time had arrived for every person opposed to the government to set aside parties, ideologies, and personal interests. "We need a democratic majority…. Today I pledge, as a radical democrat of the left, to build a democratic space for unity. The nation and democracy come first," he stated.
The new front led by the three local officials follows other joint-opposition initiatives, such as Commitment Ecuador, a movement calling for a popular referendum to prevent indefinite reelection in the country. Commitment Ecuador members were not present at the gathering.
A Manifesto for Unity
During the opposition meeting in Cuenca, Carrasco, Nebot, and Rodas signed a manifesto titled A Call for the Unity and Defense of the Democratic Principles of Febrary 23, in which they pledged to work together to defend democracy.
"We express our willingness to work together to promote and unreservedly defend democracy, civil liberties, civil rights, pluralism, and respect for all people regardless of their line of thought, which are the principles and values of February 23," the document reads.
"We agree to undertake a joint work under ideological, territorial, and cultural diversity to consolidate a democratic and united space. We therefore invite all Ecuadorians to join this initiative to achieve an Ecuador of well-being, progress, and freedom."
Government Hits Back
While the opposition gathered, members and supporters of President Correa's administration delivered hostile commentary via social media. Several argued that the summit was the work of the "Conservative Restoration" — as Correa routinely dubs those opposed to his government — and aimed to destabilize his government.
#ReuniónDeOposición en #Cuenca pone en evidencia la alianza contranatural entre la seudoizquierda con la derecha recalcitrante. @35PAIS

— Movimiento Revolución Ciudadana (@EcuadorRC) February 23, 2015

PAIS Alliance National Secretariat for Political Action: "Opposition meeting in Cuenca highlights the unnatural alliance between the pseudo-leftism and the recalcitrant right."
Buenos días "@MashiRoberto: Dicen por ahí q hoy habrá fanesca en #Cuenca. #RestauraciónConservadora" desde isla Mocolí hasta Cuenca..!

— Fernando Alvarado Espinel (@FAlvaradoE) February 23, 2015

Ministers Roberto Wohlgemuth and Fernando Alvarado: "They say that today there will be a coup in Cuenca. The high-class Conservative Restoration has gone to Cuenca."
#EcuadorYaCambió, pero la #RestauracionConservadora quiere retornar a toda costa al pasado neoliberal, privatizador y explotador

— Marcela Aguiñaga (@marcelaguinaga) February 23, 2015

Marcela Aguiñaga, second vice chair of the National Assembly: "Ecuador has already changed, but the Conservative Restoration wants to return at all costs to the neoliberal, privatized and exploitative past."
Edited by Laurie Blair.