Español Xavier Bonilla, the Ecuadorian cartoonist known as Bonil, is once again the target of a government prosecution over one of his drawings.
On February 9, the Superintendency of Information and Communication (Supercom) conducted a substantiation hearing over charges of "socioeconomic discrimination" against the artist.
Bonilla, a 2015 arts nominee in the Index on Censorship's Freedom of Expression awards, attended the hearing alongside his attorneys, Ramiro García and Lenin Hurtado. The defense claimed the government violated the artist's rights to due process, by denying them access to information and not making the complaint report available to their client.
Supercom representatives countered that the hearing was scheduled to simply "listen to all parties," and not yet to render a decision.
A "Racist" then "Discriminatory" Cartoon
In October 2014, 14 social organizations filed a lawsuit against Bonil and local media outlet El Universo. There dispute was with a cartoon based on Assemblyman Agustín "Tin" Delgado, a former soccer player on the Ecuadorian national team, current legislator, and member of the ruling PAIS Alliance party.
Bonil's drawing — published in El Universo in August — referred to a speech Delgado made before the National Assembly, in which the deputy stuttered frequently. According to the plaintiffs, the cartoon (shown below) violates Articles 61 and 62 of Ecuador's Law of Communications, which prohibit the dissemination of "discriminatory messages."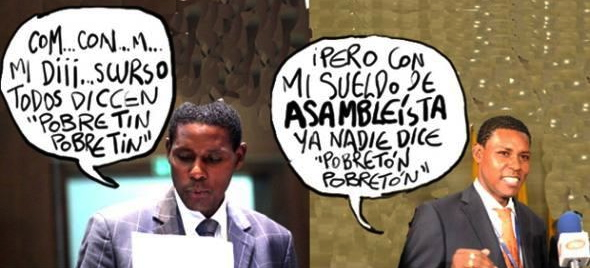 A couple days after the drawing was released, El Universo and Bonil publicly apologized to the legislator. The central government, however, broadcast a video nationwide in which the cartoon was described as "an insult to human dignity."
Moreover, Delgado continued his complaints regarding the cartoon via his Twitter account. Bonil apologized again, saying that "if a public apology helps to erase the feeling of disrespect that you felt … I here express that apology with sincere conviction."
Ecuador's Supercom considered the lawsuit valid, and summoned the cartoonist to appear on January 16, under the charge of racism. Nonetheless, on January 9 — two days after the Charlie Hebdo shooting — they rescheduled the hearing, and also changed the charge to "socioeconomic discrimination."
Ecuador's Record of Censored Cartoons
This is not the first time Bonil has been prosecuted for his work. Last year, the cartoonist was sanctioned after he published a drawing related to the raid on the home of Fernando Villavicencio. The former oil trade unionist and legislative adviser was under investigation at the time, after allegedly hacking e-mail accounts of high-level government officials.
On that occasion, El Universo had to pay a fine equivalent to 2 percent of the average turnover of three months. Bonil, for his part, was forced to "rectify" his cartoon within 72 hours.
#YoSoyBonil
Support from Bonil sympathizers has had a strong presence on social networks, with the hashtags #YoSoyBonil (I am Bonil) and #MiLápizEsLibre (My pencil is free).
Moreover, many people in the audience at the hearing sported banners and shirts with signs of support for Bonil. Several nonprofits and international NGOs have also shared messages of support and solidarity with the cartoonist.
Carlos Ponce, director of Latin America programs at Freedom House, says "the ludicrous allegations against Bonil are the latest example of the Ecuadorian government's ongoing effort to stifle the country's independent media."
Furthermore, he said that President Rafael Correa has used "a variety of tactics to punish journalists and media outlets," going back to 2008.
"Freedom House reiterates its call for the Ecuadorian government to respect the fundamental right to freedom of expression and end its politically motivated persecution of journalists like Bonil."
Victoria Ramírez, vice chairman of EsLibertad in Ecuador, shared her views on the matter with the PanAm Post.
"To punish a cartoonist is just like silencing a citizen," she said. "It is to prevent an individual from expressing his views peacefully."
"Any kind of censorship, whether imposed in a coercive way, or self-imposed for fear of retaliation, should be reported, as it is a clear violation of freedom of expression."
"Bonil has our [EsLibertad] support for standing up boldly in front of the charges against him … for not letting his pen tremble at any time, and reminding us that even in the most difficult moments, humor can become our greatest ally."
Edited by Fergus Hodgson.