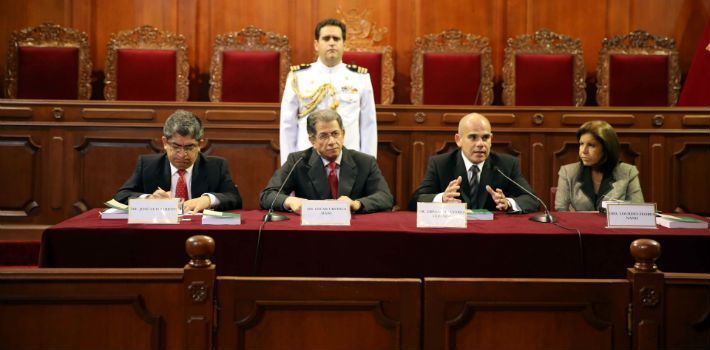 Peru's former president, Alberto Fujimori, in jail since 2007 for human-rights abuses, has received a new eight-year sentence in a ruling handed down by the Supreme Court of Justice (CSJ) on Thursday, January 8.
The court found Fujimori guilty of embezzlement for diverting public funds to buy off tabloid newspapers and gain favorable headlines during his reelection campaign in 2000 — a corruption scandal known as the "chicha press" case.
In addition to the eight-year sentence, the court disqualified Fujimori from holding public office for 3 years and fined him PER$3 million (US$1 million) in civil damages.
During the sentencing hearing, which began more than an hour late, Fujimori managed to communicate with the media by writing down messages from his seat and showing them to the cameras awaiting the verdict outside the courtroom. "The diversions of funds to the chicha press were not of my authorship," he wrote, insisting on his innocence.
In a separate verdict, the Peruvian Constitutional Tribunal (TC) has upheld Fujimori's 25-year prison sentence for crimes against humanity, originally imposed in 2009. According to the ruling, the court found the former president's request for an appeal baseless.
The court made its decision back in October 2014 but did not make it publicly available until Wednesday, January 7. The court argued that it was not within its authority to determine whether or not Fujimori should be released based on the concerns raised by his attorney's of his advanced age and poor health.
The Chicha Press
Regarding his latest conviction, the court found Fujimori ordered the diversion of PER$122 million (US$41 million) from the Armed Forces budget to pay the so-called chicha press to support his reelection in 2000 and sling mud at his opponents.
Matilde Pinchi Pinchi, secretary for Vladimiro Montesinos, Fujimori's primary advisor, accused the former president of illegally paying journalists US$5,000 for every news headline that favored his reelection.
Fujimori presented his closing arguments on December 29, 2014, and asserted he had no responsibility in the case and that the misuse of public funds occurred outside of his control.
https://www.youtube.com/watch?v=mhAmxnVb7VM#t=20
Fujimori's Convictions
This latest conviction was the fifth for the 76-year-old Alberto Fujimori, who served as president of Peru from July 1990 to November 2000.
Vladi-videos
After his extradition from Chile in 2007, Peruvian courts sentenced Fujimori to six years imprisonment for the illegal raid he carried out in 2000 on the home of Vladimiro Montesinos.
Fujimori used a search warrant issued previously by a judge to orchestrate a raid on Montesinos — then fugitive from justice — in order to confiscate comprising evidence that could point to corruption or human-rights violations.
The videos recorded by Montesinos were the primiary evidence used to convict Fujimori of corruption and are commonly known as the "Vladi-videos."
Crimes Against Humanity
On April 7, 2009, Fujimori became the first democratically elected Latin-American leader to be convicted of serious human-rights violations in his own country.
He was sentenced to 25 years in prison for "the extrajudicial execution of 15 people in the district of Barrios Altos, Lima, which occurred in November 1991; the forced disappearance and murder of nine students and a professor from La Cantuta University in July 1992, and two kidnappings," according to a Human Rights Watch report.
Fraudulent Embezzlement
Then, in July 2009, the Peruvian former president was sentenced to seven and a half years in prison and fined PER$3 million (US$1 million) for alleging paying US$15 million to Montesinos in state funds. Fujimori admitted to the payment, but claimed all of the money was returned to the national treasury.
More Corruption
In September 2009, the courts added six more years to Fujimori's prison term based on three other corruption cases. He was found guilty of using public funds to buy the now defunct Cable News Channel (CNN) and the editorial line of the Expreso newspaper.
Furthermore, Fujimori created "listening centers" to spy on the communications of various journalists and opposition politicians. The main wiretapping center was called the "White House" and operated out of the Peruvian Presidential Palace.
In addition, Fujimori pled guilty to paying 13 opposition congressmen to join the ruling party in 2000. He was also sentenced to pay $1.6 million to the state for civil damages and $1 million to those affected by the phone surveillance.
Prison sentences in Peru, however, are not cumulative, and are served concurrently. Therefore, the most serious of Fujimori's convictions — 25 years for human-rights violations — will prevail.
Edited by Guillermo Jimenez.