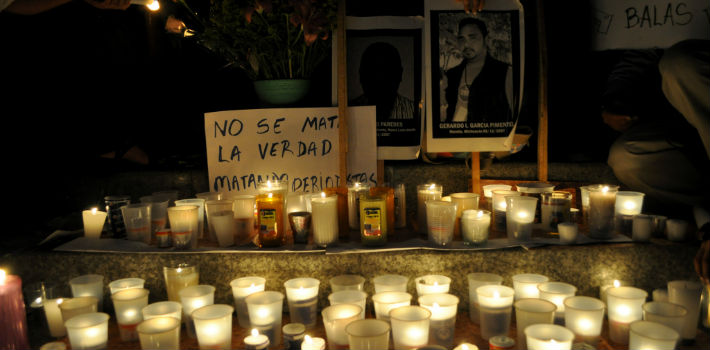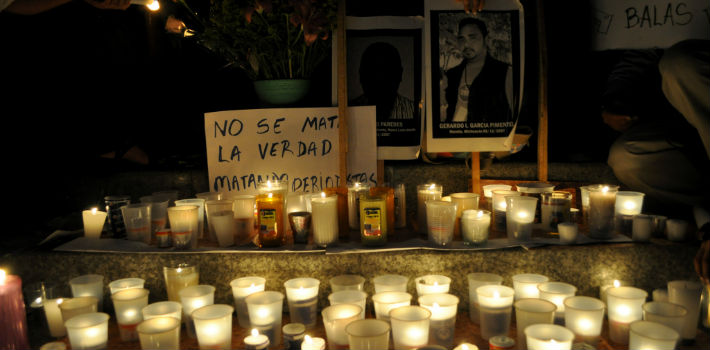 EspañolNo less than 66 journalists have been killed this year throughout the world, according to a new Reporters Without Borders (RWB) report released on Tuesday. The France-based organization's annual summary of abuses against journalists includes figures up to December 8, and cites 178 reporters imprisoned, 119 kidnapped, and 139 exiled.
Increased Barbarism
Although the total number of journalists killed is slightly lower than the 71 reported cases in 2013, RWB's overview for the year highlights "an evolution in the nature of violence against journalists … including carefully-staged threats and beheadings."
Of the 66 professional journalist killed in 2014, two-thirds worked in war zones, such as Syria (15), Palestine (7), and Ukraine (6). In addition, 19 citizen journalists and 11 media workers were also killed. Furthermore, the number of female reporters killed increased from three to six.
The report acknowledges five cases in particular that "marked 2014," including two murders attributed to the Islamic State: Iraqi cameraman Raad al-Azzawi — publicly executed in Iraq — and US journalist James Foley — beheaded in a video that shocked the world.
According to the press freedom NGO, the total number of journalists killed since 2005 is now at 720.
Kidnappings Soar, Imprisonments Unchanged
RWB registered nearly a 40 percent increase in the number of journalists kidnapped in 2014. Of the 119 professional reporters captured, 40 are still held hostage, mostly in Ukraine (33), Libya (29), and Syria (27).
According to the report, the most dangerous areas in the world for journalists are the territories controlled by the Islamic State, Eastern Lybia, Pakistan's Balochistan province, eastern Ukraine, and the Colombian department of Antioquia.
#thisisnotacontainer it's a prison for journalists in #Erytrea pic.twitter.com/woJMTMhKHY

— RSF_Tech (@RSF_Tech) December 16, 2014
The number of journalists imprisoned for alleged crimes related to their work — a total of 178 — remained the same as in 2013. Moreover, China, Eritrea, Iran, Egypt, and Syria led the world in 2014 in the number of journalists imprisoned.
RWB also notes that arrests, while not as serious a violation as prolonged abduction or murder, can also have detrimental effects on the media's work. In 2014, the organization counts 853 professional journalists arrested around the world, with the highest number in Ukraine and Egypt.
According to RWB, three of the five cases that marked the year have to do with imprisoned journalists. The Saudi government has jailed citizen journalist Raef Badawi since 2012 for "insulting Islam" through his website, and was given a 10-year sentence in addition to 1,000 lashes and a hefty fine.
RWB also notes that arrests, while not as serious a violation as prolonged abduction or murder, can also have detrimental effects on the media's work.
In Azerbaijan, authorities are holding investigative journalist Khadija Ismaïlova on the charge of "pushing" a former colleague to attempt suicide, which carries a potential three to seven-year prison sentence. Lastly, in China, the government has charged Gao Yu with divulging state secrets to German public broadcaster Deutsche Welle, and is seeking a life sentence for the journalist if convicted.
On the Run
The number of journalists who fled their home country nearly doubled in 2014, from 77 registered cases in 2013 to 139 this year. The NGO records the highest number of journalists who fled came from Libya (43), Syria (37), and Ethiopia (31).
"Most journalists flee to a neighbouring country where they continue to fear for their safety because their government's thugs or militiamen often try to pursue them across the border," states the report.
Regional Threats to Media
Latin-American countries largely escaped mention in this year's round-up of violence against journalists, with the exception of Mexico, Colombia, and Venezuela. RWB lists Mexico among the places in the world with the highest risk of kidnapping for journalists, and the Antioquia department of Colombia among the most deadly.
The press freedom organization notes the country governed by Nicolás Maduro had the fifth most incidents of journalists arrested — 34 cases in 2014 — only behind Ukraine (47), Egypt (46), Iran (45), and Nepal (45).
Venezuela also ranks second in the world in threats or attacks against journalists, with 134 registered cases this year. According to the report, "the Bolivarian National Guard was responsible for 62 percent of the cases of violence against journalists during this year's major streets protests."
Ukraine leads this category with 215 cases, followed after Venezuela by Turkey (117), Libya (97), and China (84). The year saw a total of 1,846 journalists attacked or otherwise in danger during "often-violent demonstrations" around the globe.
Edited by Guillermo Jimenez.