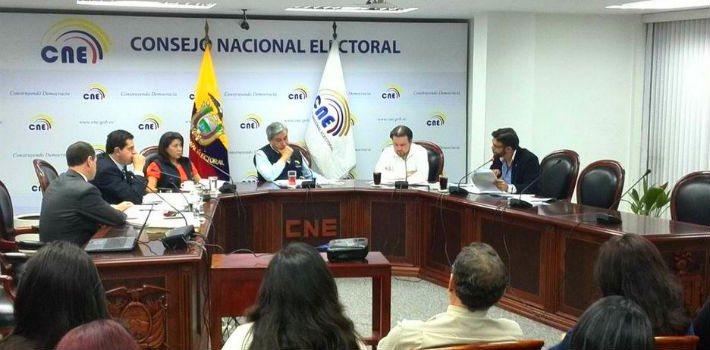 EspañolThe Republic of Ecuador is at a crossroads that will determine the future of its democracy. The country's National Electoral Council (CNE) on Monday effectively blocked a referendum seeking to prevent the indefinite reelection of President Rafael Correa. It announced that it won't issue the necessary forms needed to proceed with a popular vote backed by opposition coalition Commitment Ecuador (Compromiso Ecuador).
1) #CNE resolvió negar pedido de entrega de formularios para Consulta Popular al ciudadano Carlos Padrón.

— cnegobec (@cnegobec) December 1, 2014
1) CNE has denied the request to deliver forms for a Popular Referendum to Carlos Padrón.
The CNE's reason was a technicality of dubious legality.
According to a statement released Monday, the petition failed to comply with the Law of Jurisdictional Guarantees and Constitutional Control, of which Article 100 stipulates that the Constitutional Court should first be consulted in the case of proposed constitutional amendments, prior to the collection of signatures. The Court then indicates the procedures established in the Constitution that should be followed.
2) Por no cumplir con lo establecido en el art.100 de Ley de Garantías Jurisdiccionales y no cuenta con el dictamen de procedimiento CC

— cnegobec (@cnegobec) December 1, 2014
2) For not complying with article 100 of the Law of Jurisdictional Guarantees and not following Constitutional Court procedures.
However, legal adviser for Commitment Ecuador Aparicio Caicedo argued in an interview to the contrary. Caicedo pointed out that Article 104 of the same law stipulates that constitutional control for popular referendums should only be applied after verifying the democratic legitimacy of the questions to be placed, through collecting signatures.
The CNE has previously refused to deliver the relevant forms to opposition party Patriotic Society (PSP), which intended to call a referendum for the same issue, although the PSP was in that case actually in breach of constitutional process.
Indefinite Reelection Looms
On October 31, Ecuador's Constitutional Court unanimously ruled that reforms proposed by the ruling party, PAIS Alliance (AP), including indefinite reelection for all political positions — including the president — should be debated by the Legislative Assembly, in which Correa's party holds a clear majority.
In opposition to the move emerged Commitment Ecuador, an umbrella political front for around 40 political and social organizations headed by 2013 presidential candidate Guillermo Lasso. It formed in the same month with the objective of collecting signatures to call for a nationwide referendum on indefinite reelection. A social media campaign it began under the hashtag #QueremosFirmar (#WeWantToSign) has been gathering further momentum after the CNE's decision.
The CNE's ruling represents a new challenge for the opposition, effectively clearing Correa's way to indefinite reelection, subject only to the scrutiny of his own party.
However, Lasso took to Twitter to reiterate that the CNE's refusal to deliver the forms was "completely political" and had "no legal basis."
"The battle for democracy has only just begun," he added. "Commitment Ecuador will take steps, which we'll soon be communicating."