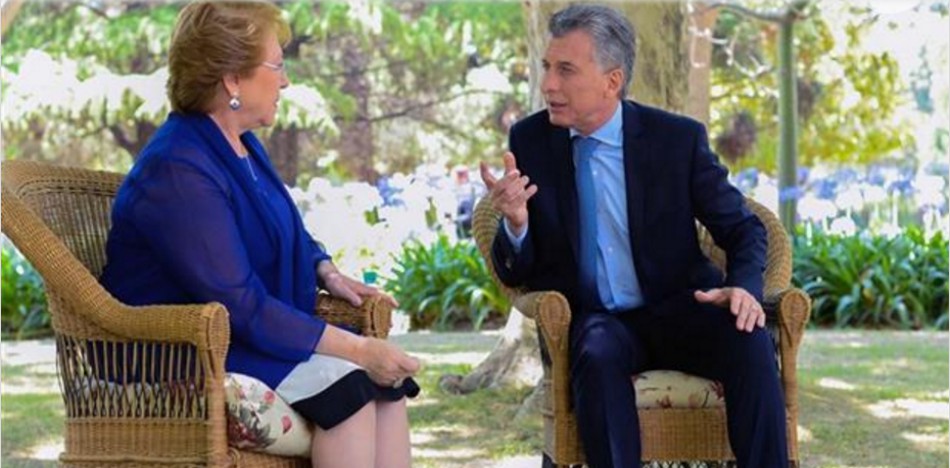 EspañolChile is "very interested" in Argentina joining the Pacific Alliance, Chilean President Michelle Bachelet said Friday during an official visit to her Argentinean counterpart Mauricio Macri.
In June, Argentina was granted observer status in the group, made up of Chile, Colombia, Mexico and Peru.
"I hope that during the pro tempore presidency of Chile we will have a Mercosur meeting of ministers and the Pacific Alliance," Bachelet said. "We are interested in Argentina being a member."
Macri, who already has just finished his first year in office, is looking for a way to get the bloc to help with his attempt to open the Argentinean economy following a decade of protectionist policies implemented by Kirchner administrations.
Bachelet said during the first quarter of 2017 there would be a meeting between the members of the Pacific Alliance and those of Mercosur to discuss expanding commercial ties.
"There are many things that link us, beyond our history and our affection," Macri told Bachelet.
Argentinean Chancellor Susana Malcorra insisted on an agenda oriented around regional alliances.
"We have to project ourselves and we can not do it from the perspective of one country. We have to go out into the world together," the official said.
Earlier this year, Chile reportedly ratified an agreement that reduced tariffs to zero percent for trade between the four countries of the Pacific Alliance.
Argentina, on the other hand, has just assumed the presidency pro tempore of Mercosur, made up also by Brazil, Bolivia, Paraguay and Uruguay. Venezuela, which until early December was a full member, lost its status after being suspended by the bloc's founding countries due to its inability to fulfill basic of requirements.
At the meeting last Friday, it was agreed to that Chile would help Argentina in the process of joining the Organization for Economic Cooperation and Development (OECD).
"We have gone through all these stages and we can tell you how the experience was," the Chilean president told Macri.