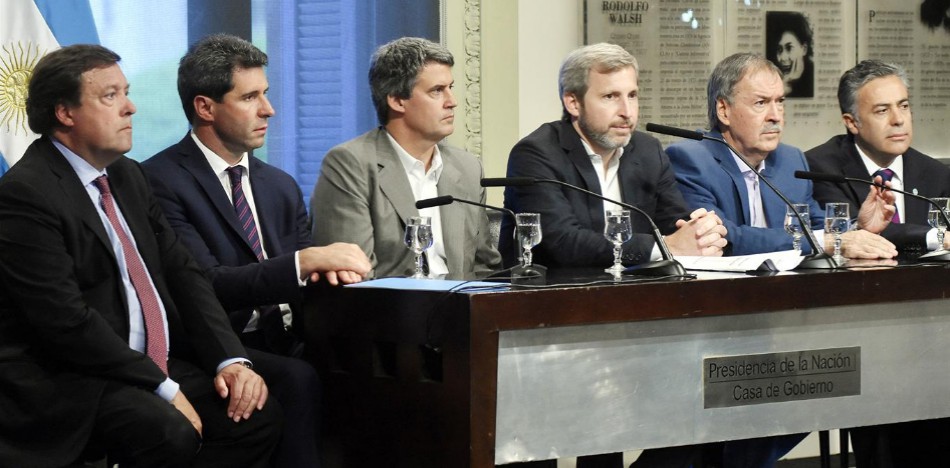 The governors of most of the Argentine provinces on Tuesday gave their approval to modifications of an income tax reform bill that has been agreed upon by the government, following intense negotiations with different sectors.
The regional leaders were key to curb an opposition proposal that had been approved by the Chamber of Deputies which would have represented a significant fiscal cost for provinces. Urged by the government, last week they expressed to the Senate the inconvenience of the opposition legislation for the finances of their provinces, which played a major role in preventing passage of the alternative bill.
The fiscal cost of the new bill will be about AR $34 billion (US $2.1 billion), which represents AR $7 billion (US $441,770,000) more than the original budget for 2017 prepared by the National Government.
"Of that additional amount, half of that would be charged by the provinces, but the federal government will be responsible for disbursing national Treasury contributions that are raised through income taxes," said Finance Minister Alfonso Prat-Gay in statements reviewed by La Nación.
Meanwhile, Interior Minister Rogelio Frigerio said that one of the main sources of financing for the bill will be to modify the tax revenue raised through the gaming tax, which would raise approximately AR $6 billion (US $378,660,000).
Frigerio reiterated Monday's commitment to the General Confederation of Labor (CGT), which set the non-taxable minimum for a married worker with two children at AR $37,000 (US $ 2,335.07) and at almost AR $28,000 (US $ 1,767.08) for singles without children.
Prat-Gay said that the agreed modifications with different sectors involved a "middle point" between the different proposals. In addition, for the fiscal years of 2016 and 2017, "we are going to return to the workers the equivalent of AR $84 billion pesos" (US $5.3 billion).
This afternoon senators will work on modifications of the bill in order to present it to the appropriate committee of the Upper House this Wednesday, December 21. If approved, it will be returned to the Argentine Chamber of Deputies, where they are anticipating its enactment into law on Thursday, December 22.