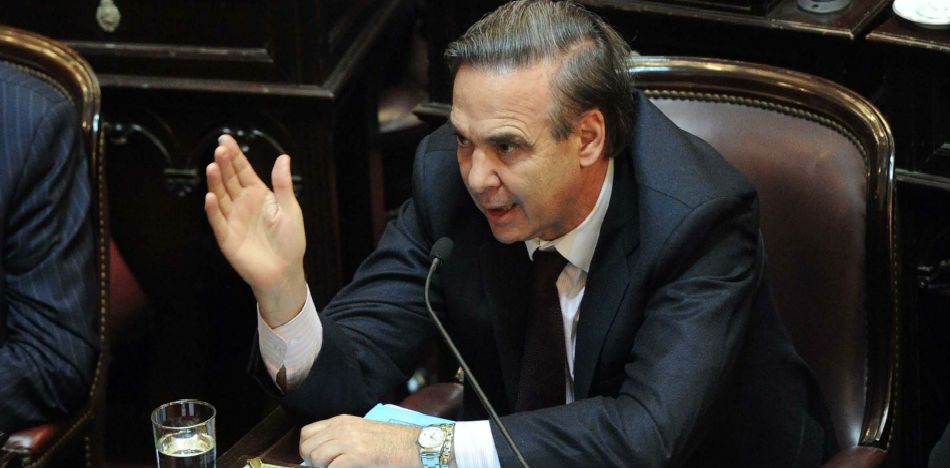 EspañolThe views of Senator Miguel Ángel Pichetto regarding the arrival of immigrants to Argentina were not well received by the public recently.
The senator for Front for Victory (FPV), the political movement of former leftist president Cristina Kirchner, said during a television broadcast that his country had "very complex immigration and there is no reciprocity."
"How much misery can Argentina stand by receiving poor immigrants?" Pichetto asked. "We must stop being silly. The world is changing. It is a world that is closing up."
For the senator, Argentina works as "social adjustment" for Bolivia and a "criminal adjustment" for Peru. Pichetto said that Peru solved its security issues by transferring their drug dealing schemes to Argentina.
"The main towns of Argentina are taken over by Peruvians," he said. "Argentina has to withstand all this hangover."
The words of Pichetto made an immediate impact on social media, mostly of near-unanimous rejection.
Repudio enérgicamente los dichos xenofobicos del senador Miguel Pichetto, referirse así de compatriotas latinoamericanos es una bestialidad

— Horacio Pietragalla Corti (@pietragallahora) November 2, 2016
I energetically reject the xenophobic declarations of Senator Miguel Pichetto. Talking like that to Latin American countrymen is ludicrous. 
Hábleme de sus abuelos Pichetto? Cuantos diplomas universitarios trajeron? con que bienes se instalaron en nuestro País? Seguro eran rubios https://t.co/6taRehfWK8

— Rara como Encendida (@dravaleria) November 2, 2016
Tell me about your grandparents Pichetto? How many college degrees did they have? What wealth did they bring with them? They were surely blonde.
Some people have asked Pichetto to resign his position as chief of the Kirchnerist bloc in the Senate while others have dubbed him the Donald Trump of Argentina. To date, his fellow congressmen have said nothing.
However, former Chief of Staff to Cristina Kirchner rejected the rhetoric, even though he considers Pichetto a friend.
Comentario: mis amigos los elijo yo y Miguel Pichetto es mi amigo pero, rechazo vehementemente ese pensamiento. Está claro? p@armandofaisan

— Aníbal Fernández (@FernandezAnibal) November 2, 2016
Comment: I pick my friends and Miguel Pichetto is my friend, but I strongly reject his comments. Is that clear?
Also condemning Pichetto's comments was the controversial activist for human rights and faithful follower of the former president Kirchner, Head of the Mothers of the Plaza de Mayo organization Hebe de Bonafini.
"Quit if you have any balls," the controversial activist said in her usual confrontational style. She apologized to her "Latin American brothers."
In 2014, Pichetto had already called for "deportation of foreigners who commit crimes" and Senegalese immigrants who "sell fake merchandise."
On top of the controversy surrounding the comments made by Pichetto this week were those made by Alejandro Biondini, the leader of a party accused of neonazi ties.
"First [Jorge] Lanata, now Pichetto … so much that was persecuted and banned for years by similar opinions … today I feel like a moderate," Biondini wrote on Twitter.
In his program Journalism for All, journalist Jorge Lanata recently looked at statistics showing the growth of immigrants who came to Argentina to use public education and hospitals in the country.
"I know they come in tours to be here in Argentina," he said. "They come a couple of days, have surgeries and leave."
"There are 340,000 foreigners in Buenos Aires hospitals," said Romina Manguel, a journalist who works for Lanata. "Data for January 2015 to January 2016 says we are subsidizing 340,000 foreigners in the midst of an emergency situation in the health system."
Source: Argnoticias, Clarín, Expediente Político.