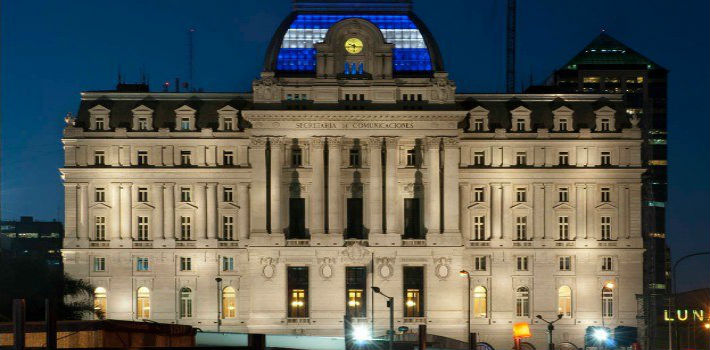 EspañolSerious irregularities were discovered this week involving the Kirchner Cultural Center.
A report release by the Sindicatura General de la Nación (Sigen) — the General Comptroller's Office — said the KCC, which provides a space for the arts in Buenos Aires — had bloated spending and disastrous construction plans.
The KCC was inaugurated May 15, 2015 as the largest arts center in the region and fourth largest in the world. It was named after then-President Cristina Kirchner and in homage to former President Néstor Kirchner.
The Argentinian newspaper Clarín had access to the Sigen report, which revealed that the final cost of the center was AR $2.541 billion (US $167 million) and was completed far after its expected completion date.
According to report, the cultural center should have finished construction October 12, 2012 after 40 months of work. The audit done by Sigen shows that the it did not finish until 78 months, costing millions of dollars more.
"With what KKC cost, we could have constructed an art powerhouse in the capital of each province," wrote the Federal System Public Relation and Content Director Hernán Lombardi.
Lombardi said the government left 2,000 artists without pay in that time, that creates a debt of AR $18 million (US $1.18 million).
By the time of its inauguration, the KCC had not complied with the authorization granted for its operation, the Sigen report said.
Nor had it filed the request with the Directorate General for authorization and permits from the Government of the city of Buenos Aires (GCBA).
It also reportedly failed to present architectural plans for fire safety to the proper authorities. 
The long list of irregularities amounts, the report said, to poor building design that could actually "deteriorate the building architecturally."
The Sigen report shows that there was an agreement with University Tres de Febrero that resulted in duplicate invoices and artistic fees amounting to AR $198 million.
There are more than AR$ 3.2 million (US $ 211,000) in invoices that to "do not allow for the identification of the services provided," the audit said.
This week, a law is moving through congress  preventing recently erected buildings to be named after political figures or leaders until 20 years removed from their deaths.
If the law passes, all buildings named after dead ex-President Néstor Kirchner, including the KCC, will be changed.
Source: Clarín.