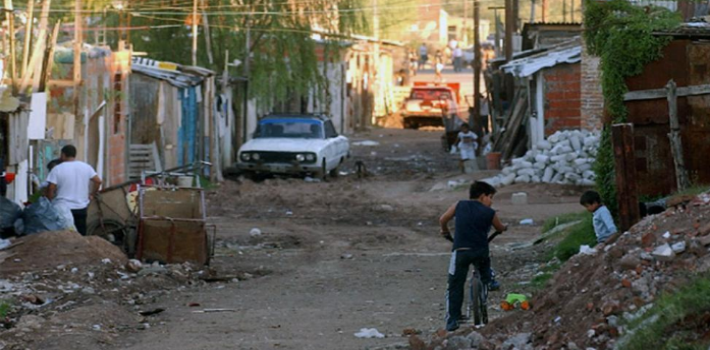 EspañolAfter three years without specific details, the National Census and Statistics Institute (Indec) revealed Wednesday that poverty in Argentina has affected 32.2 percent of the population during the second trimester of 2016.
According to Indec, 8.7 million Argentineans are in a situation that could be classified as poverty and 1.7 million are in situations of homelessness.
The poverty line is marked by how much money an adult requires to buy basic goods and pay for fundamental services like healthcare or education. That number comes in around AR $3,938 (US $256.44).
In greater Buenos Aires poverty reached 30.9 percent. In the northeast of the country (Misiones, Corrientes, Entre Ríos, Chaco and Formosa) 40 percent of people are below the poverty line and 7.6 percent are homeless. In the northeast (Jujuy, Salta, Catamarca, Tucumán, La Rioja and Santiago del Estero), 38.5 percent are poor and 7.6 are homeless. In the Cuyo region (Mendoza, San Juan and San Luis), poverty was reportedly 35.6 percent and homelessness reached  4.5 percent.
In 2013 — during Cristina Kirchner's adminstration — poverty statistics were unreleased or suspected of having been manipulated. The last batch of data on poverty comes from the second trimester of 2012, when poverty was reportedly at 5.4 percent.
Director of Indec Jorge Todesca said during a press conference that the study used 31 urban centers and surveys of 27 million people. The total population of Argentina is around 40 million.
The results don't match up with studies performed by the private Catholic University of Argentina, which said last year that poverty was around 29 percent, with 5.3 percent homelessness.
Data published by the newspaper Clarín said that unemployment is around 9.3 percent and inflation is over 40 percent, which may contribute to poverty figures.
"Indec puts the truth on the table"
Following the release of the report, President Mauricio Macri offered his thoughts at a press conference, during which he said that "this is the topic by which I want to be evaluated as president and as a government."
"After years of manipulation, today we know the reality we fight against, because one in three Argentineans are poor and that is something that hurts us and which we promise to work to fix," he said.
Macri said that Indec "put the truth on the table."
"There will be no manipulations, lies or lack of respect," he said, "as we did when we said a few months back that there is less poverty here than in Germany."
Macri was referring to a 2015 interview done by Chief of Cristina Kirchner's Cabinet Aníbal Fernández, who claimed that Germany had more poverty than Argentina.
Regarding his electoral promise to bring poverty to zero, Macri said that it will not be possible in the four years that he will be president, but that his administration has "laid the groundwork."
"We have been able to lower inflation," he added. "That will generate conditions that create new jobs and credibility for the government. That is going to bring investment and positive results that lower poverty rates. Every six months we have to check back in."