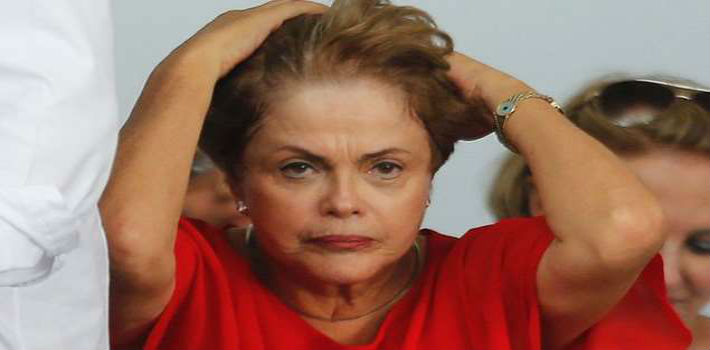 EspañolThe Brazilian Senate approved the removal of President Dilma Rousseff yesterday — Wednesday, August 31 — for having manipulated public funds.
Rousseff's defense requested that the vote be divided into two parts. The senators were to vote separately on the loss of her office of president and on her ban from running for public office. After an intense debate, the petition was accepted by the Supreme Federal Tribunal Judge Ricardo Lewandowski.
Votes for Rousseff's removal came in at 61 in favor and 20 against, without abstentions, holding her responsible for crimes with a definite two-thirds majority.
Next, they voted on whether to ban Rousseff from public office for eight years, but the senate did not come up with the two-thirds necessary to make this official. Forty-two senators voted in favor, with 36 against and three abstentions.
With this vote, the senate put an end to 13 years of leadership by the Worker's Party that had begun with Luiz Inácio Lula da Silva in 2003.
Michel Temer, who until today substituted in for Rousseff as interim President, now assumes the office until 2019.
Rousseff is the second head of Brazil to be removed from office. Fernando Collor was removed in 1992 for corruption accusations.
"Condemned to Innocence"
Now former-President Dilma Rousseff said the Coup d'Etat against her was unfortunately successful.
"They decided to interrupt the mandate of a president who had not committed a crime," she said during a live broadcast on Facebook. "They condemned an innocent person in what was essentially a Coup d'Etat."
Rousseff said the progressive project she was leading was interrupted by "a powerful conservative and reactionary force, with the support of the press."
"They overtook all of the institutions of the state and put them in service of radical economic liberalism," she continued.

Ecuador, Bolivia, Venezuela and Nicaragua condemned what they considered to be a coup d'Etat against Dilma Rousseff.
The three countries also announced that it will be removing their diplomatic representatives from Brazil.
President of Ecuador Rafael Correa expressed his annoyance at the removal on his Twitter account.
Destituyeron a Dilma. Una apología al abuso y la traición.
Retiraremos nuestro encargado de la embajada. Jamás cohonestaremos estas…

— Rafael Correa (@MashiRafael) August 31, 2016
Corrrea said the removal was "one of the darkest hours of our America" and sent his best wishes to the former President Lula da Silva.
President of Bolivia Evo Morales used Twitter to announce that the would be removing the country's ambassador from Brazil.
Estamos convocando a nuestro embajador en Brasil para asumir las medidas que en este momento se aconsejan.

— Evo Morales Ayma (@evoespueblo) August 31, 2016
Morales rebuked Secretary General of the Organized States of America Luis Almagro, asking "Where was Almagro? When they conspire against a democratic government on the left he isn't around, only when it's happening on the right."
Condenamos el golpe parlamentario contra la democracia brasileña. Acompañamos a Dilma, Lula y su pueblo en esta hora difícil. #FuerzaDilma

— Evo Morales Ayma (@evoespueblo) August 31, 2016
Venezuelan President Nicolás Maduro expressed his dislike of the outcome as well.
Toda la Solidaridad con @dilmabr y el PueblodeBrasil,condenamos el GolpeOligárquico de la derecha¡Quién Lucha Vence! https://t.co/0MkBrgsTwE

— Nicolás Maduro (@NicolasMaduro) August 31, 2016