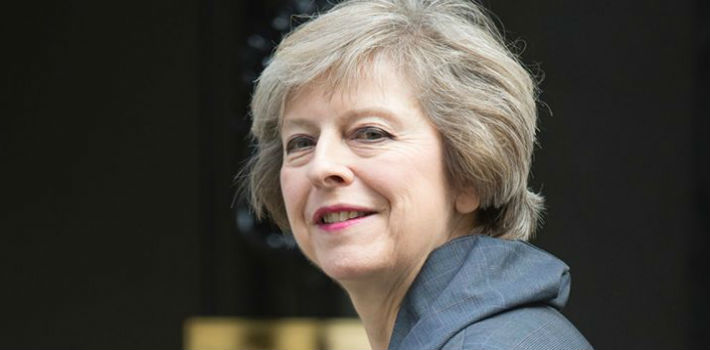 EspañolEngland and Argentina may be entering a new phrase in their relationship.
British Prime Minister Theresa May has reportedly sent a letter to Argentina President Mauricio Macri in which she suggested relations between the two countries enter into "a more productive phase."
"It is my sincere hope that, where we have differences," May said, "these can be overcome in an atmosphere of mutual respect and with the intent to act in a way that benefits everyone involved."British Prime Minister specifically requested progress "towards new air routes between the Falkland Islands (Malvinas) and countries in the region and towards the removal of the restrictive measures of oil."
According to the newspaper Clarin, May and Macri are to meet alone early next month at the G20 summit in China.
Argentina has reportedly been requesting a direct flight to and from the Falkland Islands from any city within Argentina, which stopped since the war between the two countries in 1982.
The Chilean company Latam currently has a flight every Saturday from Santiago to Mount Pleasant (Malvinas), to Punta Arenas (southern Chile). Once a month, that same flight stops in Rio Gallegos (province of Santa Cruz-Argentina).
During President Nestor Kirchner's time in office, islanders were banned from organizing charters into Argentina airspace, which was mostly for transporting tourists and food.
London officials have requested that the laws created by the Kirchners to penalize oil companies exploring in the Falklands be changed. But it's a complicated issue because Macri doesn't have majoritarian support in congress right now.
The British could also reportedly lift the embargo on the sale of military equipment imposed by parliament in 2012.
"I welcome our growing cooperation in areas such as trade and investment, fighting drugs, crime and corruption and to the fact that Argentina moves to the OECD (Organisation for Economic Co-operation and Development )," the British official said.
May said she was astonished by the success of the visit of the Fragata Libertad in Liverpool, which she considered "a clear sign that we are strengthening ties."
Argentina and Britain resumed their relationship in January when President Mauricio Macri and former British Prime Minister David Cameron held a meeting together. Both countries sought to improve bilateral ties that deteriorated significantly over the past 12 years amid strong conflicts over the sovereignty dispute in the Falkland Islands.
Source: Clarín