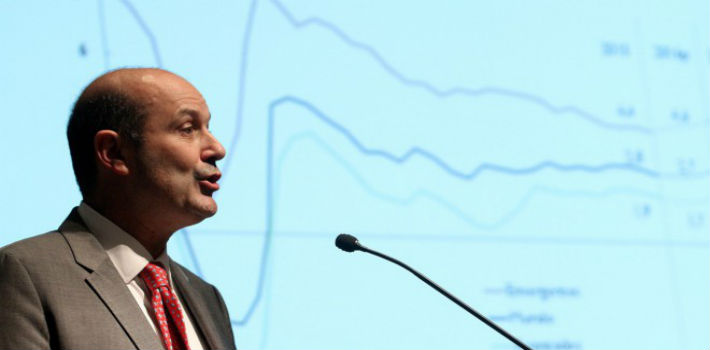 EspañolContrary to the hopes of Mauricio Macri's administration, the Argentinean Central Bank (BCRA) has released a report detailing the impossibility of economic recovery happening right away.
In the June Monetary Report presented on Monday, July 8, BCRA said "it doesn't anticipate a change in the economic cycle yet."
The central bank expects Argentina's economy to contract by 1.4 percent in 2016, with a two-percent reduction in the GDP in the third trimester.
The recession, which began in the third semester of 2015, is expected to continue "due to a drop in real income and stagnant employment."
Federico Sturzenegger, the central bank's president, is nevertheless optimistic for an economic recovery for the rest of the year due to new economic policies put forth by the national government.
The report mentions three measures that could boost the recovery of foreign trade flows: normalization of currency-exchange policy, lower tariffs for exports, and the elimination of barriers to trade.
The report states "a more competitive exchange rate will give an additional boost to exports."
According to Argentinean outlet Infobae, which had access to the report, BCRA considers the normalization of financial relationships with other countries to contribute to more direct foreign investment.
The team headed by Sturzenegger considered that there will be a progressive recovery of consumption as family income rises.
The BCRA expects monthly inflation deceleration started in June to be accentuated during the third and fourth trimester.
"Argentina is in a recession," Sturzenegger said during the presentation of the report. "We inherited an economy in recession and all efforts are being given to revert this. We're optimistic because we have indicators that allow us to say that real investment will come."
On Monday, July 18, Finance Minister Alfonso Prat-Gay insisted on creating expectations over the second semester. The official said inflation is down and that wage agreements have brought salary increases that "will surely translate to greater purchasing power."
"In the second part of the year wages will beat inflation," he added.
Last week, the National Institute of Census and Statistics (Indec) said inflation dropped to 3.1 percent in June. This represents a slight improvement after the 4.2 percent registered in May. In the first semester of the year, inflation was around 29 percent, above the 20-25 percent that the new administration had expected.