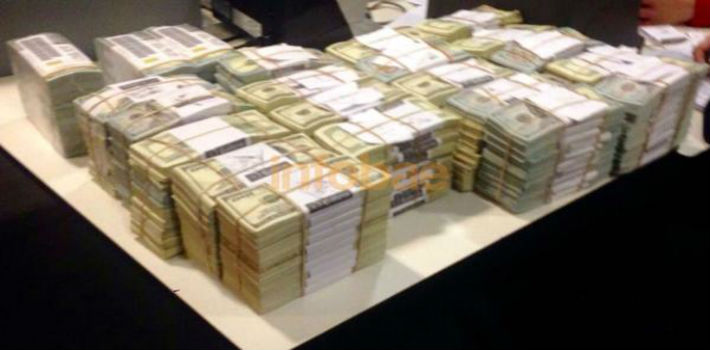 EspañolFederal Judge Julián Ercolini ordered the freezing of bank accounts of Florencia Kirchner, the daughter of former Argentina President Cristina Fernández de Kirchner, on the grounds of alleged irregularities in the adminstration of funds.
Last Thursday, officials opened Florencia Kirchner's security boxes in Banco Galicia, revealing US $4,644,000 that was broadcasted across local media.
In the two frozen accounts there were US $1,032,114.91 and US $3,570.
The magistrate argued the decision was taken "to stop any alteration to the values found there" before the official seizing of the money.
The freezing was requested by attorney Gerardo Pollicita, who accused Florencia Kirchner of illicit handling of funds. Florencia's brother Maximo has already been accused of the same thing in the Hotesur case, along with their mother, the former president of Argentina.
In the Hotesur case, Judge Ercolini investigated the Kirchner family and several businessmen like Lazaro Baez and Cristobal Lopez for alleged money laundering. They had rented rooms in the Kirchner family hotel, paying considerable money without ever occupying them.
One of the suspicious things found in Florencia Kirchner's account dates back to March 3 in her Galicia Bank account. That day, there was a US $1,125,000 cash withdrawal. Afterward, Florencia Kirchner's account was at a balance of US $1,696,972.05.
On Thursday, July 7, Florencia Kirchner ordered a US $40,000 withdrawal from her account. According to local press, this happened on the same day Judge Claudio Bonadio ordered the freezing of all of Cristina Kirchner's accounts. This decision was made along with the freezing of all her assets.
Clarín pointed out that the justice is trying to determine where Florencia changed the pesos for dollars. The Argentinean newspaper said some of the dollar stacks were thermo-sealed by the United States Federal Reserve at both the Atlanta branch and New York branch.
The decision to freeze her accounts this Friday means Florencia Kirchner cannot move her money from or between bank accounts of security boxes until a technical assessment determines the origin of her assets. However, she will be allowed to withdraw small amounts for basic needs, Clarín reported.
Last week, Judge Ercolini asked for Cristina Kirchner's bank information due to Margarita Stolbizer's complaint. She had filed a petition with Argentinian judges in which she asked for an investigation. She had denounced "suspicious actions" from the former president and her two children. The alleged irregularities amounted to "around US $5 million."
The source of Florencia Kirchner's money
The former president's daughter published a long letter on her mother's Facebook page claiming the money found in the security box came from her father's succession and  from her mother, which makes it all legal.
"I asked the box to be opened immediately, I have nothing to hide," she wrote. "That way I could show once more the transparency with which we've always operated."
"All funds were declared by my parents in each DDJJ (sworn declarations), both fiscal and before the Anti Corruption office," she added.
On Wednesday, July 13, Florencia Kirchner sent a request in which she asked for the boxes to be opened "immediately" to avoid a "media circus."
She accused the press of taking part of what she said was a media "persecution" of her family.
"I know well why we're being prosecuted, its not something that surprises me," she said. "As we're being harassed and all our accounts turn up empty, other things are being found. For example, all the presumably illegal money found with the current president, Mauricio Macri."
"When there are no more places to look what are they going to do?" She asked. "Invent a vault under (my daughter) Helena's cradle? To raid my house at 3 a.m. over an anonymous call?"
Gendarmerie denounced for filtering pictures
The Kirchner family lawyer Carlos Beraldi requested there be a criminal investigation this Friday, claiming officers of the National Gendarmerie and "top authorities in the Security Ministry" filtered pictures of the money in Florencia Kirchner's security box.
"Barely hours after the procedure, different news portals showed pictures obtained by the Gendarmerie in the raid," Beraldi said.
The lawyer claimed it was a "criminal maneuver" made with the "sole purpose" of affecting the rights of Florencia Kirchner and the rest of her family.