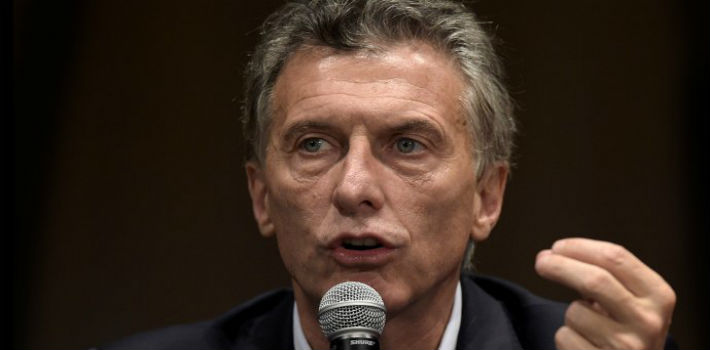 EspañolArgentina President Mauricio Macri insisted that economic measures like adjusting public service tariffs were necessary for preventing the country from falling into a situation similar to that currently faced by Venezuela.
"Economic and energy policies similar to the ones we were having in Argentina until five months ago were applicable in another Latin American country where businesses close almost every week," he said. "A whole country is turned off. We were heading down that path unless we applied these changes."
A few days ago, Pope Francis met with members of the Latin American Episcopal Council (CELAM), expressing his concern for the social, economic and political "conflicts" happening in Argentina, Venezuela, Brazil and Bolivia. Local media noted Macri's statements about Venezuela were coming in response to the Pope's comments.
The President reiterated that his measures have been tough on many people, but some sacrifices have to be made to better the country.
"I know it has been hard for many, and believe me it hurts me having to reconcile this very serious problem," he said during a visit to Córdoba, "but we were running out of energy."
"If there was another way — a solution that would have allowed us to avoid raising prices — we would have taken it. But there was no other way. There is no other way to guarantee a strong future, because a country cannot function without power."
In April, the government announced an increase in gas, electricity, transportation and fuel services.
Finance Minister Alfonso Prat-Gay confirmed this week that inflation will fall during the second half of the year. He added that by then, "rate increases will be finished" and only "inertial inflation" will remain.
After the anti-firing law was vetoed, Macri's administration hopes to spotlight a positive legislative agenda that includes more laws favoring the sectors affected by these adjustments.
On Friday, May 27, the President announced he will be sending a bill to Congress laying out a payment plan for the debt owed to more than 2.2 million retirees whose assets were erroneously settled.
Source: La Nación