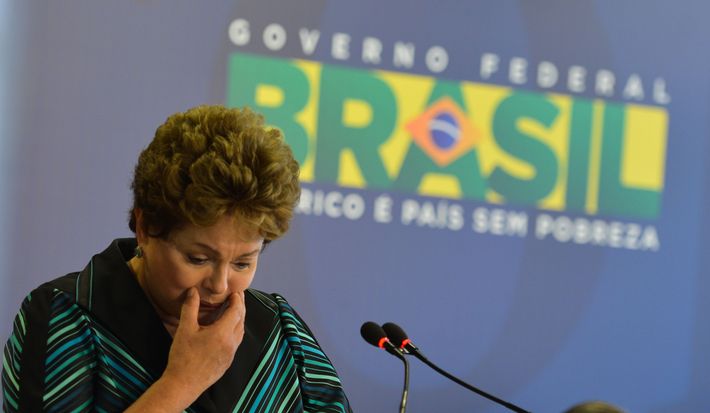 Español The world's fifth largest economy finds itself in an unprecedented political crisis after its Senate approved Brazilian President Dilma Rousseff's impeachment trial, for which she is stepping down for 180 days.
President Rousseff is accused of having broken fiscal responsibility laws while managing the federal budget. During the trial, she will reside in the Alvorada Palace and receive half pay.
Of the 81 senators that were in the debate that began on Wednesday and lasted early into the following morning, 51 voted in favor of impeachment, with 22 voting against. There was one abstention and three absences.
While Rousseff is suspended from office, Vice President Michel Temer is the acting Brazilian president. He has already prepared the cabinet that will accompany him during the 6 months — or longer, if the Senate finds Rousseff guilty.
Temer, formerly an ally to the president and the ruling Workers' Party (PT), was one of the main supporters of impeachment after it gained momentum.
There was no special ceremony to swear in Temer due to the interim nature of the situation. He is expected to publicly announce his plans for the 180 days as well as the members of his cabinet in the coming days.
Easing concerns of Brazil's poor amid a deepening recession, Temer said on Twitter last month that he would keep the popular social programs developed by Rousseff's administration.
If Rousseff is permanently removed during the 180 days, Temer will continue as president until January 1, 2019.
The impeachment trial against Rousseff in the Senate will be led by the head of the Federal Supreme Court, Ricardo Lewandowski.
Rousseff: "This Is a Coup"
The embattled Brazilian president has insisted to her country and the international community that the process against her is a "coup" that aims to remove her from power in a pseudo-democratic fashion. She accused her vice president of orchestrating her dismissal.
The President also said she would not voluntarily step down from the position, and would face the impeachment process head-on.
If the Senate finds Rousseff guilty, she will be banned from serving public office for eight years. If lawmakers declare her innocent or do not meet a two-thirds majority, she will return to the presidency.
The case against Rousseff takes place in the context of a deep economic recession on top of a corruption scandal involving all major parties at the state-owned oil firm Petrobras.