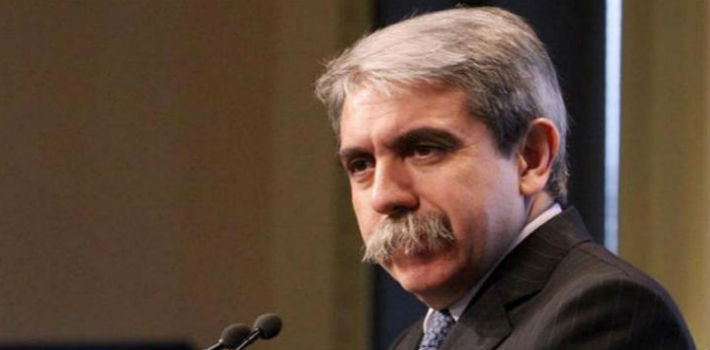 EspañolArgentinean authorities are holding up a magnifying glass to the work done by officials that served under former President Cristina Kirchner, who is currently under investigation for money-laundering charges.
On all levels there are accusations of corruption that call into question those who had a hand in controlling public funds between 2007 and 2015.
These last few weeks, the Argentinean Justice Department has issued rulings against former officials of the Federal Administration of Public Revenue (AFIP), the Comprehensive Care Program (PAMI), the former Minister of Planning and Infrastructure, and the former President's Cabinet Chief, among others.
Tax Agency Chief
Ricardo Echegaray, the former head of the country's tax agency AFIP and current President of the General Auditing Office, is facing three charges.
The current Minister of Finance Alfonso Prat-Gay has accused Echegaray of false testimony — having secretly kept bank notes in Switzerland.
Echegaray is also accused of aiding to fabricate invoices that allowed Lázaro Báez, a businessman close to the Kirchner family, to evade taxes.
Thirdly, a judge requested he be investigated for allowing other prominent Kirchnerist businessmen — such as Cristóbal López — to defer tax payments to the tune of US$561 million for fuel.
Cabinet Chiefs
All three cabinet chiefs under Kirchner's second term — Juan Manuel Abal Medina, Jorge Capitanich and Aníbal Fernández — will be called in for questioning on May 10, 11, and 17, respectively, for alleged improper use of "Soccer for Everyone" funds.
This program subsidizes the television rights for live broadcast of the Argentinean Premiere Soccer Division and the semifinals and finals of regional tournaments.
Health Minister, PAMI Director
Argentinean federal judges have also confirmed that they will be prosecuting former Health Minister Daniel Gollán for misuse of funding for health kits intended to help newborns.
The judges pointed out that there was a difference between the program's initial budget and final payment. The Health ministry predicted it would spend US$47,371 on 140,000 kits, but it ended up disbursing US $77,005.64 for 150,000 kits.
As for Luciano di Cesare, head of PAMI, he stands accused of collecting US$91,234.00 for vacations never taken.
Presidential Secretary, Planning Minister
On Wednesday, April 27, former Secretary General to the Presidency Eduardo de Pedro was accused of allegedly over-invoicing travel expenses while working for the Kirchner administration.
According to local newspaper La Nación, losses to the national treasury amount to US$300,000. Federal Judge Sebastián Casanello, who is in charge of the case, will investigate the amount actually spent on presidential visits to Paraguay and the United States during late 2015.
The former Planning and Infrastructure Minister Julio de Vido stands accused for his alleged responsibility in the Once Tragedy, a 2012 railway accident in which 51 people died and 789 were injured.
The same tragedy has condemned former Transportation Secretary Ricardo Jaime, already sentenced to six years in prison. Jaime paid premium prices and hefty commission fees to an Argentinean company for their assistance in purchasing trains that were never used.
Presidential Family
De Vido was also accused of participating in the money-laundering scheme that involves the Kirchner family: Cristina Kirchner, her late husband, the former President Néstor Kirchner, and their son Máximo.
Witness Leonardo Fariña told the judge in charge of the case that de Vido helped launder money.
Fariña is himself facing the same accusation in the Hotesur Case, which seeks to determine whether the presidential family was using money of illicit origin.
The opposition claims that these accusations are evidence of a witch hunt carried out by the new administration. President Macri has declined comment for now, arguing that the justice system is doing its job.