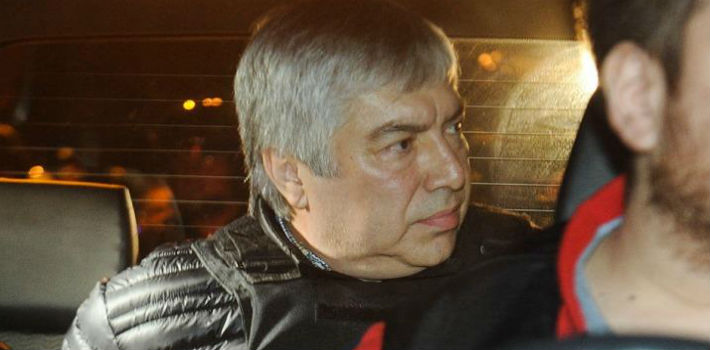 EspañolLázaro Baez, the businessman accused of being the Kirchner family's figurehead, was arrested on Monday and will testify in the case of "the K money trail."
The Judicial Information Center (ICJ) also arrested Báez's accountant Daniel Perez Gadin on suspicion of money laundering.
The order of justice followed scandalous videos showing the son of Báez, Martin Baez, his accountant and other related people, counting large amounts of dollars at the headquarters of the financial SGI, better known as the Rosadita.
For two years, Baez denied any link to the financial company SGI until films recorded by an SGI's security camera proved otherwise.
Prosecutor Marijuan said the videos are  "important proof that sheds light" on the case.
It is estimated that after Nestor Kirchner's death, some 55 million euros ( over US $62.5 million) left Argentina illegally. Leonardo Fariñas and Federico Elaskar, accused of money laundering in the " K money trail "case, said they received the money brought in bags into the Lazaro Baez' aircraft from Rio Gallegos. Then it went through Uruguay to Switzerland.
[adrotate group="7"]
Baez went from being a cashier in a bank to owning private jets, a construction company and various properties. His fortune was carved while the Kirchners exercised their mandate in Argentina.
He also owns Austral Construcciones SA, a construction businesses in the country awarded with some of the largest state contracts.
Following investigations, Baez's relationship with the Kirchner family deteriorated. This became evident most recently when the late president's sister Alicia Kirchner, governor of Santa Cruz province, denied that Cristina Kirchner and the businessman were partners. However, Baez replied that neither her nor the former head of the Federal Public Revenue Administration (AFIP), Ricardo Echegaray, could justify their income increase.
Reactions
"It's a great day for justice" said Deputy Elisa Carrio after learning of Baez's arrest. In a statement, the deputy of Macri told Clarin that Justice "was given many years after the looting was denounced and investigated."
"It is fair that the Argentines see handcuffed those that robbed us for years," added deputy Fernando Sanchez to the Argentine newspaper. "Báez and his son counted our money on behalf of Nestor Kirchner, Cristina Fernandez and Julio De Vido."
On his Twitter account, Mariana Zuvic, a Parlasur Deputy who investigated Báez, said, "We have changed the 'Nobody goes to jail' to 'Justice is possible in the new Argentina."