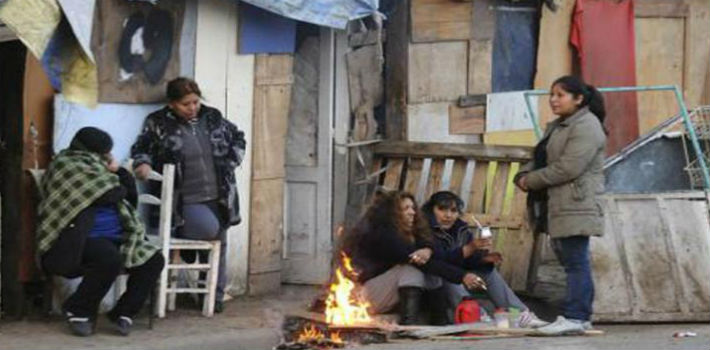 EspañolArgentina's Social Debt Observatory, which depends on the Universidad Católica Argentina (UCA), reported that poverty increased from 29 percent at the end of 2015 to 32.5 percent in the first quarter of this year.
This announcement comes as a result of increased food costs and rate adjustments announced by President Mauricio Macri's government. The UCA Observatory's analysis does not include the impact of increases in transportation, gas, water or naphtha, which takes effect this month.
According to the study, there are now some 2,350,000 homeless among the urban population, and 13 million poor people in Argentina. The survey was done in more than 5,700 households in 25 urban areas with over 80,000 inhabitants, with main emphasis in the metropolitan area of ​​Buenos Aires.
The Basic Food Basket (CBA) for a family type was AR$3,365 by the end of 2015. In March it rose to $3,702, with estimates that it will rise to about AR$67 pesos through April.
"We planned to present a report on poverty and inequality from 2010 to 2015, but faced with the difficult economic situation linked to the rising cost of living and the current inflationary process, we were forced to deal with the present situation," said UCA Argentina's Social Debt Observatory Director Agustín Salvia at a news conference.
[adrotate group="7″]UCA Poverty studies are considered the most reliable ones today, even by Macri's Government, since the National Institute of Statistics and Census (Indec) did not publish figures for this indicator during the previous administration.
The latest of the INDEC'S data is from mid-2013. At that time, the agency had determined a poverty level of 4.7 percent.
INDEC's new director Jorge Todesca said in September the agency could begin to disclose their poverty indicator.
The situation may worsen "if food prices keep increasing without controls and if there is no improvement in the employment situation," added the director of the Observatory on Social Debt Argentina.