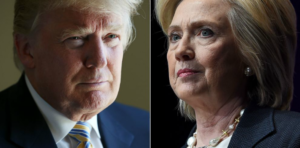 EspañolThe United States presidential campaign has had a profound effect on Mexico's political life and public perspective, in a way perhaps never before seen in history.
The love-hate relationship between Mexico and its neighbor to the North is well known. While we blame them for practically all the evils that afflict us as a society, we simultaneously and often unconsciously dedicate ourselves to seeking a way of life more similar to the "American dream," either in our territory or in theirs.
The fast-paced presidential campaign in the US began to take on a special significance for Mexicans when Donald Trump announced his candidacy amid clear references to our countrymen. He branded Mexicans as rapists, thieves and undesirables.
At that moment, no one dared take him seriously. Trump was nothing more than a show within the US electoral contest, and we thought his outbursts against us would go down in history as mere anecdotes. But we underestimated him.
Afterward, public opinion in Mexico continued to show signs of a fragile argumentative and analytical capacity which, starting from today, will be leaving its mark in the history books. While politicians and opinion leaders used all their saliva and ink to point out Trump's racism and xenophobia, seeking to gain more political capital and more ratings, they forgot to analyze some issues that might be even more relevant for our country.
Obama's true numbers:Regardless of his "pro-immigrant" status, and his certainly very friendly stance toward the Latino community, he has deported the largest number of Mexicans and Central Americans in the history of the United States, earning himself the nickname "Chief Deporter."More than 2 million people were deported during George W. Bush's eight-year administration. Barack Obama surpassed this figure significantly, with 3,165,512 deportations in the same length of time. It seems that Mexicans get carried away by pretty words, and we forget about the data and real statistics.
The Bernie Sanders case: We experienced a tremendous ideological inconsistency when, on the one hand, we complain about Trump's populism; but on the other hand, when a person promises free education and happiness for all and raises the dangerous flag of socialism, we applaud.It does not matter that this ideology has led to the absolute misery for every country that has encountered it. In Mexico, hypocrisy and political sentimentality are stronger than objective truths, and this may cost us dearly.
The "Trump" attitude:Nobody likes it when others generalize and label a group of people as criminals. We are the first to point out Trump's racist and xenophobic comments. However, when we ask for greater tariffs for foreign competitors, when we close our southern border for Central American immigrants, when we promote the popular idea of consuming "only local products" to prevent wealth from leaving our country, we not only show our double standards, but also an extraordinary similarity with Trump's ideas.
The issue of abortion: It is no secret that there is an important conservative group in Mexico, clearly influenced by religious values and, therefore, "pro-life." They assert that there is nothing more important than to defend this position. However, when Trump insulted them for being Mexicans, abortion became a secondary issue in their scale of values.Regardless of the delicacy of the subject, it is striking that most conservatives do not even notice this before making judgments about US politics. Margarita Zabala, a Mexican conservative pre-candidate, clearly demonstrated this lack of analysis and coherence by posting a picture during a campaign for Hillary Clinton, who is openly pro-abortion.
Trump's visit to Mexico:Some people even asserted that Trump would win the election because Peña Nieto made the mistake of inviting him to the Official Residence "Los Pinos." Certainly, some people will criticize the Mexican president for Trump's controversial victory. We tend to believe that we are the center of the universe when in fact we are just one of the hundreds of political issues at stake in these elections.
The reality is that both Trump and Clinton represent the worst of politics, and they reflect the high degree of polarization that we are living as a society.
Any other Republican candidate would have easily beaten a stiff Hillary, with her vast war history, and her current (and past) legal and media scandals. Any other Democratic candidate would have easily defeated a xenophobic, racist and controversial person like Trump.
Regardless of the outcome of the election, Mexicans can learn a lot from the hectic US political process. Citizens should base their analysis on facts before making decisions on a true understanding of the socio-economic developments in their country — and not on charisma, or political gossip.
If Trump had a chance to compete, and Hillary was the best card the Democrats could lay down, it's largely due to the morbidity they generate and the voters' lack of analysis and common sense. It was not for their political coherence.
It is up to us to make unpopular everything that hurts us.