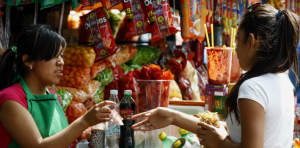 EspañolWith half of Mexico's population technically overweight, the country is going through a serious health problem right now. It ranks second in obesity worldwide, just behind the United States, according to recent studies.
For many Mexican families, not drinking soda at least once a day would be unthinkable. Its flavor, high caloric content, low cost and easy accessibility have made products like Coca Cola an indispensable part of Mexican home life up and down the socio-economic ladder. Experts estimate 99 percent of Mexicans drink soda with considerable frequency.
Mexico's Chamber of Deputies approved a law in October 2013 enacting a special tax on sugary drinks of MEX $1 (USD $.53) per litre to discourage some people from buying so much. Such legislation seems logical, and has had a certain degree of popularity for representing a step in the right direction. However, the numbers reveal a different reality.
The consumption of these drinks is not the only cause for obesity. The government should, then, be raising taxes on tortillas, meat, oil and junk food as well. And the soft drink tax could hurt the food and drink industry in Mexico.
Now, let's take a look at some other effects this seemingly arbitrary tax has created.
An imminent increase in tax revenues. During the first year of this tax, the state raised about MEX $38 billion (USD $2 billion). This makes the tax an excellent asset for politicians and officials seeking to increase the size of the government at all costs in order to finance personal and political projects at their convenience.
The consumption of sugary beverages has not decreased at all. From a public health point of view, the tax did not help at all.
Mexican low-income families have to spend a higher percentage of their earnings to buy those products affected by the new tax, thus reducing their purchasing power.
This tax, far from fighting obesity, is actually getting the Mexican state and its bureaucracy fatter, through new laws and inefficient regulations.
And this isn't a stand-alone case. Similar policy has been created in response to cigarettes. Beyond prohibiting mass media advertising, putting warning labels of grotesque consequences such as cancer on cartons, and artificially increasing its price through taxes — cigarette consumption has not decreased.
Such initiatives may be acceptable from a moral point of view. Generally speaking, we all want a healthier society and to reduce obesity. But the main promoters of these measures should be civil society, private companies with social responsibility and parents, who by raising awareness of the benefits and disadvantages of certain consumption behavior can make the biggest difference.
The government has decided to ignore that solutions to these problems must be generated through education, a cultural change and consumers' free choices. It insists on treating people as victims — this time, of soft drinks — and as children unable to decide for themselves.
If people blame Coca Cola for Mexicans' obesity, then bread, tortillas, tacos, candy, carnitas, sausage, and cheese are also to blame. Let people be held responsible. If we continue to think this way, we will continue justifying tax abuses to free markets and to our individual freedom of choice.
If we do not realize this now, we might end up giving away our freedom in exchange of an alleged welfare state that, as we have already seen, is nothing but a beautiful illusion.