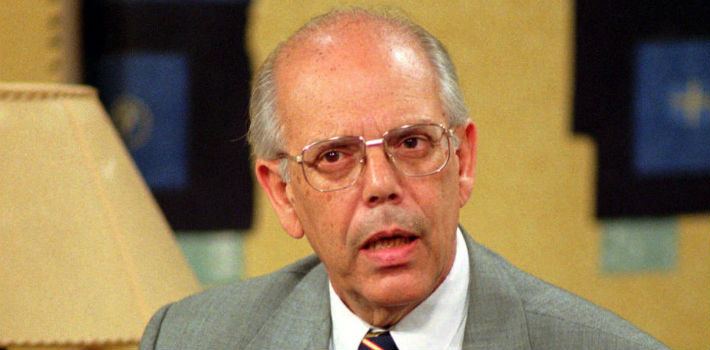 Español"History will absolve me," Fidel Castro once said, more than aware of the atrocities he had committed and continues to endorse in Cuba.
Maybe he aimed to ask for forgiveness in advance, or perhaps it was just another egomaniac statement.
Unlike what will happen to the Cuban dictator, history did acquit the late classical liberal Jorge Batlle Ibáñez, at least twice.
First, when he was elected as president of Uruguay in 1999. The second time was after Batlle had already left the presidency, during the administration of the progressive Broad Front coalition, when Uruguayans realized that everything he had said on their socialist model was true.
He was the fourth Uruguayan president named Batlle, but he did not hesitate to part ways with the interventionist thinking that prevailed in his family, especially in his uncle José Batlle y Ordóñez (twice president of Uruguay from 1903-1907 and 1911-1915), known as the father of modern Uruguay.
In 1956, over 40 years after his uncle nationalized three banks, among many other similar measures, Jorge attended conferences by the leading classical liberal economists Friedrich Hayek and Ludwig von Mises in Argentina.
This exposure to the Austrian school of economics would remain with him for the rest of his life, costing him several ideological enemies — perhaps one reason why he lost four of the five times he ran for president.
Regarding the "betrayal" of his family's presidential legacy, he told local newspaper La República in the late 1980s: "I stood up to the populist ideology that Mr. Luis Batlle Berres (his father) represented as a man of his time."
He studied law but worked as a columnist for El Día and as a journalist for Acción. He loved the Argentinean writer Jorge Luis Borges, horses, and liberty.
Batlle loved the latter so much that he had the dubious honor in 1972 of being the first political prisoner of Uruguay's civic-military dictatorship, months before the actual coup.
The accusation against him was "offending the Army." It came from an absurd pact between the Tupamaros leftist guerrilla (where former president José Mujica came from), and the military.
The police arrested Batlle as he arrived at the newspaper — nothing is scarier to an oppressor than a classical liberal writing freely —, and although civil liberties were scarce, the Uruguayan people protested to demand his release.
Like many other political leaders, Jorge Batlle was proscribed. He moved to Rio Grande do Sul, Brazil.
After Uruguay embraced democracy, not only did he return to Uruguay, but also his aspirations to become president — he already had tried twice.
Third time was not lucky (1989), but on his fifth attempt (1999) he got his first historical vindication. Then, after a year of high popularity, came the worst economic crisis in our history (originated abroad), preceded by an outbreak of foot-and-mouth disease affecting cattle, a major source of income.
Although Jorge Batlle ended his presidency with an approval rating of only 5 percent, the fact is he did his best to prevent the country from hitting rock bottom like Argentina.
Time proved him right, and gave him his second acquittal. He safely led the country during its worst times with unpopular measures and, predictably, without trying to please everyone.
In an interview with Montevideo Portal, he asserted that the progressive politicians from the ruling Broad Front coalition "have an ideological assumption: they argue that this evil capitalist system does not work. Therefore, the laws that the system produces do not work either, because they are bad and must be changed. What system do they want to lead us to? Socialism? What is the difference between the absolute monarchy of Louis XIV, Stalin or Mussolini? None. […] The message is, 'I'm good' and 'they are bad'."
Jorge Batlle Ibáñez's administration was the closest Uruguay ever came to being a classical liberal country. At first glance, it seems luck did not accompany him. But history has several interpretations.
On October 24, on the eve of his 89th birthday, Batlle passed away in Montevideo after suffering a heavy blow to the head.
Consistent with its leftist bias, the government gave only one day of official mourning. Foreign "revolutionary" leaders Néstor Kirchner and Hugo Chávez got three.
But it was the Uruguayan people, with countless expressions of sincere affection, who said their goodbyes with gratitude and respect. Finally, history had acquitted him.
In his funeral cortege, anonymous citizens shouted again and again: "Long live the Republic! Long live freedom!"