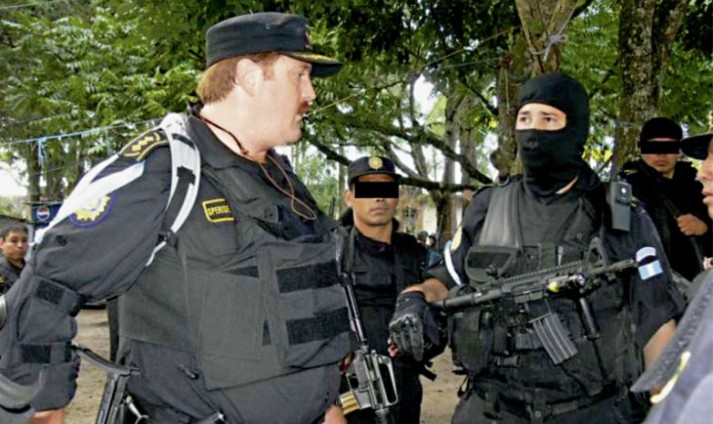 EspañolErwin Sperisen — head of Guatemala's National Police (PNC) between 2004 and 2007 — had his life imprisonment sentence confirmed last week in Switzerland for the extrajudicial execution of prisoners in the notorious El Infiernito and Pavón prisons in 2005 and 2006.
Son of diplomat Eduardo Sperisen Yurt, the former director of the PNC is a tall and heavy-set man, distinctive for his reddish hair and imposing frame. Thanks to his dual nationality as a Swiss citizen, he attempted to base himself in the European country, where his father served as Guatemala's representative to the International Chamber of Commerce (ICC), in order to avoid justice.
Sperisen worked for the security services in the Guatemalan capital since he turned 18. He became a municipal councilor in 2003, together with Mayor Álvaro Arzú, and served as the leader of the youth wing of Arzu's Unionist Party on two separate occasions. On August 1, 2004, newly elected President Óscar Berger named him director of the PNC.
He resigned his post on March 20, 2007. As director of the PNC, Sperisen was commissioned to restore order to Guatemala's overflowing and lawless prisons. Under Sperisen's control, many witnesses and former colleagues have testified, this soon became a work of "social cleansing," bringing multiple human-rights abuses with it.
Executions
According to an investigation carried out by the Public Ministry (MP) and the International Commission against Impunity in Guatemala (CICIG), a shadowy structure emerged within the government between 2005 and 2007. The group comprised Interior Minister Carlos Vielmann Montes; Vielmann's advisor Víctor Rivera; PNC detective superintendents Javier Figueroa Díaz and Víctor Soto Dieguez; and Sperisen himself.
It had a clear objective: the "social cleansing" of the country. It has also since been accused of other crimes, such as drug trafficking, money laundering, and kidnapping. The group was also supported by PNC intelligence officials José Luis and José Danilo Benítez Barrios, as well as multiple MP prosecutors.
Despite the mounting evidence, an anonymous poster has written on a Facebook page dedicated to Sperisen that the accusations against the police chief are in fact "a shameful political lynching by all the NGO vultures that supposedly provide justice and defend human rights."
Between 2003 and 2006, homicides increased in the Central American nation. Ongoing investigations have signaled that many of these could have been committed under the orders of the Guatemalan authorities themselves. Some of the cases linked to Sperisen haven't been fully investigated, according to one of the organizations that presented complaints against the former official.
Their objective of zero-tolerance for criminals, according to multiple accusations, led Sperisen and all of the group to commit a range of crimes. Sperisen, dubbed "the Viking" by many due to his appearance, made a habit of attending all PNC operations armed to the teeth.
After 19 prisoners escaped from the facility known as El Infiernito (the Little Hell) in October 2005, he was accused of having orchestrated the murder of seven of them, while another nine were captured.
Similarly, on September 25, 2006, Sperisen headed up Operation Pavo Real (Peacock), which consisted of recovering control of the Pavón correctional complex.
According to statements made by Luis Alfredo Linares Pérez, former deputy director of prisons, the original plan involved "peacefully assembling the prisoners in a predetermined area and taking them to the Pavoncito [another prison building]. However, what they did was to burst into the jail violently, take out the prisoners in a disorganized way, running and naked, towards the other jail, and so they lost control of the situation."
In Pavón, order was ensured by a so-called Order and Discipline Committee under the control of prisoner Luis Zepeda. Deputy Director Linares was charged with drawing up a list of who made up the committee. He later reported that the initial list held 18 names, but Penitential System Security Director Mario García Frech added another seven. Five of them were executed during the operation, including Zepeda.
According to former Penitential System Director Alejandro Giammattei, Zepeda had so much control over the facility that he even "chose the woman they had to hand to him on visit days; it didn't matter if it was the wife, sister, sister-in-law, or aunt of a prisoner. If they resisted, they paid the price in a prison named El Polo, which was a place where they tortured and punished opponents of the Committee." As a result, according to Giammattei, the police action was justified.
Linares meanwhile told investigators that "it was all planned out; they aimed to eliminate all these people, but they didn't have enough time to kill them all."
Sperisen's defense, however, has argued that the prisoners attacked police as soon as they entered the jail.
One-time mayor of Guatemala City and former Communications Minister Fritz García Gallont also came to the defense of his friend, telling prosecutors: "I know Erwin Sperisen very well. He's a man of noble sentiments, with well-founded values and principles, and he is incapable of doing harm to anyone. Still less of killing anyone."
Condemned in Switzerland
In February 2007, three congressmen belonging to El Salvador's Nationalist Republican Alliance (ARENA) and their driver were murdered, leading to the arrest of four Guatemalan police officers.
The four were later themselves killed in the maximum-security jail El Boquerón, allegedly by gang members. Several reports indicated that armed visitors who had entered the center from outside were responsible for the crime.
After these events, Sperisen resigned from his post on March 26, 2007, along with Carlos Vielmann. Taking advantage of his dual nationality and the diplomatic status of his father, he then traveled to Switzerland. His family had already been settled there for six months for security reasons.
However, CICIG and MP investigations led to an arrest order for Sperisen being issued in August 2010. Protected by his Swiss nationality, he remained in the European country, while his associates in Guatemala defended his innocence and the two judicial bodies, alongside multiple NGOs, called for his extradition.
Many of these groups had brought legal complaints against Sperisen since 2007, because according to the Swiss constitution, he could be tried for crimes committed in Guatemala without being extradited.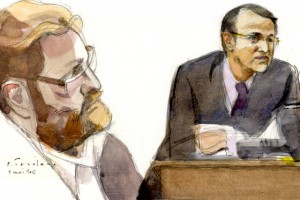 He was arrested by Swiss police in August 2012 in Geneva, with the court case against him beginning in May 2014. The court has since called multiple witnesses to the stand, including the mother of one of his victims.
Life Imprisonment
Sperisen's defense attorneys continue to denounce the competence of Yves Bertossa to be one of the judges presiding over the trial, due to his links to one of the organizations that brought charges against Sperisen.
Nevertheless, the former police chief was found guilty last week by the Geneva Criminal Court of ordering the illegal killing of six prisoners, and the direct murder of a seventh, in relation to the Pavón case. The court also overturned a previous ruling to find Sperisen responsible for the killing of three Infiernito escapees in 2005.
Judge Alexandra Cambi Favre-Bulle told the court: "He took an active part; he participated, planned, and permitted the crime scenes to be tampered with … at key moments he was present during the deeds."
The sentence confirms a previous ruling issued in June 2014, and quashes the appeal to escape jail time through "absolution and reparation of damages" requested by Sperisen's lawyers.