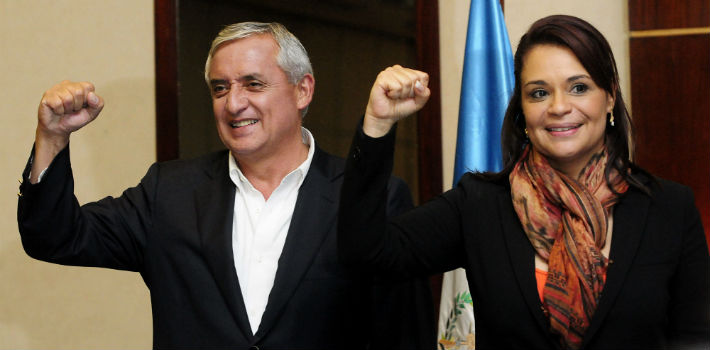 EspañolGuatemala's government is facing a rising chorus of criticism, leaving Vice President Roxana Baldetti particularly isolated, amid revelations of a far-reaching multimillion dollar corruption scheme at the heart of the current administration.
On Friday, April 17, a joint operation involving the International Commission against Impunity in Guatemala (CICIG), the national police, and the Guatemalan Prosecutor's Office led to the arrest of 21 members of a tax-fraud scheme, including current and former employees of the Superintendency of Tax Administration (SAT).
On Thursday, Guatemalan authorities arrested Carlos Muñoz and Omar Franco, former and current heads of the SAT respectively. They argued the scheme was led by Juan Carlos Monzón, private secretary to Baldetti.
The arrests came the day after President Otto Pérez Molina expressed his support for Franco's leadership of the SAT, despite not achieving fiscal revenue goals and maintaining a deficit of GUA$170 million (US$22 million).
CICIG Commissioner Iván Velásquez explained in a press conference that the illicit scheme at SAT profited from contraband and tax fraud at customs posts with the collaboration of senior and medium-ranking officials. Through allowing firms to underreport the amount of goods entering the country and by charging bribes, the ring waived taxes for approximately 500 incoming shipping containers between May 2014 and February 2015.
Complex Criminal Structure
In exchange for a fee, the arrangement lowered taxes importers had to pay to bring goods to Guatemala.
The criminal group reportedly set up a complex system to cover their steps. Businesses that sought this "service" were contacted by a group of customs agents, who gave them a telephone number known simply as "the Line" from which they received instructions.
The amount to be paid in import tariffs decreased and the group received the bribe. SAT employees then authorized the goods to enter the country. According to investigators, the loss in revenue for the Guatemalan state amounted to at least 60 percent of customs taxes between 2014 and 2015. Bribes ranged from GUA$20,000 to $100,000 (US$2,600-13,000).
The group's leaders included Francisco Javier Ortiz Arriaga, also known as "Lieutenant Jérez," who headed the 1990s Morena network, devoted to a similar tax-fraud scheme.
The police claim that members of the scheme met regularly at a clothes store owned by Luis Mendizabal, a close friend of the lawyer who ordered his own murder in 2009 to frame then-President Rodrigo Rosenberg.
Extensive Investigation
Over eight months of investigation, the CICIG and the Guatemalan Prosecutor's Office intercepted over 60,000 phone calls and some 6,000 electronic communications, as well as seizing written documents and photographs.
From the recordings delivered to the court two code-names emerged, whose identities are still unknown: "the president" and "the lady." Judging by the tone and context of the conversations, investigators believe they had authority over the whole grouping.
Vice President Implicated?
The investigating task force identified Juan Carlos Monzón as a key leader of the scheme. Monzón, a close aide to Vice President Baldetti, was previously involved with a band of car thieves in the 1990s. Baldetti has already denied any involvement in the corruption scandal and claimed to have no idea of Monzón's whereabouts.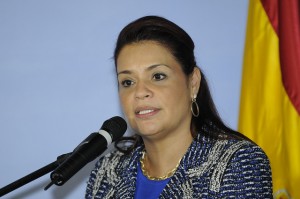 When the police ordered his arrest, Monzón was on a trip with Baldetti in South Korea, where she received an honorary doctorate for her "social works." However, Monzón never returned to Guatemala, and now is being sought by Interpol.
President Otto Pérez Molina offered a press conference in the wake of the raids, claiming his second in command had fired the alleged ringleader behind "the Line."
As her closest adviser, several Guatemalan political analysts have argued that it would be impossible for Baldetti to have no knowledge of the illicit activities directed by her private secretary.
Baldetti failed to make a statement throughout her remaining stay in Asia, instead delivering a press conference upon her return to Guatemala.
A clearly nervous Baldetti failed to convince reporters, failing to remember details of her flight and the time of her return. When questioned about Monzón's past and why she had chosen him, Baldetti claimed that she had not believed accusations of criminal connections against him at the time.
As the critical questions continued, Baldetti stormed out of the press-conference room.
Leading Candidate Drops Out
While the scandal unfolded, the current frontrunner for the incumbent Patriot Party (PP) ticket in this year's presidential race, Alejandro Sinibaldi, announced he would not be running — and blamed Baldetti for his withdrawal.
Rumors about a standoff between Sinibaldi and Baldetti were confirmed on Sunday, when the former accused the latter of blocking his candidacy. He further claimed that Baldetti asked PP members not to attend activities organized by his campaign.
Baldetti, for her part, claimed during her press conference to not know why Sinibaldi was "so angry" at her.
#RenunciaYa
Los ciudadanos guatemaltecos estamos despiertos. Ya no más mentiras, engaños ni corrupción. Alzamos la voz para decir: #RenunciaYa

— Mafer Gallegos (@Mafersita8) April 19, 2015

"We Guatemalan citizens have opened our eyes. No more lies, deception, or corruption. We lift our voices to say: #ResignNow"
Amid the corruption revelations stretching throughout the government, civil-society groups have called for a peaceful protest on Saturday, April 25, in Guatemala City and Quetzaltenango, to demand the resignation of Pérez Molina and Baldetti.
Translated by Daniel Duarte. Edited by Laurie Blair.