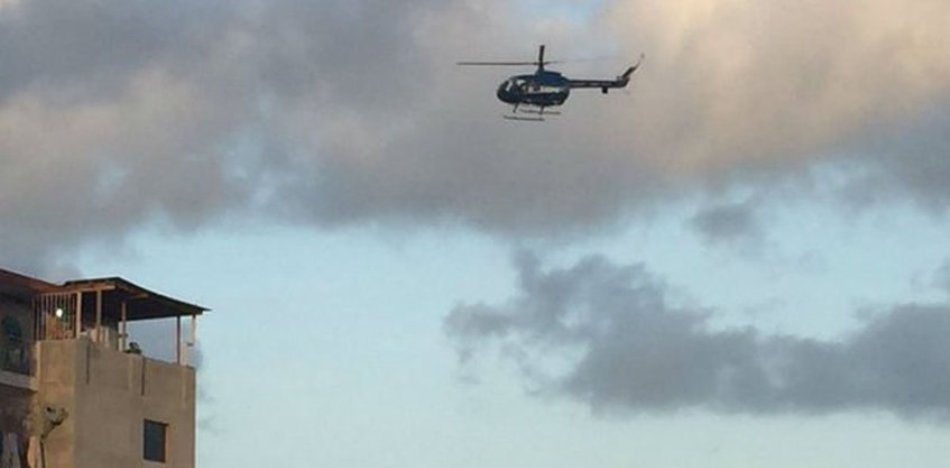 EspañolA group of officers from Venezuela's Scientific and Criminal Investigation Corps (Cicpc), an elite group within the country's police force, stole a government helicopter belonging to their unit on the afternoon of Tuesday, June 27. The rogue group of officers was led by Inspector Óscar Pérez.
Using his Instragram account, @oscarperezgv, Pérez announced that he was going to carry out the plan with his colleagues, stating that they were following articles 333 and 350 of the Venezuelan constitution, which call for citizens to act if the constitution has been violated, and "return peace to (Simón) Bolívar's people." They also demanded, Pérez added, President Nicolás Maduro's "immediate resignation and that of his entire cabinet."
Displaying a banner reading "Resistance 350" in reference to article 350 of the constitution, the helicopter left the La Carlota Air Base in Caracas, breaking airspace regulations and apparently claiming that the flight's goal was to carry out an inspection of the surroundings. The crew flew over a large part of Caracas until the helicopter reached the city center, where, according to eyewitnesses, the launched an attack against the Ministry of the Interior. They then headed to the Supreme Court in the northwest of Caracas, firing several rounds from automatic weapons and, as a video shows, detonating at least three grenades near the court's headquarters.
https://www.instagram.com/p/BV3HZpDlYHt/
Maduro Denounces Coup Attempt
The attacks, which have been interpreted as an insurrection, took place while Maduro handed out prizes to journalists in a ceremony held in an underground venue (Salón Ayacucho) beneath the presidential palace at Miraflores. Maduro didn't interrupt the ceremony since the Miraflores palace is under heavy military guard and completely closed to automobile traffic.
Earlier in the day, Maduro had stated during an official act in support of his constitutional assembly that "if the Bolivarian Revolution is toppled, it will use weapons to achieve what it tried to achieve with votes." He repeated his threat in the evening when he called on US President Donald Trump to "stop all coup attempts in Venezuela."
An anonymous member of the military stated that the situation is "delicate" and that the palace is being guarded due to security reasons. Street protests against the government have reached the palace's immediate vicinity on Baralt Avenue, where the Supreme Court is also located.
#VIDEO Usuarios reportan llegada de Tanquetas a los alrededores del Palacio de Miraflores #27Jun https://t.co/Y3VfT91xT5 pic.twitter.com/1Q8MoFwhS7

— NTN24 Venezuela (@NTN24ve) June 27, 2017
The anonymous source told the PanAm Poast that the government is determining whether Pérez's defection could enjoy support among the police or the army. The source said that it was not probable, but also not impossible.
For at least one week, Maduro has warned of the possibility of a coup d'état. He has even accused his former Interior Minister, Miguel Rodríguez Torres, of plotting his overthrow with the CIA. Rodríguez Torres denied such claims, stating that "former generals like myself are not involved in coups any longer." He also denied the existence of a supposed State Department document in which he is mentioned and which was filtered to a state-owned television channel.
"I condemn this terrorist attack and demand that the opposition condemn this act of violence as well," Maduro said. "The first available information suggests that the hijacker was the pilot of Minister Rodríguez Torres, who admitted today that he works for the CIA." He added that "we will capture the pilot and bring him before the authorities."
With his characteristic irresponsibility, Maduro blamed Primero Justicia, an opposition party, for Pérez's defection and he warned that he would "unhesitatingly" call a state of emergency.
https://twitter.com/YoSoyJustin_/status/879833314030489600
#URGENTE Helicóptero del CICPC sobrevoló sede del Tribunal Supremo de Justicia al final de la tarde. Hubo detonaciones en el lugar #Caracas pic.twitter.com/qAj5mqHRmf

— Jorge L Pérez Valery (@perezvalery) June 27, 2017
Who Is Pérez?
Pérez is one of the Cicpc's most distinguished members, having previously taken part in a propaganda film called "Sudden Death" in which the institution promotes its role in Venezuelan affairs. According to reports, he entered the Cicpc as a pilot, not following the usual route through which officials enter the institution after studying at the University of the Scientific Police.
Oscar Pérez, el piloto del helicóptero, dirigió y actuó en la película "Muerte Suspendida" https://t.co/HERAivyhBN

— Juan Andres Ravell (@Juan_Ravell) June 27, 2017
Tweet: Oscar Perez, helicopter pilot, directed and acted in the movie "Sudded Death".
After carrying out the attack in the helicopter, Pérez took off toward eastern Venezuela, where he disappeared. Although the Venezuelan Air Force received orders to intercept and shoot down the Cicpc helicopter, Pérez and his crew apparently got away in safety.