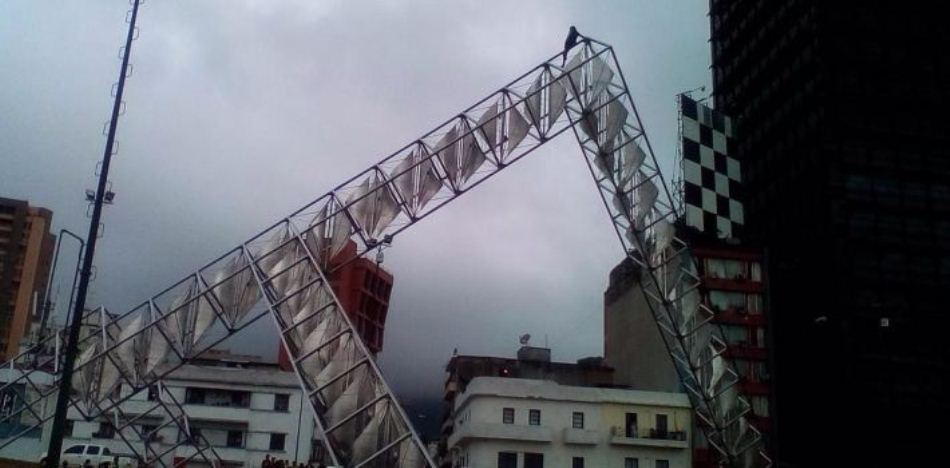 EspañolI am a normal, 50-year-old man, in relatively good physical condition, and without visible depression except for that which is caused by living hunger in Venezuela.
I scrubbed some dishes last Saturday, and as I did I felt pain for my country, for the people of the society in which I live, and how that experience has come to define what it means to be a Venezuelan right now.
My wife found me crying in the kitchen then. There was a pot at the bottom of the sink we had just used to make rice. Some of the rice that got stuck to the pot was removed with water and soap. It was a considerable portion, enough for one person, so I put it in a colander, and started to clean it with water, because in a while somebody will look in the trash, they will eat it, and I didn't want them to eat it with soap.
It was at that moment that everything seemed so wrong. Yes, someone would eat it from the trash, but what disturbed me more was that I considered it so normal. And I burst into tears — not a few tears, but an overflow of them.
I have shared this experience with some friends, and I have received some surprising responses. A friend went to live in France a few months ago, and she is surprised at how well she eats in that country, but also pointed out that she can't eat without feeling guilty because of the hunger many of her neighbors and relatives are suffering back home.
"I save even the last ounce of food, I don't like to throw anything away," she told me.
Several friends here have mentioned that they feel guilty when they eat a full meal. Another friend told me he no longer eats in public places, that if he buys food on the street he takes it to go, because he can't bear to see the expression on people's faces who watch him eat. And this writer can tell you that in downtown Caracas, the view, after 9 pm, is like a planet of zombies, dark streets full of people rummaging through trash bags.
Those people are not necessarily in pauper conditions. Last week I saw a couple, a man and a lady, about 70 years old, doing it as well. Believe me, it's simply unbearable to watch. I also learned that in that area, which was formerly full of large Spanish food restaurants, have already begun to separate leftovers from the rest of the garbage to make it easier for people scavenging for food.
Free press in Venezuela is scarce, so reports about the deaths of newborns due to lack of food don't appear as often as they should. This week, babies died in Maturin, Trujillo and Ocumare del Tuy. Deaths caused by bitter cassava (an inedible vegetable) have also increased. The Colombian television station NTN24 reported that children who arrive with malnutrition are isolated in J.M. De Los Rios Children's Hospital to avoid any press about their condition. Of course, in a country where the the president's waistline is growing week after week, the government does not want this type of information spreading.
Hunger in Venezuela has disrupted a society that already had issues. Violence was common, now it is overwhelming. Recently, a woman in Plaza Venezuela, one of Caracas' most emblematic squares, climbed a monument and threatened to jump because she could not get enough food. It's ruined whole families. It led to fights between siblings, between parents and children. "He killed his stepchildren because they ate a loaf of bread" was a headline that appeared in a regional newspaper this November.
The worst is yet to come. The Venezuelan government is running out of cash, and after March, a mild month in debt payments, April will force the country to default. The relative and very partial relief that the government was providing through CLAP food boxes will surely disappear. In fact, the country had to request a loan to pay for the most recent round of them.
Venezuela could fall into true hyperinflation, real hunger, cannibalism. Something perfectly avoidable, but which nows seems inevitable — avoidable with a change of policies, inevitable if the government insists on continuing with its socialist policies, and it seems that we are headed in that direction.
The clock is ticking.