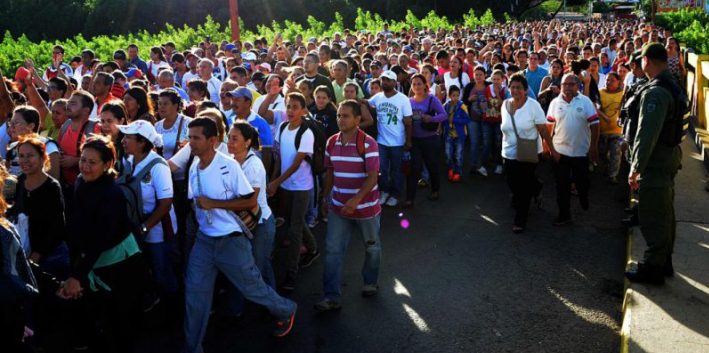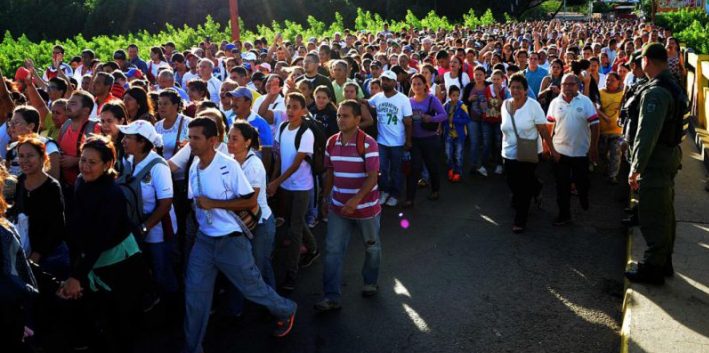 On Sunday, July 10, more than 35,000 Venezuelans crossed the border into the Colombian city of Cúcuta. President Nicolás Maduro's government, which was left embarrassed before the international community once again due to an exodus of citizens, had no option but to allow the massive border crossing eleven months after senselessly blocking all access to Colombia by land.
In theory, Maduro closed the border to prevent smuggling, but recent events have proved that this was just another dictatorial measure on behalf of the Chavista regime.
Many Venezuelans have compared the exodus into Cúcuta, Colombia to the fall of the Berlin Wall, and they are not wholly mistaken. Just like East Germans sought to escape communism in 1989, Venezuelans today can simply cross the border in order to find the basic food items and medicine which they can't find at home, where 21st Century Socialism has destroyed the Venezuelan economy.
The following are eight lessons that other countries which flirt with socialism, falsely thinking that it will bring happiness to its people, should consider before they are greatly disappointed amid economic collapse.
1. Maduro closed the border so that Venezuela's food wouldn't be smuggled out, but he had to reopen it to allow the people to eat.

When he announced the closure of the border with Colombia on August 19, 2015, Nicolás Maduro claimed that he was tackling contraband. He also promised that, in just a few days, "you will see how all those Colombian border towns will be without supplies." Now, however, it is evident that the outcome is exactly the opposite to what Maduro predicted: Colombian towns and cities are well supplied while Venezuelans must go without basic products of food and medicine.
2. Smuggling increased after the border with Colombia was closed.
By opening the pedestrian border, Maduro unpredictably made a U-turn by recognizing that his repressive measure achieved nothing while creating new problems borders. According to reports, different Venezuelan institutions — the National Police, the Bureau of Scientific Investigations (CICPC), the state of Táchira's regional police, and the Bolivarian National Guard (GNB) — have set up six different checkpoints between between the Venezuelan city of San Antonio del Táchira and the Simón Bolívar International Bridge, which connects the country to Colombia. They do so in order to demand a payment from citizens who try to cross the border.
As usual, additional government controls have led to greater corruption.
3. The Venezuelan government will be incapable of suppressing an angry people.
Repression rarely works. Nicolás Maduro and his accomplices, such as José Vielma Mora, governor of the state of Táchira, knew that they were exposing themselves to more ridicule by shutting down the border. Indeed, an absurd incident took place on July 5, when the Bolivarian National Guard tore the clothes off a group of women who were trying to cross into Colombia in order to buy supplies.
This begs the question of whether the Maduro government, in a rare moment of clarity, decided it was best to allow Venezuelans to stock up on supplies in Colombia instead of exposing itself to even more ridicule.

4. Colombian sellers on the border are happy to receive Venezuelan buyers.
In Cúcuta, no one complained about the avalanche of Venezuelans who arrived to buy toilet paper, oil, sugar, and other basic products which are unavailable in Venezuelan stores. In Colombia's North of Santander department, merchants are more than satisfied with the arrival of new buyers. There might even be temporary shortages of basic products along the Colombian side of the border while sellers restock. In Colombia, however, most people understand that the problem is not permanent. In a free market — even when it's as limited as the Colombian one — the more you sell, the better. In a socialist system, the opposite is the case: the government controls the economy and it has incentives to bring about shortages and poverty in order to control the population.

5. The capitalist price system is infinitely superior to socialism. 
Hugo Chávez's "Bolivarian Revolution" introduced excessive controls to the economy. The result is a mix of African salaries and northern European prices. There is also corruption, insuperable barriers for businesses, and the wild pillaging of the private sector. Since most Venezuelans have to resort to scalpers to buy basic goods, the prices they pay are inevitably more expensive than in Colombia.
According to Provea, an NGO, not even the most draconian, "neoliberal", right-wing policies could have produced as much suffering for Venezuelans as the Bolivarian Revolution. In an orthodox adjustment to the economy, prices may increase initially but they eventually stabilize, as do salaries.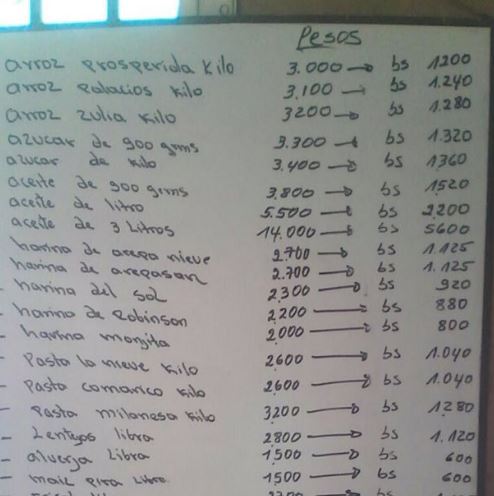 In Venezuela, this is not happening and it will not happen as long as Maduro and his army of incompetent fools are in office.
6. When people are not allowed to vote, they vote with their feet and leave the country.
The massive border crossings into Colombia over the weekend are another version of what takes place at the Maiquetía Airport near Caracas every day. As in Cuba, in the countries behind the Iron Curtain when it existed, as in China and North Korea, Venezuelans try to flee from communism every day. Nearly 2 million people have emigrated to other countries in search of the basic economic opportunities that the Maduro regime denies them.
Ironically enough, many Venezuelan émigrés are the children or grandchildren of immigrants from Spain, Portugal, Italy, Argentina, Colombia, Chile, China or various Middle Eastern countries. They arrived in Venezuela between the 1930's and the 1980's, when the country could boast about having the largest economic growth in the world and the most stable political and social situation in Latin America. When millions emigrate from their country in a short time period, the world can be sure that things in that country aren't working despite all the propaganda that the regime might spew out.
7. Venezuela's fate is the same as that of the 70 other countries that have tried communism: utter failure 
Nicolás Maduro, and Hugo Chávez before him, experimented with a system that had already left many other countries in ruins. In Venezuela, the result was the same: complete failure.
Perhaps Chávez and his mentor, Fidel Castro, thought that communism could work in Venezuela because the country was rich in oil. If so, they forgot that, during its seven decades of existence, the Soviet Union was essentially a petro state which nevertheless collapsed in 1991 due to socialism's inefficiency. In a nation as historically corrupt as Venezuela, socialism's demise could only come far more quickly.

8. The Maduro regime began to fall on July 10, 2016
Maduro is like a boxer who, having suffered a heavy beating, tumbles around the ring but is technically knocked out, waiting for pity and the final count to ten. What will his cronies and the entire military establishment do when, in Caracas or Puerto Ordaz, cities that are not remotely close to a land border with another country, people demand that their right as consumers be respected?
The next few days will be interesting.