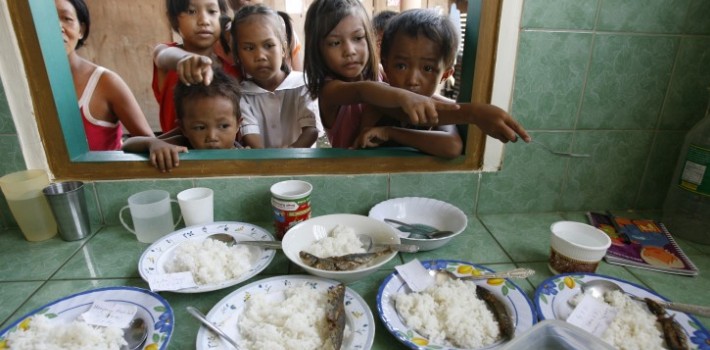 EspañolThe widespread shortages of food and medicine in Venezuela are so dire that they can only be compared to that of countries living post-wars periods. But Venezuela is in no war, unless you believe President Nicolás Maduro's scapegoat rhetoric.
According to 2015 data, 87 out of every 100 Venezuelans don't have enough money for food.
This year's situation is even scarier; over 13 percent of Venezuelans could only eat once or twice a day. And according to studies, in the state of Miranda, next to the capital Caracas, 30 percent of children and up to half of teachers skip at least one meal.
Many Venezuelan children skip classes altogether if no free lunch is served at school, for in many cases that's the only meal they will have that day.
These alarming conclusions were revealed during the forum "Scarcity and Hunger in Venezuela as a new reality" organized on June 30 in Caracas by Cesap, an organization of the Venezuelan Catholic Church, and the Bengoa Foundation, an NGO that tackles malnutrition among children and women.
Even though all the participants in the forum made it clear that famine hasn't taken over Venezuela yet, Maritza Landaeta, general coordinator for Bengoa and main speaker at the event, said "we do have begun witnessing massive hunger among people in extreme poverty."
The Catholic Church carries out many social programs in Venezuela through its several NGOs. Luis Pernalte, spokesman for the Catholic school aid network Fe y Alegría, said the Church is worried over the increase in poverty and its effects on children's upbringing and violence.
At the forum, they shared two dramatic stories: two teachers of Fe y Alegría were murdered this year, shot outside their schools. And a construction worker who reached out to Fe y Alegría's medical service because he was feeling ill turned out his symptom was just hunger.
The Venezuelan government is supposed to provide schools with at least one meal a day, but it is sporadic and insufficient for all students. "The government doesn't offer any solutions to these problems," said Pernalte.
One Third, Slipping into Poverty
In her talk, Landaeta argued that Venezuela's crisis — over 500 percent inflation, scarcity affecting 82 percent of food products and 95 percent of medicine — has created a new social segment, the "new poor," those who have recently slipped into poverty.
This segment covers 34 percent of the country's population. With 19 percent being in regular poverty and 28 percent in extreme poverty, this means that the "non poor" in Venezuela is just 19 percent of the population.
These figures only concern 2015 and is the result of polls made by the most important universities in the country and several NGOs, since the government stopped published poverty statistics in 2014.
The data for 2016 are still being collected, but the situation is expected to be dire.
The most alarming conclusion is the rate of malnutrition: it affected 10 percent of Venezuelan children in 2010. It climbed to 22.5 percent in 2015.
"For each malnourished child that reaches a hospital, it is estimated that 20 children from that area are malnourished," the expert pointed out. There is no reliable data, but hospital administrators talk about a huge rise in children going hungry.
Besides children not getting enough food, the little they do eat does not meet nutritional standards. Landaeta says almost 40 percent of what Venezuelan children eats are fats or carbohydrates. The intake of animal sources of protein like milk, eggs, fish, and meat, has fallen dramatically in the last two years.
"The brain of a child who doesn't eat protein will not develop adequately," she pointed out. "In Venezuela there's a food crisis and a humanitarian crisis. And because of the hunger there's violence," she explained.
According to Venezuelan congresswoman Karin Salanova, 28 children die each day in Venezuela due to hunger or lack of medicine. "They are the future of this country, you don't play with that," she said during a congressional session when the opposition passed a resolution to protect children and teenagers.
The ruling-party legislators of course refused to vote. For them, everything is fine in Venezuela.
Population Control
Marisol Ramírez of Psychologists without Borders also spoke at the event. She explained that her NGO has been studying how shortages have affected the population, and they found out that the main concern of Venezuelans has shifted from violence to hunger.
"It's not the case that violence has subsided, but rather that hunger is catching up and overcoming violence," she said.
Ramírez argues that scarcity and violence has become the Maduro administration's new tool of social control for three reasons:
It weakens free will
It keeps people focused on surviving
It generates rivalry and resentment, decreasing empathy
Susana Rafalli, a nutritionist with Fundación Bengoa and who has had social work in several countries of Central America, said the government is violating all four aspects of the right to a proper nutrition as guaranteed by a United Nations treaty signed by Venezuela:
Availability (violated by scarcity)
Accessibility (inflation has eroded Venezuela's purchasing power and the government has a monopoly on food distribution)
Adaptability (Venezuelans have altered their diets and must find replacements for products that are scarce)
Acceptability (the available food is of lower nutritional content, quality and standards)
"The UN's Special Rapporteur on the Right to Food is waiting for us to make a report on the subject.  We just might", concluded Rafalli.
In the meanwhile, Ramírez quotes José Virtuoso, the Salesian priest and president of the Andrés Bello Catholic University:
The government has declared war on Venezuelan society. Society now swings between chaos and the titanic effort to survive… To save our brothers is an inescapable duty.
Perhaps Venezuela is at war after all. It's a country where a regime fights its own starving, terrified citizens.