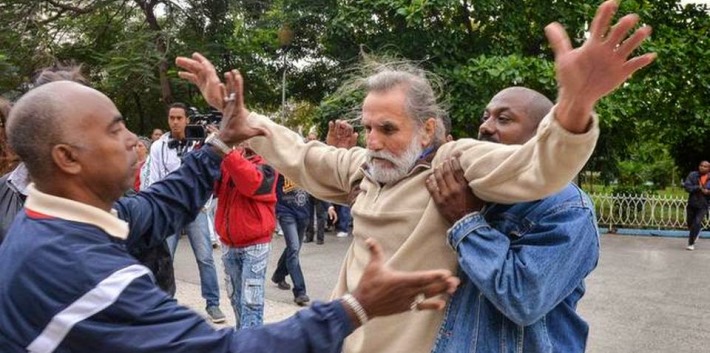 EspañolThe week after after US President Barack Obama's visit, things in Cuba have returned to normal. More than 150 activists were arrested on Saturday in demonstrations demanding the release of political prisoners.
José Daniel Ferrer, who leads Cuba's Unión Patriótica, an NGO, said most of the 138 protesters arrested belong to his organization, which is based in Santiago de Cuba.
It is in this particular city and the eastern part of the island where most protesters have been detained.
Additionally, they recorded several instances in which mobs tied to the government assault, insult, and humiliate dissidents.
#UNPACU:Acaba de ser detenido el activistas José Ántonio López en el poblado del cristo por hacer reclamo público… https://t.co/SbrMZJjMLQ

— Ovidio Martin (@ovidiounpacu) March 27, 2016
The Ladies in White, a female opposition group, were also subjected to the Castro regime's violence. Many were arrested, along with human rights activists, just before arriving at Gandhi Park in Havana's Miramar district to march against the government for a 47th consecutive Sunday.
According to reports, more than twenty Ladies in White were arrested in Havana when leaving their homes or before reaching the Mass at Santa Rita Church.
Iván Hernandez Carrillo, a journalist and spokesman for Cuba's Independent Trade Union Coalition, also reported that there were abuses against the Ladies in White who had tried to demonstrate peacefully.
#CubaDecide A la @DamasdBlanco Mariselis Alemán le rompieron la ropa encima además d golpearla con un cable

— Iván Hdez Carrillo?? (@ivanlibre) March 27, 2016
#CubaDecide El carro patrullero marcado con el #208 mantiene vigilada la casa d la @DamasdBlanco Caridad Burunate pic.twitter.com/6sehFrGC0t

— Iván Hdez Carrillo?? (@ivanlibre) March 27, 2016
Source: Martí Noticias.