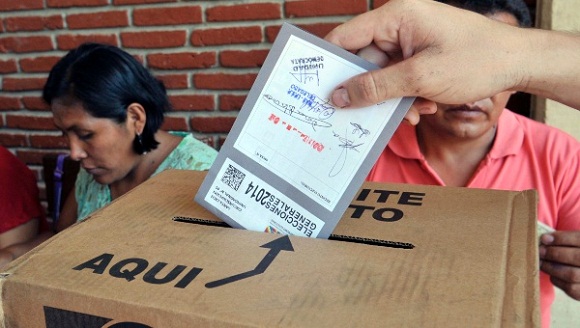 EspañolPreliminary official results and several exit polls suggest that Bolivian President Evo Morales has lost a referendum to decide whether or not he would be allowed to run for a fourth term.
This result leaves the socialist leader no legal alternative but to leave power in 2020, when his current mandate expires.
The country's electoral authority is currently publishing official results online, with "NO" almost doubling the amount of votes in favor of Morales's reelection.
At press time, just 4.5 percent of ballot boxes were processed, so the difference may vary in the next few hours.
#LoÚltimo El @TSEBolivia actualiza los resultados parciales del #Referendo2016 #21F pic.twitter.com/PU05s1ekBk

— La Razón Digital (@LaRazon_Bolivia) February 21, 2016
However, local newspaper El Deber reported an exit poll that shows just a two-percent advantage for NO:
Así votó #Bolivia en el #ReferendoBO #UstedDecide pic.twitter.com/oNFe6KZ9us

— EL DEBER (@grupoeldeber) February 22, 2016
News agency Fides also published two exit polls that gave the opposition a three-percent win over Evo Morales's reelection bid.
Conteo rápido da victoria al No. Resultados de Ipsos y Mori #ReferendoBo2016 pic.twitter.com/mS2ZWtsrH3

— Agencia Fides (ANF) (@noticiasfides) February 22, 2016
Opposition leaders have taken to social media and the press to celebrate what they deem an "irreversible" trend.
#Referendo2016 El opositor Samuel Doria Medina dice hemos recuperado la democracia, tras resultados no oficiales

— La Razón Digital (@LaRazon_Bolivia) February 22, 2016
However, ruling party spokesmen claim that it's too soon to call a victory for either side.
#Referendo2016 El analista del oficialismo Hugo Moldiz dice que los datos muestran un virtual empate. Hay que esperar resultados finales

— La Razón Digital (@LaRazon_Bolivia) February 22, 2016
The PanAm Post will update the results as more official data is announced.