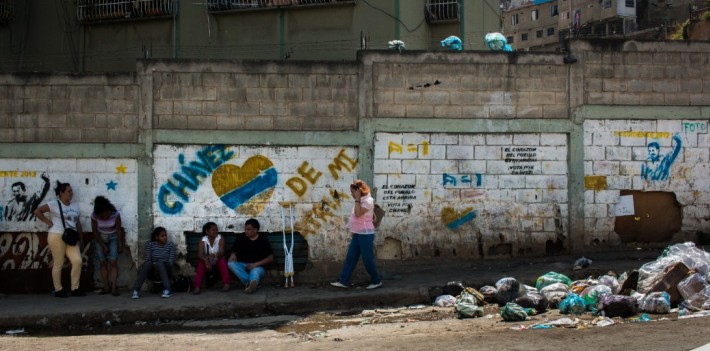 EspañolAccording to every credible poll, Venezuela's opposition is likely to win the upcoming election on Sunday, December 6, and secure a majority in the National Assembly.
The polls published until November 22 (some daily polls have been published since, but they only reflect the interests of those who hired them) revealed a wide gap between the democratic opposition and Chavista parties. For the first time since 1998, when disenchanted citizens elected Hugo Chávez and his promise to get a corruption-ridden country on track, Venezuelans have expressed the will to make a change.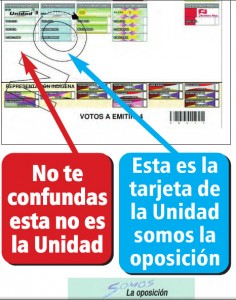 While electoral law bans disseminating the results the week prior to the election, all polling firms have dismissed a scenario where the ruling United Socialist Party of Venezuela wins the election. They anticipate a sweeping victory for the opposition coalition, the Democratic Unity Roundtable.
Venezuelans have witnessed a sickening campaign in which the opposition faced the all-powerful state's fear-mongering tactics. The government claims that, if the opposition wins, their members will not be able to collect their pensions and welfare programs would be suspended.
The government has used Chávez's image, sometimes disrespectfully. Their slogan reads: "On December 6, Chavez wins." What might be worse, the electoral authorities have purposefully made the ballot confusing, showing the pro-government party MIN-Unidad next to the opposition coalition, MUD-Unidad. Both parties share the same colors, and the candidates' names are also the same.
Has Chávez's majority movement become a minority in just two years? The 20015 Survey on Living Conditions (Encovi) may provide a clue. According to the study, which is published by three of the most prestigious Caracas universities — the state-run Central University of Venezuela and Simón Bolívar University, and the privately-owned Andrés Bello Catholic University — the Chavista movement was built around three solid myths.
The first is that Chavistas, who are primarily concerned with the needy, implemented populist government programs which, funded with petrodollars, improved the poor's living conditions. Last year's Encovi survey, however, showed that some 48 percent of Venezuelans were poor, a figure equal to that measured in 1999, the year Chávez took office.
This year's study reveals an unprecedented situation which should be the cause of alarm: 73 percent of the households, and 76 percent of the people it concludes, are poor. In other words, some three out of four Venezuelans are in poverty.
Surely, falling petroleum prices have dealt a blow to oil-rich Venezuela, leaving many citizens earning an average monthly wage of US$11. That, however, is not the only problem. Food and medicine shortages are brutal. In the absence of official statistics, private studies estimate that this year's rate of inflation is above 300 percent.
As a result, Venezuelans are living under deplorable conditions. The government didn't invest in public services while the oil boom lasted. Now, Venezuelans endure constant power grid failures, as the drinking-water and transportation systems gradually collapse.
Chavista leaders did manage, however, to use government funds to fill their own wallets. The rampant corruption scandals which ensued have added flammable material to an already explosive cocktail.
According to the latest polls by firm Datanálisis, 92 percent of Venezuelans consider the country's situation "bad or very bad." In a country where three out of four people are poor, and nine out of 10 believe the situation is not good, it's practically impossible for the government to win an election. Also, after 17 years in power, the government has little room to make new promises.
Over 82 percent of Venezuelans believe President Nicolás Maduro, Chávez's successor, is incapable of solving the crisis. And no matter who wins the elections, economic forecasts predict that, with falling oil prices, 2016 won't be better than 2015.
Political analyst Luis Vicente León, who heads Datanálisis, said that the Chavista movement is in crisis. He points out that, three years after Chávez's death (his last appearance as head of state was on December 8, 2012), the late former president still enjoys a 58 percent approval rating compared to 16 percent for Maduro.
Political scientist Luis Salamanca, on the other hand, thinks that Chávez's image is "frozen in time," since he died before he had to face responsibility for the disaster he caused. Salamanca explains that Venezuelans are distancing themselves from a president who won every election in which he took part and was massively popular despite all his excesses.
[adrotate group="8″]
What will happen on Sunday? According to the polls, the die is cast. Maduro has repeatedly threatened that he will not recognize the results, and no one knows whether or not he will make his threats effective.
While the electoral system is fraudulent, it's very difficult to hide the real election result, Salamanca says. Most experts agree. A majority of Venezuelans support the opposition, and that majority thinks that it will win. For the government, this raises the costs of engaging in outright fraud.
As for the future, no one can know how the opposition will manage to safeguard their imminent victory. No one knows how they will negotiate with a weakened, desperate government on December 7. Nobody knows what their demands will be.
Will they prioritize the release of political prisoners or an economic adjustment? Will they demand a recall referendum against Maduro, or be conciliatory? Will they have to fight so that the government recognizes their victory, or will Maduro concede defeat?
All these questions will be answered in 72 hours.