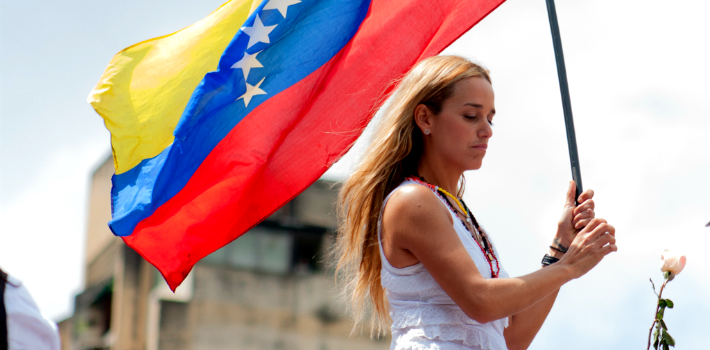 English"I don't regret at all the decision I made. Great causes require great sacrifices," Venezuelan opposition leader Leopoldo López expressed in a letter on Friday, September 11, one day after Judge Susana Barreiro sentenced him to 13 years and 9 months in prison.
"They won't be able to divide us … and sooner or later, we will celebrate together, rejoicing in the fact that we live in a better Venezuela."
López's wife, Lilian Tintori, read the letter publicly at a gathering at José Martí Plaza in Caracas — the same location where the Popular Will leader turned himself in to authorities a year and a half ago.
"Over a year ago, I knew I would be jailed. I did not hesitate to move forward.… I made the decision fully aware of what I was facing, and I don't regret it."
In his letter, López also imparts a message to his family: "Tell my kids that I am not imprisoned. Today, I'm freer than ever, fighting for their future."
A Venezuela court convicted López on charges of conspiracy, incitement to violence, arson, and damage to public property. Human-rights NGOs Amnesty International and Human Rights Watch have each condemned the controversial ruling.
[adrotate group="8″]
Elections Ahead
Tintori told supporters at the gathering on Friday that López spent the first night after his conviction in a two-by-two-meter cell at Ramo Verde military prison, the same jail that authorities have held him in since February 2014.
The jail, which houses only López as its lone prisoner, is a four-story tower that lacks electricity on the outskirts of Caracas. López has called it the "tower of dictatorship," and says his few belongings are scattered across the floor of jail cell.
"Leopoldo and I spoke a lot," said Tintori, who arrived more than two hours late to the gathering after difficulties leaving the prison. "We agree more than ever that voting and the streets, the streets and voting, is the right strategy," she said.
"Count on me, and count on these hands, that beginning today we will tour the country to achieve victory at the elections," Tintori said in a message to the opposition coalition Democratic Unity Roundtable (MUD) and its secretary general, Jesús Torrealba.
"Victory in the December 6 elections will lead to the release of all political prisoners," Tintori added.
The first demonstration is scheduled for Saturday, September 19. "We will go dressed in white, and prepared with rigorous discipline, to avoid reacting to provocations — always following the path of nonviolence," she explained.
According to the Venezuela Penal Forum NGO, the Nicolás Maduro government currently holds 78 prisoners for political reasons, each of them detained following the anti-government protests in February 2014 that left 43 dead.
Along with López, the court also convicted student activists Christian Holdack, Ángel González, and Demian Martín. Holdack received 10 years in prison, while González, and Martín each received four-year sentences.
Local media did not cover Tintori's remarks, meaning only Venezuelans who subscribe to cable television or tuned in over social media were able to follow the events.