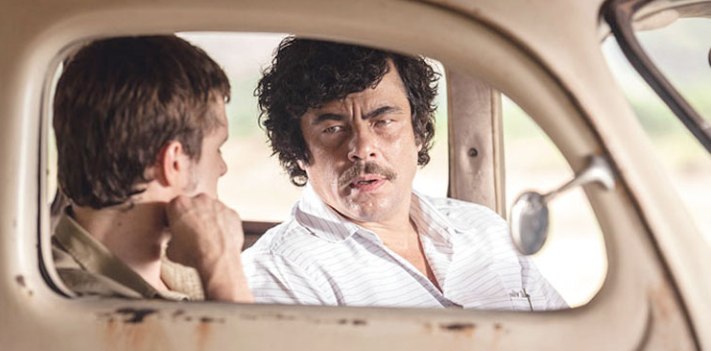 EspañolI have to confess that, unlike many, I've never liked Benicio del Toro all that much. I didn't like his performance in Che, recently reviewed with enthusiasm by this publication; he seemed to be too casual, too closed-off, as in his bad guy role in Traffic, or as the drug-addict lawyer in Fear and Loathing in Las Vegas.
My preconceptions about the Puerto Rican actor changed, however, last week. Del Toro doesn't play any old narco-trafficker in Escobar: Paradise Lost. Instead, he captures a paranoid and homicidal Pablo Escobar on the verge of handing himself in to authorities in 1991, unleashing in the process an orgy of blood almost unrivaled in his entire criminal career.
Italian actor Andrea Di Stefano's debut in the director's chair, and launched in US cinemas in January, it's not a conventional box office hit. It plays with flashbacks and flash-forwards during its two-hour run time, and tells a difficult and fragmented story: Escobar's transition from a respectable Senate seat to handing himself in for multiple bloody crimes.
It meanwhile passes through the dramatic history of Colombia between the 1970s and 90s, including an abortive murder attempt, ordered by Justice Minister Rodrigo Lara Bonilla in 1984, which unleashed a prolonged wave of narco-violence in the South American nation.
Although the film's focus is undoubtedly Escobar, it's told from the point of view of Nick (Josh Hutcherson), a young Canadian surfer who falls in love with the beaches of the Colombian Caribbean and Escobar's niece, Maria (Claudia Traisac). Hutcherson, previously known for his role as the guileless Peeta Mellark in the Hunger Games series, is pursuing his brother Dylan (Brady Corbet) and sister-in-law Ana Girardot in search of paradise lost: all are fictional characters employed to gain an outsider's window on the notorious trafficker.
Nick and Dylan soon realize that Colombia isn't Canada, after a pair of local thugs that attack them later turn up hung upside down and burnt to a crisp by "Papa Pablo." Del Toro's Escobar never raises his voice, always speaking magisterially in the smooth cadences of Escobar's native Medellín, and demonstrating the bewitching charm of a cobra on a guinea pig. "Do you take drugs?" Escobar asks Nick when Maria first presents him. After the Canadian gives the negative, he replies: "Good. I've seem men destroyed by drugs."
María in time realizes that her uncle isn't a good guy that simply happens to "traffic cocaine, the national product," but a monster capable of killing hundreds or even thousands of people. Escobar sends Nick on a mission given to dozens of other men before him: to hide his immense fortune in various caves, on the eve of handing himself in to the Envigado prison, also known as "the Cathedral," which Escobar ordered the Colombian state to construct as one of the conditions for his surrender. It came with a disco, multiple hot tubs, and a heliport, and Escobar's choice of guards: handy for orchestrating his escape barely a year later.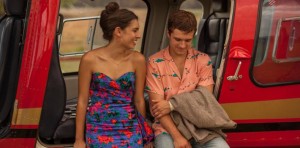 To tell more of Escobar's story would be to spoil the end of the film, which deserves watching in its entirety: for its energetic script, and for its quasi-surgical dissection of the growth of narco-violence in Colombia. Perhaps Colombia is indeed the lost paradise; one that has passed from celebrating and admiring its drug traffickers to fearing them, and now finally arriving at the point of bringing them to heel after decades of everyday terror.
The innocent gaze of Dylan and Nick is employed well to capture this rise and fall, without falling into the stereotype of the "gringo" searching for paradise in Latin America. Although the flick lacks a still darker chapter in Escobar's life (his flight from Envigado, and his death on the roof of a common house in Medellín, after hundreds more murders), those unfamiliar with the life and times of the "King of Cocaine" can learn plenty from the movie.
Dozens of books have been written about Escobar, whom Del Toro plays with such mastery that he seems to become the bearded, overweight, and desperate man that the drug dealer was when the forces of law and order closed in around him. In particular, I liked La Parábola de Pablo most, in which journalist Alonso Salazar shows, just as the movie does, the dichotomy between the apparently loving family man and protector of poor communities, and the unscrupulous killer capable of murdering all of those around him.
The movie is an honest rendering of all the sides of Escobar. In a striking final scene, Escobar is driven slowly through a crowd to the football field where he's due to hand himself in, and hands fistfuls of dollars out through the window to his adoring people.
Escobar's tale represents the tremendous corrupting power of exorbitant and illegal fortunes that criminals continue to amass across Latin America, fueled by a failed War on Drugs. The only difference now is that, unlike Escobar, the criminals seem to have no intention of taking political power. Or perhaps they've already done it.