EspañolDeputy Richard Blanco is one of Mayor Antonio Ledezma's closest allies. The two share an office in Caracas, and Blanco was present on Thursday afternoon when over 100 state security agents burst in to arrest Ledezma.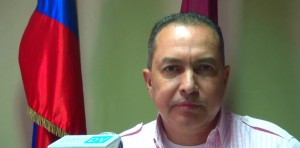 Blanco knows what it's like to be imprisoned: between 2009 and 2010, he spent seven months in Yare, one of Venezuela's most violent correctional facilities. He was accused of "aggression towards authority" in a demonstration which called for greater resources to be made available for the metropolitan mayor's office.
At that point, Blanco was serving as prefect of the capital city, a post second only in importance than that of mayor. Upon his release, he rode a wave of popularity resulting from his fierce condemnation of Chavismo to become a parliamentarian. He now leads the Alianza Bravo Pueblo party, a social-democratic bloc that he founded nine years ago with Ledezma to contest the mayorship of the Venezuelan capital.
Do you know where Ledezma is currently imprisoned?
The mayor is in the headquarters of the Bolivarian Intelligence Service (SEBIN) in the Helicoide building, Caracas. We were there around 2 a.m. They allowed him to make a quick phone call and we went over there, because they never informed us where Antonio was. Afterwards, Mitzi Capriles de Ledezma, his wife, and Omar Estacio, Antonio's lawyer, were able to enter. The moment that he's living through is certainly very difficult, because this situation was really abrupt, disproportionate, thoughtless…
You were present when they arrested him. What was the procedure?
The mayor was mistreated, beaten, and verbally abused, as was I, by SEBIN officers.
The officials were hooded and masked?
Yes, many of them were. Up there, in the office we share, there could have been around 30 people. They destroyed the office. I spoke with a detective — I didn't get his name, but the other agents were calling him "detective" — and I asked him for the arrest warrant required for the procedure. Not only for legal reasons, but because as a deputy I have parliamentary immunity and it's my office as well. His answer, when I asked him for the warrant and proof of authorization by a court, was: "You've got some balls."
They didn't need to hit the mayor, just as they don't need to beat up any citizen, still less in this disproportionate way: an unarmed citizen in his office, whose only crime has been to simply state the bad things that are going on in Venezuela. And plenty of bad things from the point of view of politics, the economy, and society are going on, let me tell you.
We're going to stay very alert to everything that's happening with Ledezma, which is only the latest imprisonment to take place. Here we've got Leopoldo (López) in prison, those arrested on April 11, the students…
Looking at the images, one's reminded of the arrest, a year ago, of Mayor Enzo Scarano, who's now spent a year in jail…
And not only Scarano! They also arrested me in the same way, 60 or 70 guys dragged me out of my office. The disrespect is astonishing. They hunted down the mayor like he was the worst criminal in the world, while here a violent death happens every 20 minutes. These agents would be better off looking after citizens' lives.
The Venezuelan government will have to explain, before the world and before history, these kind of happenings, which are enraging those of us citizens who believe in the values and principles of democracy.
Do you know what crimes exactly they're accusing the mayor of?
I spoke with a prosecutor, but he didn't tell us the crimes they're charging him with. I imagine they're as follows: for raising his voice, and the crime of having tanks distributed around the poorest neighborhoods around the city, equipped with water cannons that can fumigate areas against dengue and chikungunya.
This is what the mayor did: work for the city with the few resources they were yet to take from him. This, and fight for constitutional values, for political prisoners, for democracy. We're not looking to kill anyone, nor for a coup d'etat. What we do want is to to leave a completely different country for our children.
Translated by Laurie Blair. Edited by Guillermo Jimenez.