It may have started as an attempted visit by three former regional presidents to a political prisoner in Venezuela, but it has descended into a diplomatic row between the South American country and neighboring Colombia — a row that threatens to spread to the third summit of the Community of Latin American and Caribbean States (CELAC).
The fraught situation could worsen if Mexico and Chile officially echo Bogotá's view that the Venezuelan premier gave disrespectful treatment towards former Colombian president Andrés Pastrana.
A statement made by the Colombian foreign ministry on Monday, January 26, expressed hope that jailed opposition leader Leopoldo López would "recover his freedom as soon as possible." But that was soon condemned by his Venezuelan counterpart as a "dangerous setback in international relations."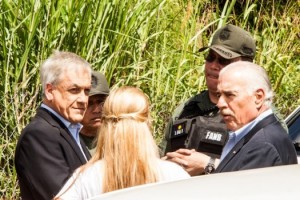 The statement from Colombia comes as a response to the alleged tribulations that Pastrana was put through when, accompanied by former Chilean premier Sebastián Piñera, he tried to visit López in the Ramo Verde military prison on Sunday. Venezuelan Vice-President Jorge Arreaza gave express orders to stop that from happening.
Rafael Uzcátegui, coordinator of Venezuelan human-rights NGO Provea, stated on January 28 that "there exists no legal reason" for Pastrana and Piñera to have been barred from visiting the Popular Will Party leader.
Antonieta Mendoza, López's mother, told local radio on that same day that López had been "kept incommunicado for a year," and that he had only been permitted visits by select relatives and his lawyers.
However, the Venezuelan foreign ministry has sidestepped the complaints: "We regret that the Colombian foreign ministry is taking a position against Venezuelan democracy and the constitutional government of President Nicolás Maduro, something which constitutes a dangerous setback in international relations."
On the previous Friday, Maduro suggested that Piñera, Pastrana, and Calderón were coming to the country "financed by international narcotrafficking," but still that "Venezuela will welcome them." The Venezuelan president later attended the burial of King Abdala Ibn Saud in Saudi Arabia, but upon his return renewed his attack on the former Latin-American presidents, labeling them "fossils of the far right."
According to Maduro, the objective of the visit was to "prevent me from attending the CELAC summit," taking place on Wednesday January 28 and Thursday 29 in Costa Rica. "But come rain, storm, or thunder, I'll be there," he said.
Opposition parliamentarian Carlos Berrizbeitia, meanwhile, noted that Maduro has made four overseas journeys in January, only being present in the country for 10 of the past 28 days.
In Chile, voices of protest also came out against of the treatment that the former presidents received in Venezuela. Jorge Tarud of the Party for Democracy asked President Michelle Bachelet to call for López's release and to criticize Piñera's rough reception. His request followed another by members of the Chamber of Deputies Foreign Relations Committee, calling on Bachelet to intercede on López's behalf at the CELAC summit in San José.
Piñera himself, upon his return to Santiago, accused Maduro of "slandering everyone who thinks differently."
Las libertades, la democracia y los DDHH están vulnerados en Venezuela. Debemos actuar para defenderlos y pedir libertad de presos políticos

— Sebastian Piñera (@sebastianpinera) January 27, 2015

"Freedoms, democracy, and human rights are suffering in Venezuela. We must act to defend them and call for the freedom of political prisoners."
Meanwhile in Colombia, Pastrana's Conservative party called on the Organization of American States to examine the situation in Venezuela, and consider whether the Maduro regime is meeting the requirements of the organization's Democratic Charter.
Adding to the chorus was Oscar Arias, former Costa Rican president and Nobel Peace Prize winner, who invited "all democrats, not only Venezuelans" to help the country to "achieve a democratic transition." Arias has suggested that the both the late President Hugo Chávez and his successor Maduro "have tried to silence those who raise their voice, and Maduro now brings down the fist with even greater force."
Costa Rica's Foreign Minister Manuel González also rebuffed the Venezuelan president, who had suggested that an attempt on his life could be made during his visit to Costa Rica: "We haven't determined that there exists any particular risk to the life of any of our visitors."
Translated by Laurie Blair. Edited by Fergus Hodgson.