EspañolIn an attempt to address Venezuela's shortage crisis, the Maduro administration has unveiled two new strategies: propaganda, and ruling party supermarket inspectors. The inspectors will be asked to "keep saboteurs from heating things up" at long grocery-store lines that have become a common sight in the country since 2014.
A television ad shows a woman serenely buying products at a fully stocked supermarket. She then turns to the camera and says: "Don't fall into the trap. For your children's safety and your own, don't be reckless while shopping."
The video, however, contrasts with the everyday reality of average Venezuelans. To get their hands on some of the country's scarcest products, like meat, chicken, or milk, shoppers in Caracas spend up to five hours in line at the grocery store. In the countryside, it's worse: three states have banned people from waiting in line at stores overnight.
Shoppers have worked around the government's prohibition by gathering before dawn a few blocks away from stores, where products are also traded. In some parts of the country, desperate Venezuelans have resorted to looting, although the practice has not spread far.
In response, the Superintendent of Fair Prices Andrés Eloy Méndez announced "20,000 PSUV activists" will be deployed to supervise the lines.
Jesús Torrealba, secretary of the opposition coalition Democratic Unity Roundtable (MUD), harshly criticized Méndez on his radio show. He called the measure an act of intimidation that tries to "pit citizens against each other."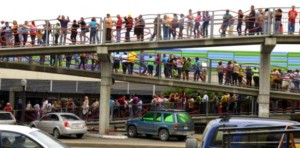 In the same vein, political analyst Christian Burgazzi said the government "tries to solve shortage with repression." Political scientist John Magdaleno says President Maduro's tour around Asia and Middle East has yielded no results,  and that "it's clear the economic situation is getting worse, and along with it, the social and political crisis."
The Maduro administration has always blamed shortages in Venezuela on an "economic war" waged against the government by the private sector. He claims they create shortages on purpose, as well as divert and smuggle basic goods to Colombia, all to create conditions in the country for his overthrow.
However, the national government in Venezuela, through controls, expropriations, and decree, controls the country's entire production chain, from the import and sale of seeds to stocking shelves in stores. The result is "unsuccessful," according to Tomás Socías, former head of the Venezuelan Chamber of Food (Cavidea), who adds that the entire Chavista agricultural strategy has been ruinous for the country.
Diolegdy Páez, director of Venezuela's Farmers Federation (Fedeagro), points to coffee as an example. National output has dropped from 1.6 million quintals to 500,000 since the government intervened in its production and distribution. Venezuela is no longer self-sufficient and now has to import coffee, which is rarely found in supermarkets.
Last week, the national government ordered all coffee producers to sell their crops to the state, which will "only make things worse," says Páez.
Radicalization
The Maduro administration is now faced with the option to either double down on its socialist economic policy, or begin to shift towards a freer market. Public approval rates for the president and his government now dip below 20 percent.
After his return from his overseas tour, Maduro threatened to force food distributors to sign an "ultimatum of respect to the people of Venezuela" or face the "full weight of the law." The president did not explain what the document would entail, nor the precise consequences of failing to fulfill it.
https://www.youtube.com/watch?v=KgysyJGWnCs
The Venezuelan opposition this week will decide on a common agenda for demonstrations tentatively set to begin on January 23, the celebration of the fall of Marcos Pérez Jiménez's dictatorship. In 2002, the day sparked a series of protests that briefly ousted the late Hugo Chávez from power.
Maduro has said he will make an announcement on Tuesday, January 20, on "expanding productive socialism" during his 2014 closing address to the National Assembly. According to journalist and political analyst María Isabel Párraga, "it's a decisive moment" for Venezuela, and a political transition is on the table. When a change in power will occur in Venezuela, however, is yet to be determined.