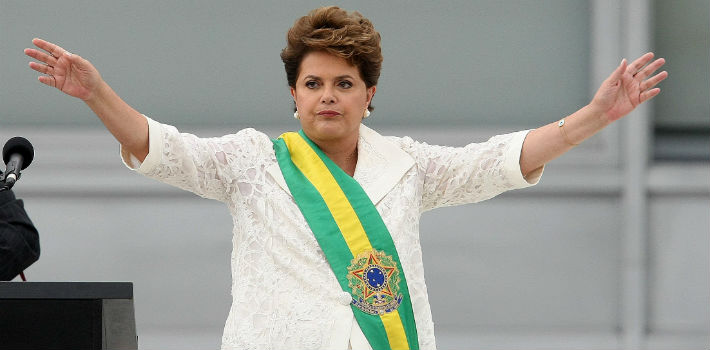 EspañolEconomic reset, diplomatic thaw, and a cabinet reshuffle are all in store as Dilma Rousseff embarks on her second term as Brazil's head of state. According to the reelected administration, the Brazilian economy is set to enter an era of adjustment in 2015. However, the incoming Minister for Planning, Nelson Barbosa, says salaries will not be affected, and expects real income levels to rise between 2016 and 2019.
Barbosa explained during his swearing-in ceremony on January 2 that adjustments were "necessary to recover the growth and credibility" of the Brazilian economy, the largest in Latin America, "despite their short-term impacts."
Among the immediate measures in store are modifications to the formula used to calculate the minimum wage, and an increase in long-term interest rates from 5 to 5.5 percent. Also lined up are new conditions for loans issued by the state National Development Bank (BNDES), and "corrections to excesses and distortions" in the distribution of unemployment benefits and other areas of state spending.
With regard to changes to the minimum wage calculus, Barbosa said that details would be revealed "at the opportune moment." Rousseff herself announced on December 30 that the monthly minimum wage for 2015 will be increased to R$788 (US$291).
Barbosa emphasized that the adjustment measures "aren't an end in themselves," but are instead designed to lift the economy out of seven years of sluggish growth since 2008. The government anticipates "significant growth" in 2016, and will seek to recoup the fiscal savings that were depleted seven years ago in order to fund progressive state policies that indebted the public purse.
In the second quarter of 2014, the Brazilian economy formally entered into recession, with a contraction of 0.6 percent, following a drop of 0.2 percent in the first quarter, marking the first two consecutive quarters registering negative growth in Brazil since the 2009 global financial crisis.
In the latest data available for the third quarter, Brazil's GDP rose by a mere 0.1 percent, meaning that the country technically exited recession. Figures published in June by the Economic Commission for Latin America and the Caribbean (ECLAC) predicted a 1.4 percent increase in Brazil over the entire year.
Little Ceremony, Big Challenges
Barbosa is one of the last state officials to be sworn in following Rousseff's widespread reshuffle of her cabinet of 39 ministers. Rousseff has taken particular care over appointments to top economic positions, given the poor economic performance of her first term, which almost led her to defeat in November's narrowly-fought elections.
The latest appointment is that of Mauro Vieira to head the Ministry of External Relations. The choice of Vieira, Brazil's current ambassador to the United States, is likely part of moves to improve relations with Washington, although he'll face budgetary constraints and organizational constraints, according to Oliver Stuenkel, a São Paulo-based analyst of Brazilian foreign policy.
Local press also reported that Rousseff faced a tough challenge in reconciling the diverse objectives of the nine parties that formed her winning coalition. Several top jobs have gone to representatives from political groupings allied to the Workers' Party (PT) rather than members of Rousseff's party itself.
According to unofficial estimates, public attendance at Rousseff's inauguration on January 1, at some 15,000 people, was only half the turnout at her ceremony in 2011. The government had predicted that around 100,000 supporters would assemble before the gates of Congress in Brasilia.
Rousseff anticipated the words of her Planning minister when she announced an "adjustment program involving small sacrifices by the poorest." She stated that "the Brazilian economy needs to grow again, which will happen through fiscal adjustment and increased public savings, but this will be done with the least possible sacrifice by the population."
Rousseff announced an "adjustment program" involving "the least possible sacrifice" by Brazil's population.
The newly-elected president highlighted the fact that her administration had "lifted 36 million people out of extreme poverty," arguing that poverty in Brazil "has been overcome."
Heading the reforms of Rousseff's second term will be Finance Minister Joaquim Levy. Levy, with a background in Bradesco, Brazil's second biggest bank, played no role in Rousseff's first term in office. His appointment has provoked the ire of the progressive wing within the PT, with his stated aim of achieving fiscal balance and greater state savings at odds with his predecessor António Palocci, a medical doctor with a background in the trade union movement.
Rousseff's inauguration was attended by 12 Latin-American presidents, among them Uruguay's José Mujica, Venezuela's Nicolás Maduro, and Bolivia's Evo Morales.
Also in attendance was US Vice President Joe Biden, despite tense diplomatic relations between Brazil and the United States following revelations by former NSA contractor Edward Snowden that Washington monitored the communications of its counterparts in Brasilia, including Rousseff herself.
The ceremony also witnessed a brief encounter between Biden and the Venezuelan president, which Maduro described as "cordial," and in which he reportedly "asked for respect for Venezuela."
Tense relations between Venezuela's so-called Bolivarian Revolution and the United States were brought to a breaking point in December after President Barack Obama signed off on sanctions against Venezuelan officials presumed responsible for human-rights violations. Government officials are accused of causing 48 deaths and imprisoning over 100 political activists, most notably one of the leaders of the opposition group Popular Will (VP) Leopoldo López, between March and July 2014.
Rousseff won second-round polls in November with 51 percent of votes cast, narrowly beating Aécio Neves of the Democratic Party (PD), and securing the PT its fourth consecutive four-year term.
However, many Brazilians are reportedly weary of the PT's policies, and are angered by the developing corruption scandal involving senior politicians and state petroleum firm Petrobras. In June, prior to the presidential election, mass protests spread across the country, as demonstrators decried rampant levels of government spending involved in hosting the 2014 FIFA World Cup.
Translated by Laurie Blair. Edited by Guillermo Jimenez.