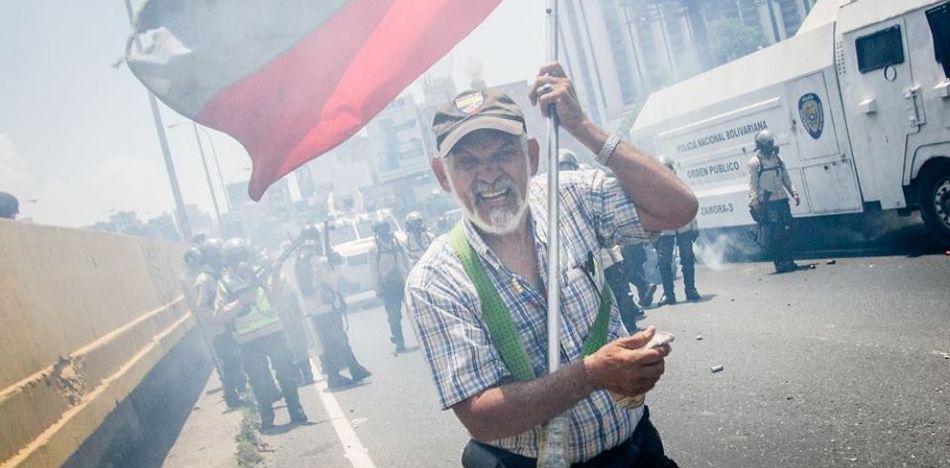 Today, Friday, May 12th, hundreds of elderly protesters joined the "democratic resistance" and marched towards the Ombudsman's Office in rejection of the National Constituent Assembly summoned by dictator Nicolas Maduro.
The mobilization known as the "grandparents march" is part of a series of protests against the Venezuelan government that have been continuing for over 42 days after the coup d'état undertaken by the Supreme Court of Justice (TSJ) in which it usurped the functions of the National Assembly.
The march will be held in Caracas from the Plaza Brion in Chacaito, but will be replicated in several cities all over the country's heartland, such as Carabobo, Zulia and Delta Amacuro.
Hoy #12M Los abuelos tomarán las calles por el futuro de Venezuela #PorNuestrosNietos nos vemos a las 10AM ¡Vamos a la Defensoría! ?? pic.twitter.com/ACotLrzxlg

— Voluntad Popular (@VoluntadPopular) May 12, 2017
Tweet: Today #12M grandparents will take the streets for Venezuela's future #ForOurGrandchildren. See you 10AM. Let's go to the Ombudsman's Office!
"Grandparents" will be in charge of the mobilization under the slogan "for our grandchildren", who march on despite repression by the regime that has left 39 dead, hundreds injured and more than 2,000 detainees.
This is how the "grandparents march" is developing
Elderly opposition members mobilized to march and reject the dictatorial regime's Constituent Assembly. They want freedom.
"#AHORA Viejitos movilizados en marcha #PorNuestrosNietos repudian la Constituyente madurista; quieren libertad #AvLibertador #12May pic.twitter.com/zvigtXH22B

— Unidad Venezuela (@unidadvenezuela) May 12, 2017
Tweet: #NOW Elderly people mobilized and marching #ForOurGrandchildrenGrandparents in rejection of Maduro's Constituency, they want freedom.
The marchers in Barquisimeto are unstoppable, not even rain can stop them from continuing their march in pursuit of a better future for their grandchildren.
#12May Marcha de los abuelos en Barquisimeto culmina con éxito. La lluvia no detuvo a los abuelos #BuenViernes #LaRepresion pic.twitter.com/LTqziCWqZI

— Angélica Velásquez (@Angelicaive) May 12, 2017
Slogan of the day: "We want Losartan (pills for high blood pressure)!" The grandparents present assured that the Ombudsman fears them, after an encounter with another GNB and PNB barricade.
#12May "¡Queremos pasar! gritan frente al piquete de la GNB y PNB en la av. Libertador 12:15pm pic.twitter.com/bATReWocuf – @EfectoCocuyo

— Reporte Ya (@ReporteYa) May 12, 2017
No matter their limitations, grandparents came out to march for a better country.
#12May Ella marcha por Venezuela y tu? Toma Conciencia. #RT pic.twitter.com/t2ewEYpNWJ

— Compras-Store (@Informacion_Uce) May 12, 2017
In Tachira, the grandparents march flooded the streets.
#12Mayo TACHIRA: ABUELOS POR LA LIBERTAD marchan y DESBORDAN las calles de San Cristobal. pic.twitter.com/YsAzz9bGT4

— Jesús Lizardo (@lizardo_jesus) May 12, 2017
Tweet: TACHIRA: GRANDPARENTS FOR FREEDOM march and overflow the streets in San Cristobal.
This is how the march in Caracas is developing.
#Ahora Marcha de abuelos opositora pasa el piquete de la PNB y continua por la avenida Libertador, 11:55am #12May vía @esteninf pic.twitter.com/14naoikaR7

— Analítica (@Analitica) May 12, 2017
Tweet: Grandparents who support the opposition crossed police control points and continue to march along Libertador avenue, 11:55am #12May.
The grandparents along with the rest of the Venezuelan opposition are marching along Libertador avenue in spite of the regime's repression.
The chief of the Bolivarian National Police decided to accompany the grandparents in the opposition march. Opposition members appreciate the officers' support.
The regime started repressing the elderly by spraying tear gas.
In the early morning, Caracas' inhabitants woke up with the surprise of having the city's main road (Francisco Fajardo highway) blocked. The area was the meeting point for the grandparents' march.