EspañolColombia's school food program aids children in public schools who come from families that can't afford to provide a meal during the day, but which is under threat of even further cuts from President Mauricio Macri.
Student activist for the Constructores de País (Country Builders) Juliana Hernandez, of Medellin, took advantage of a school visit by Macri to protest against the cuts.
"I learned about the event via social media," she said. "I went there with a sign."
President Santos arrived in Medellin to deliver 45,000 electronic tablets with Governor Luis Perez, which made Hernandez feel indignant about the event, as the money for those tablets could have been used to feed students.
Hernandez showed a video on the second floor that tried to show the President her point of view, but was immediately approached by the National Police, who escorted her outside the room.
"As soon as Santos began delivering the tablets, I took out my banner and started demanding that he give children food again," Hernadez said. "They need it to study and what he was doing today was pure populism."
She said it was great that Santos was giving away technology to schools, but that he does it in a superficial way, and noted that 49 percent of the department's food program has already been reduced.
"You must have a very bad heart to take food away from more than 25,000 children in Antioquia," she said.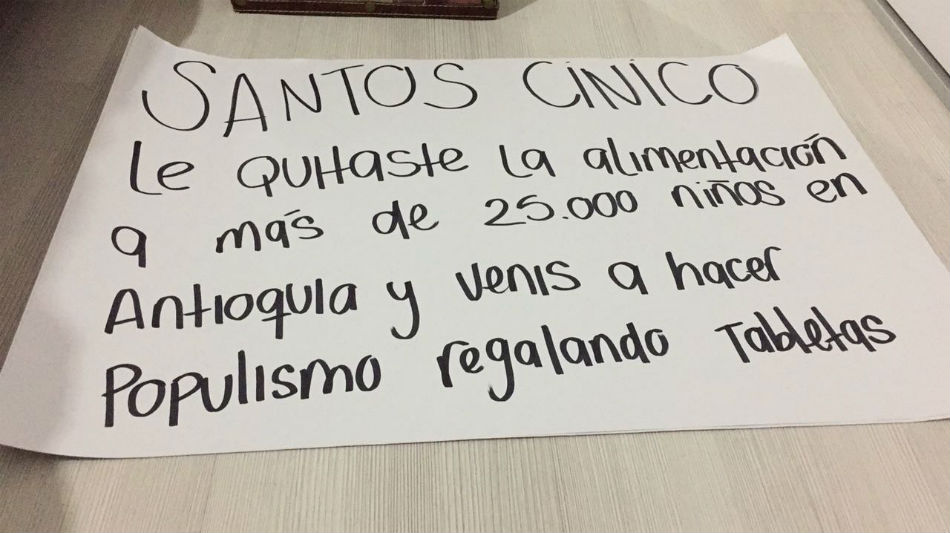 Budget cuts in school food programs is not new. More than 267,000 students are reportedly at risk of going hungry due to cuts in 2017. Cuts over the last three years have reportedly reached 52 percent.
Sources: El Tiempo