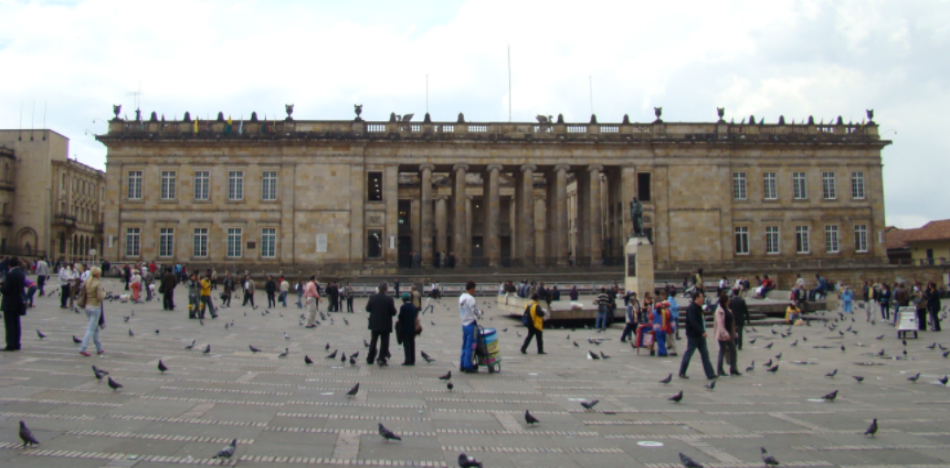 EspañolIt is not strange to see governments spending money on symbols of power and success. Officials build official residences and host luxurious ceremonies paid for by taxpayers all the time.
However, some states are less ostentatious than others. Until 1995, there was no official residence for Prime Ministers in Sweden. After that, there was a modest old house (Sagerska Huset) designated for the official residence of the Swedish head of government.
In contrast, the Bolivian government has two official residences: Palacio Quemado (The Burnt Palace) and the luxurious Casa Grande del Pueblo (The People's Big House).
Meanwhile in Colombia, recent administrations haven't exactly displayed a sense of austerity. The PanAm Post will share some of the Colombian state's most luxurious costs, including central and local government expenditures.
Santos' almonds
In Colombia, the appearance of a contract between the Santos administration and a famous factory of Colombian chocolates caused a lot controversy. The company had to provide boxes of almonds to the Colombian government, spending US $11,705 in 2016. The minimum wage in Colombia is US $253, meaning a Colombian earning the minimum wage had to work 46 months to pay for the almond chocolates.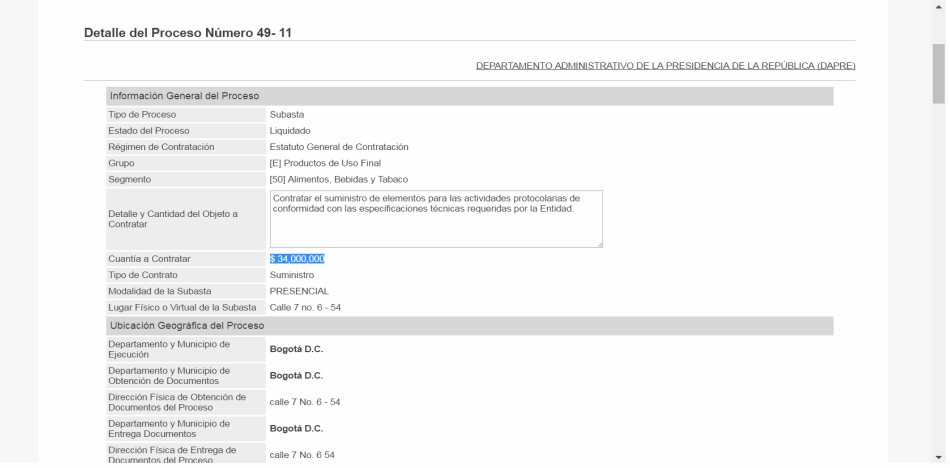 However, the Santos administration not only signed a contract to buy almonds from the company, but also "confectionery for the Presidency of the Republic" — costing another US $9,633.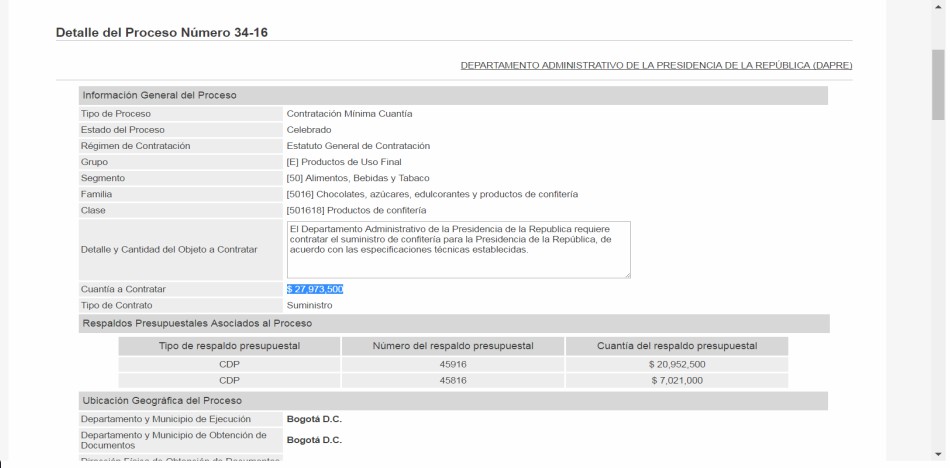 Without a doubt, US $21,338 is pocket change for the state. But for many Colombian citizens, that money could have meant many years of hard work and effort. According to local media, Santos' administration purchased almonds with the intention of giving them away as gifts. Even so, austere spending will help citizens trust their government's spending decisions.
Floral arrangements
The residences of officials also incur costly expenses. One high costs is floral arrangements that are used to decorate them.
The PanAm Post discovered a Colombian state contract with a private company offering to make such arrangements for US $28,983. Nothing about it is illegal, but once again Colombia demonstrates a propensity for high spending despite other pending economic problems.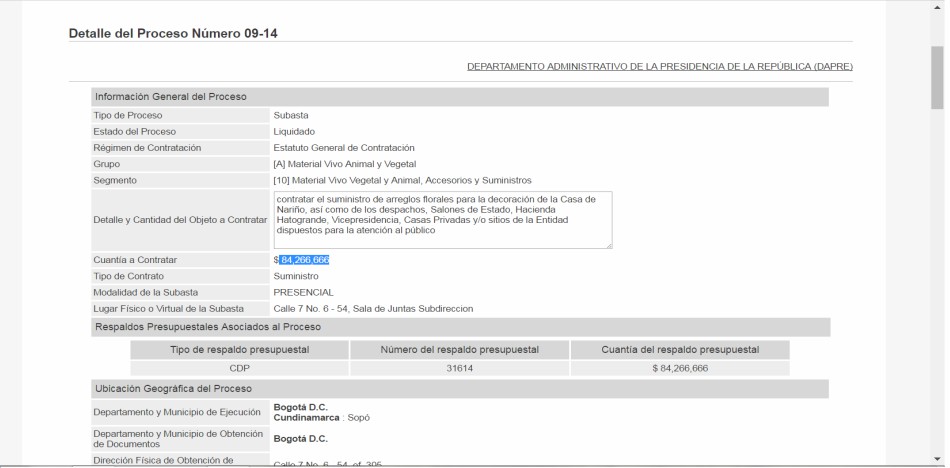 Expensive curtains
Another costly expenditure was for curtains in the Nariño Palace that cost US $207,143 for them. In a country with so many poverty problems, buying such things with public money should only be a luxury.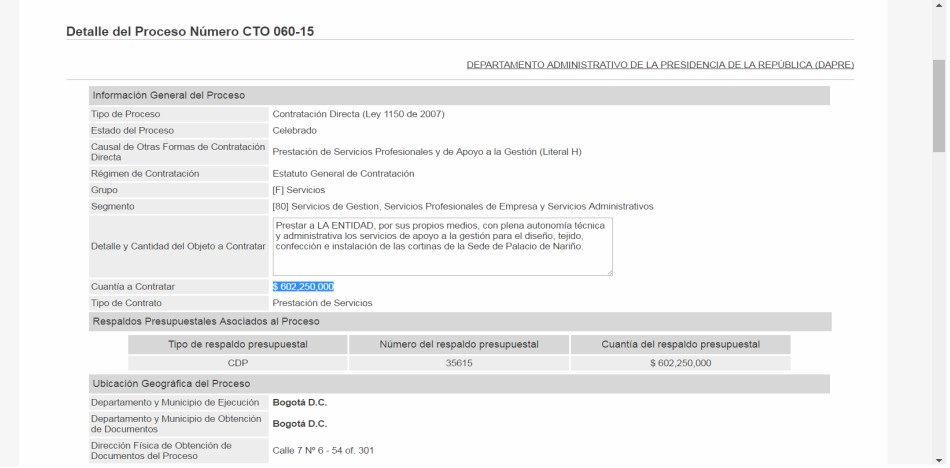 Bogota's mayoral ceremony
In 2015, Colombia elected Enrique Peñalosa. His inauguration involved a contract between the General Secretary of the Mayor's Office and the Telecommunication Company of Bogotá, costing US $256,721. The contract included hiring all "logistics and protocol" required for the event. This was a direct contract, without bidding, between two city government entities.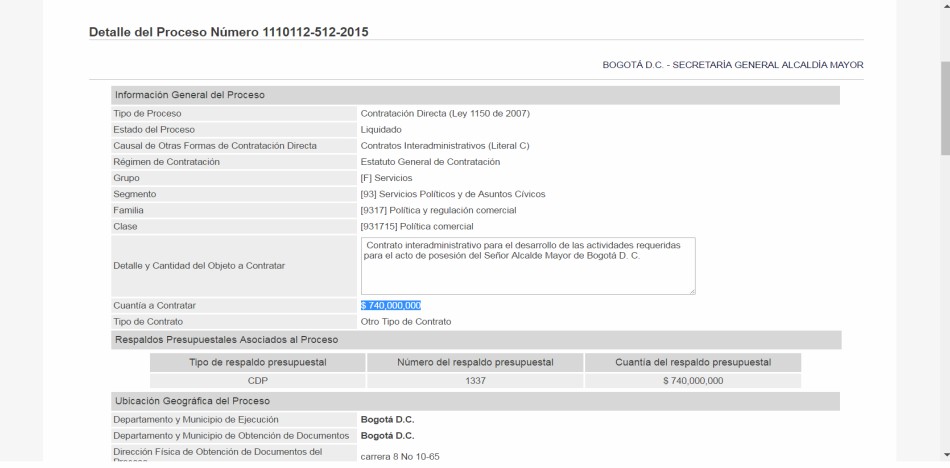 Congressional Plane tickets
Members of congress have received numerous benefits. Those who are part of the Colombian congress have salaries and privileges that would not only be a luxury for Colombians, but also for officials from much more prosperous countries such as Sweden or the United Kingdom. One of these privileges are travel expenses. In 2015, Congress signed a contract with a travel company for US $3,167,587.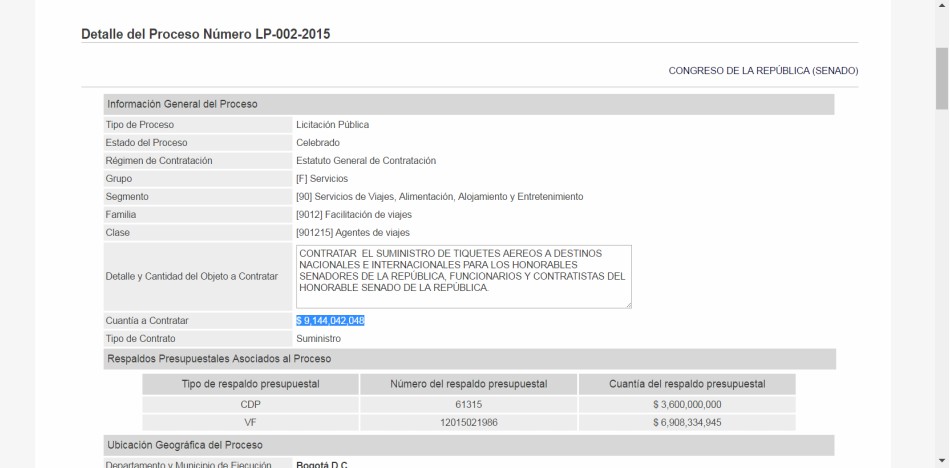 According to the information published on the Colombian Contracts webpage, congress bought tickets for all members of congress for 16 months. Due to the Colombian Congress' lack of transparency, it isn't possible to know how much each member of congress or other employees spend. Colombian members of congress refuse to publish who they hire to work for them.
Conclusion
Colombians are tired of their political institutions. Proof of this is the high voter abstention rate, as well as the data provided by surveys on institutional trust. The cynical attitudes of politicians, as well as excessive public spending, only make Colombian's distrust even worse.