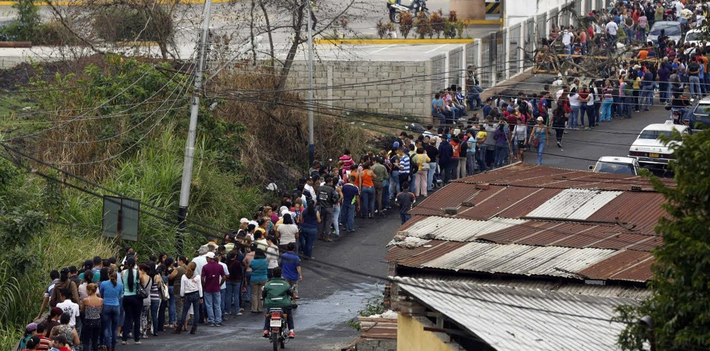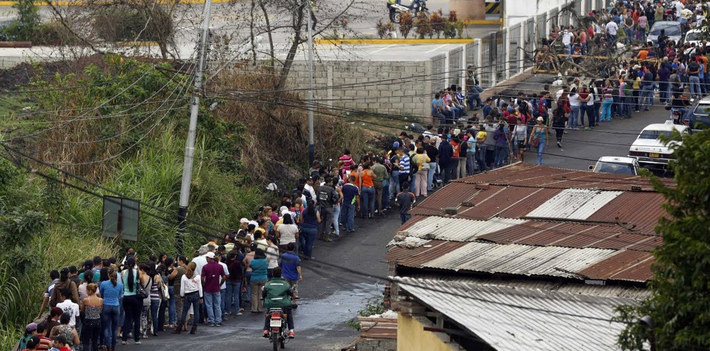 EspañolA humanitarian crisis, the likes of which have never been seen in the Western Hemisphere, is brewing in Venezuela and it will be inevitable in a few weeks.
Much has been written recently about the crisis in Venezuela. During the last week, the world's leading media outlets have amply reported the shortages of food, medicine and other basic supplies in the country. Unfortunately, despite some great reporting by various journalists, the true extent and the reasons for the country's desperate situation have not yet been clearly understood by the media and the international community.
The majority of those reporting on Venezuela still believe the current crisis has been caused by the collapse in the oil price. If that were true, other countries dependent on their oil export revenues, such as Nigeria, should be facing a similar situation. That is not the case. Nigeria is suffering a severe economic downturn, but it is far from suffering the extreme shortages of food and medicine that Venezuelans now face.
Apparently the world has forgotten that food lines first appeared in Venezuela in early 2014, when the price of oil was still over USD $110 per barrel. Venezuela first suffered an extreme shortage of toilet paper in 2013, nearly two years before the collapse of the oil price
Also, even now, with oil below USD $50/barrel, Venezuela has an export income larger than that of Peru, a country with identical population and where there are zero reported shortages of any kind.
The estimate for Venezuela's export income this year would place it at an amount almost equal to that of Colombia, a country with nearly double the population of Venezuela. Thus, it is incontestable that the decline of oil income is not the cause of the tragic situation in which Venezuelans find themselves.
Venezuela No Longer Has a Functioning Economy
The fact is that Venezuela, while still pumping oil, no longer has a functioning economy. Seventeen years of nationalizations and confiscation of private industries, farms, cattle ranches, distribution companies, sugar mills, and even shopping malls have completely destroyed not only the local production, but the distribution networks necessary for the normal functioning of the economy.
Ninety percent of confiscated and nationalized companies and farms no longer produce anything. SIVENSA, a private steel company formerly with over USD $1 billion in sales, mostly for export, now has negligible production. A country that during the 1980s boasted about having Latin America's highest levels of production of cement, which it exported to the USA, now has a shortage of cement, even with insignificant construction levels. For most of the 20th century, Venezuela was among the world's largest coffee producers. Now, the coffee that Venezuelans drink, if they can find any, comes from Nicaragua.
In addition, a draconian system of price controls that forces most local businesses to sell their wares at a loss has halted any attempts by local entrepreneurs to keep their businesses alive. Thousands of businesses have been closing every week.
While the government intentionally tried to substitute private operators with government companies, which were almost always run by corrupt army officers who know nothing of the industries they were entering, shortages of every kind, not just of food and medicine, began to occur. Currently, there are no tires, no car batteries, no auto parts to be found, except through good connections with the military or in the black market.
The distribution fleets of Venezuela's largest companies have been depleted to the point of no longer being worthy of the word "fleet."
In 2004, Hugo Chávez dismantled the old 10,000 strong Caracas Metropolitan Police and other police forces in the country. Since then, crime has skyrocketed, but now it has reached a level unthinkable in civilized societies.
At the Caracas Country Club, the country's most expensive, and formerly most exclusive neighborhood, home to dozens of ambassadorial residences, there are now at least three kidnappings per week. Entire swaths of Venezuela's largest cities, particularly in poor neighborhoods, are now ruled by gangs under the control of no authority.
There's No Capital in the Country with the World's Highest Inflation Levels
Inflation has reached a level close to 1,000%. Prices fluctuate on an hourly basis. In a country that had a GDP of half a trillion US dollars in 2012, the total amount of lending that the entire Venezuelan banking system can offer, due to devaluations and bank regulations, now amounts to merely US$ 170 million. It would now take a pool of banks to finance the construction of a 20 unit apartment building
As a result, credit has become non-existent and companies without access to capital have closed in ever larger numbers. These are businesses that were essential suppliers of key products, such as pharmaceuticals or medical devices.
This week, after days of widespread looting around the country by desperate citizens going hungry, trucks have been assaulted by organized mobs waiting at the edge of roads for any sign of a delivery carrying anything edible. This has further disturbed the already precarious distribution system for basic goods as truckers prefer not to work rather than risk losing the main asset for their livelihood.
All this will only get worse unless there is an immediate change of government in Caracas. Venezuela desperately needs the immediate dismantling of all regulations devised by the communist clique ruling the country and their inept Cuban advisers.
Maduro's Incompetent Regime Has to End
Even if the Maduro government were to try a 180 degree change and embrace capitalism overnight, the regime lacks the knowhow to improve and rebuild the country's supply chain, and provide the needed security to achieve it.
The Maduro government, full of corrupt army officers, drug dealers, and communist apparatchiks, simply cannot even begin to tackle the problem they created
At the PanAm Post we warned about the consequences of Maduro's actions nearly three years ago
Now, what we can see is much worse than even we imagined.
The leaders of all countries in the hemisphere, except for Castro's Cuba, are meeting now in Washington DC. These leaders will be remembered as those responsible for the first mass famine in the Americas, and the world will not forgive them.