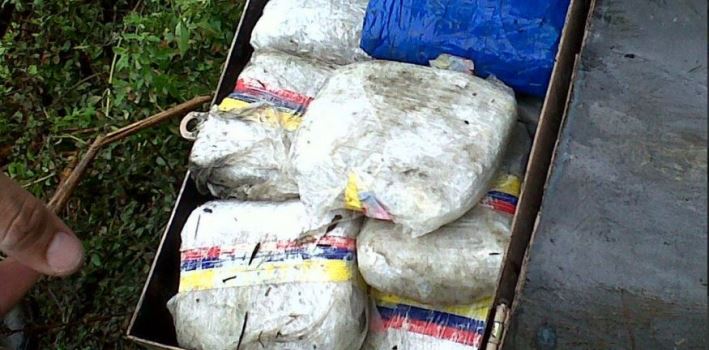 EspañolPolice discovered more than 88 pounds (40 kilograms) of marijuana in a vehicle owned by the National Armed Forces of Venezuela last week on highway José Antonio Páez, approximately 155 miles outside of Caracas, according to officials.
Drug seizures from army officials are becoming increasingly frequent. In this case, Lieutenant Juan Carlos Crispín Macías and technical Sergeant Jhon Cuardos Ruiz were both arrested. A third officer died when the truck tipped over — which was what led to the discovery of the drugs — and his identity was not immediately disclosed.
Crispín was promoted to Lieutenant two years ago by President Nicolás Maduro, according to media reports.
Another scandal related to drugs in the Venezuelan army happened on February 13, when a vehicle was found to be carrying more than 11,02 pounds (500 kilograms) of cocaine.A major, lieutenant and five men dressed as soldiers without belonging to the military were detained in Zulia, west of the capital.
Juan Manuel Crispin es uno de los detenidos por droga en #Cojedes. Ascendido por Nicolás Maduro en 2014 pic.twitter.com/Zo9qjZPHiB

— Darvinson Rojas (@DarvinsonRojas) May 1, 2016
Through an executive order, Minister of Defense Vladimir Padrino prohibited the disclosing of cases related to drug seizure involving members of the armed forced so as to preserve its honor.
But only 15 days later, a car parked with 242 pounds (110 kilos) of cocaine was discovered at the Ministry of Defense, allegedly owned by a captain of the Venezuelan Navy.

Some have claimed the Venezuelan armed forces are institutionally involved in drug trafficking in the country, and may even be the main bridge allowing Colombian drug traffickers to access markets in Europe and the Caribbean.
Fuentes: Sumarium.com.