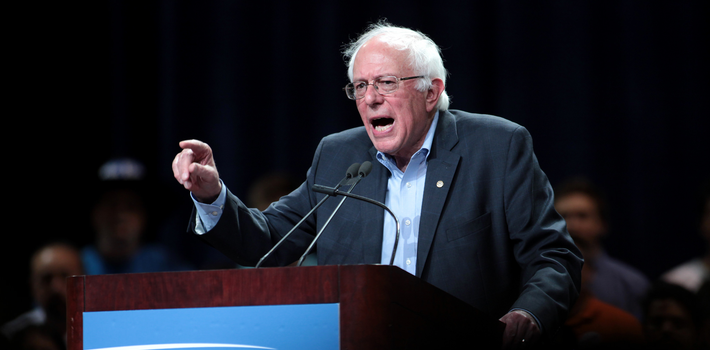 Español
Perhaps the most refreshing news of the US presidential race is that Bernie Sanders is putting up a fight for the Democratic presidential nomination. In the last primary election, Sanders beat establishment candidate Hillary Clinton by a whopping 22 percent of the vote.
However, Sanders is actually losing by a long shot.
What really counts in US partisan politics is not the head-count votes, but rather the number of delegates that support either candidate by the end of primary elections. They are the ones who ultimately choose the party's presidential candidate in the national convention.
For the Democratic party, there are 4,763 available delegates, and 2,382 are needed to secure the nomination.
Superdelegates
So despite crushing Clinton in the New Hampshire caucus, Sanders, a self-avowed "democratic socialist," managed to secure exactly the same amount of delegates as the former Secretary of State did: 15.
How is that possible? Because of "superdelegates," who are not bound by the voting outcome. And they are massively endorsing Clinton.
Gerald Warner in Capx explains:
Democracy is never to be confused with mob rule, in the eyes of the Democratic National Committee, which drew up the rules governing unpledged delegates – colloquially "superdelegates"  – based on the Hunt Commission in 1982. These "unpledged" delegates are drawn from the party establishment – all Democratic congressmen, governors, DNC members and "distinguished party leaders" – basically, the boys who can be relied on to keep the party under control.

Originally the superdelegates accounted for 14 per cent of delegates (Hunt had wanted 30 per cent), but the number has crept up. Today there are 710 out of 4,764 convention delegates. Normally they would be spread across a variety of candidates, diluting their influence, but in a confrontation between establishment Hillary Clinton and insurgent Bernie Sanders they are closing ranks to defend the status quo.
In fact, Clinton has nine times as many delegates as Sanders.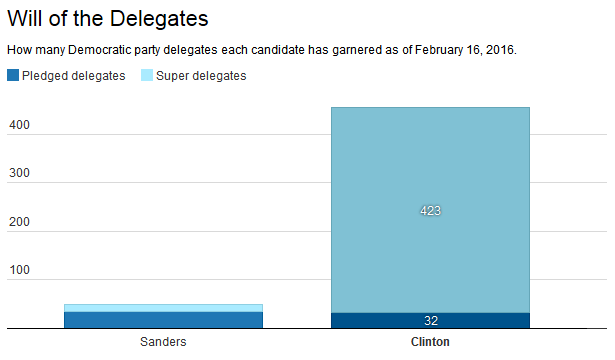 Even if Sanders keeps matching Clinton's votes in upcoming caucuses, the superdelegates, tasked with enforcing the party establishment's wishes, will probably decide who wins the race.
But that may spell trouble for the Democratic party's, well, democratic credentials. As Warner points out:
[If Sanders] made it to the convention within a margin of just a few hundred delegates short of Clinton, his elimination by superdelegates from the political elite would lethally convulse the Democratic Party.