The creativity of Argentinean government supporters has no limits when the goal is to win an election.
On Saturday, November 14, a day before the presidential debate ahead of the presidential runoff, pro-government groups on Facebook called on their follower to "hide the national ID" of relatives who don't intend to vote for candidate Daniel Scioli of the ruling Front for Victory party.
The pro-Cristina Kirchner Facebook page "I Support Cristina" posted: "The campaign to 'hide the national ID of your opponent relative' has begun. If you couldn't persuade them with arguments, and they can't realize the government's achievements, and, despite everything, they will still vote against themselves, don't insist on making them listen to reason. On the 21st of November [one day before the election], hide their national ID card, and when they ask you about it, tell them: 'it wasn't magic.'"
Si tenes un familiar, amigo o conocido que vote a Macri NO LO DUDES, robale el DNI

— Felipe Alonso (@felipealonso19) November 10, 2015

"If you have a relative, a friend, or an acquaintance that will vote Macri. Don't think it twice, steal his national ID."
The national ID is the only valid document to vote in Argentina.
The campaign quickly gained traction, first among pro-government supporters, and then among Kirchner's opponents, who expressed outrage over the idea. Local media quickly picked up the post.
After 48 hours, however, the "I Support Cristina" page's administrator wrote a new post explaining that the previous exhortation had been "a joke."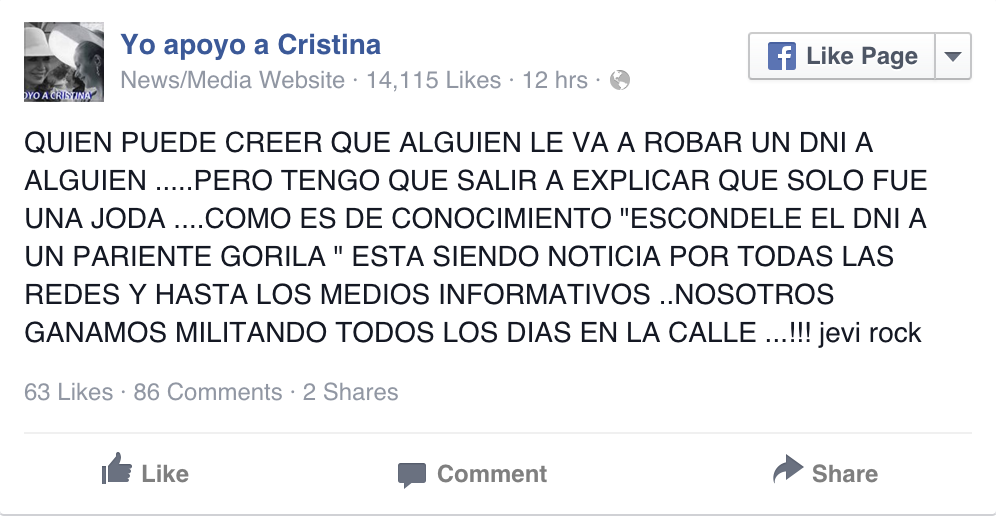 "Who can believe that someone would steal a national ID card from someone else?" the page administrators wrote. "Do I have to explain that this was a joke? As you may know, our post has been widely covered by the media, but we win by being active every day on the streets."
Buenos Aires Governor Daniel Scioli is now trailing in the polls. He was the favorite to win prior to the first round of voting on October 25, but he obtained less votes than expected.
While pollsters put Scioli between seven and 10 points ahead of Mauricio Macri, the candidate for the Let's Change coalition of opposition parties, Macri came in only tree percentage points behind — 34.15 percent to Scioli's 37.08 percent — in the official results. After the narrow defeat, Macri gained sufficient momentum to overtake Scioli in the polls.
According to the pollster Management & Fit, Macri would defeat his rival, securing an eight-point difference over Scioli.
Source: Infobae.